Bag Boy Push Cart

The Bag Boy push cart is worth consideration if you are looking to replace your existing push cart or want to add some walking to your game.

I enjoy walking the course.  I get some serious exercise - in fact my app tells me I walk about 7 miles when I play 18 holes.  And I save some serious money since I'm not renting the club's golf cart. Bag Boy makes several models of golf push carts with different features.

Bag Boy Express DLX Push Cart

The Bag Boy Express Push Cart is quick and easy to fold down.
What most golfers like about this car is that the golf bag can stay on cart when folded. Other features include:
• Unique fold under front wheel for compact storage

• Simple two-step quick fold
• Cart and stand bag compatible upper bag bracket
• Quick release adjustable handle with four height options
• Push on/off foot brake system
• Scorecard holder with pencil holder and padded storage compartment
• Mesh storage basket
• Beverage holder
• Integrated golf ball holder
• Durable handlebar grip
• Weight: 16 lbs.
• Folded dimension: 36" x 14" x 18"
Bag Boy Express DLX Push Cart
Four Wheel Push Cart

For even greater stability there is now the option for a 4 wheel cart by Bag Boy called the Bag Boy Quad Push Cart.
What's to like about it?
• Simple two step folding process - folds in seconds
• Super stable 4 wheel platform
• Larger wheels roll smoothly and easily

• Lightweight aluminum frame
• Handle mounted parking brake
• Adjustable handle to accommodates golfers of all heights
• Extendable front wheel base accommodates bags of various sizes
• Oversized zippered storage bag conveniently located under the score card holder
• Beverage holder
• Lightweight, solid foam maintenance free tires- no deflated tires to maintain

• Scorecard holder with pencil holder, padded compartment and umbrella holder
Bag Boy Quad Plus 4 Wheel Push Golf Cart
Swivel Wheeled Push Cart

The front wheel swivels 360 degrees - so it out performs all other carts when it comes to maneuverability.
 It also has the capability to the lock the front wheel into place when needed.
This cart has a three step fold process rather than the two step like the other carts.
The parking brake is located on the handle and of course the

This one is a bit heavier at 17 pounds and the dimensions are 23.5 x 13 x 24 inches.
If you walk the course frequently then this cart moves with the most ease.

Bag Boy TriSwivel II Push Golf Cart
Bag Boy Umbrella Holder

This clamp on Bag Boy umbrella holder adjusts to move the umbrella left or right, forward or backward.
It fits around any round or oval tubing.  Easy to put on or take off, use it on sunny days to protect your skin from the damaging affects of UVA and UVB rays.  When I put sunscreen on my face my eyes start to water and then I can't see the ball :( 
Using a golf cart umbrella has helped to solve that problem

Adjustable internal width for different sized umbrella handles Adjusts to move umbrella left or right, forward or backward Clamp mechanism fits any round or oval tubing
Bag Boy Umbrella Holder
Golf Sun and Rain Umbrella

If you want to block UVA and UVB rays while you are out golfing, this is the umbrella for you.
It works great even on windy days because it lets the wind pass through the umbrella - it's even been wind tested up to 55 miles per hour.  The exterior fabric has a reflective silver coating and the underside is black.  Some people find that it actually feels a couple of degrees cooler under this sun protection umbrella.

Good protection from the wind and rain too as it measures 58" when it is completely open.  It is the #1 umbrella on the PGA, LPGA, and Champions Tours.
GustBuster SunBlok 58" Umbrella
Bag Boy Accessories

How about a padded seat for when you have a long wait at the tee box or on a day when the course is really crowded?
The assembly for some of the Bag Boy carts do require an adapter and you need to contact Bag Boy to find out if yours does and they will send you one free of charge.
An especially helpful accessory for those who have had knee replacements and need to sit once in a while.

Bag Boy Golf- Cart Seat
Go from Bag Boy Push Cart to Golf Push Cart

Go from Bag Boy Push Cart to Golf Carts Etc.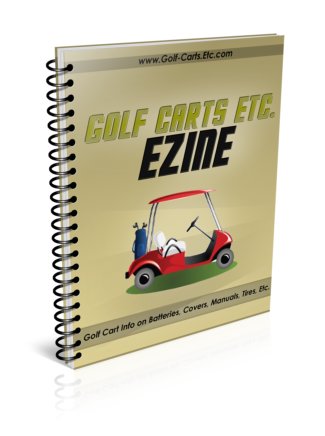 If you are interested in the free Golf Carts Etc. Newsletter you will find information and updates on:
√ Golf Cart Accessories and Products
√ Golf Cart Repair FAQ
√ Golf Cart and Battery Maintenance
√ Electric Golf Cart Reviews
√ Golf Cart Parts
√ Golf Cart Tires
√ Golf GPS Reviews
.... and more. Your e-mail information will never be shared with anyone else. Simply sign up here: