Club Car Accessories
Club Car accessories can provide a custom look to your cart or include some of the common items needed for driving a golf cart in comfort and in style.
From Wheel Covers to Windshields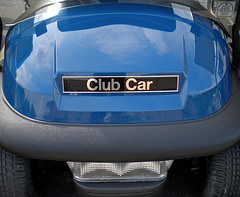 There are lots of add-ons that can provide either a more comfortable ride or a more custom look. That means the accessories are added on later - which is called after market.
Refurbished golf carts that come from a golf course for instance are very basic - they usually have a windshield but have no lights, rear seat, enclosure, etc.
Your golf cart accessories can be more than these basic items. There are many ways to customize your cart without having to pay for a custom golf cart.
Golf Cart Hub Caps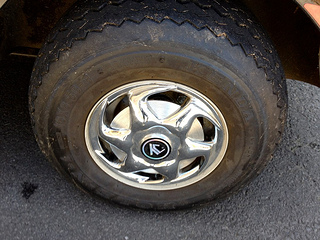 Golf cart hub caps are an inexpensive option to get custom golf cart wheels.
There are lots of styles and looks to choose from.
Not difficult to put on - they easily fit over your golf cart wheels. I've added a new set of Cragar wheel covers to my 8" golf cart wheels and love the new updated look.
To see what I mean click here: Golf Cart Hub Caps
Club Car Seat Covers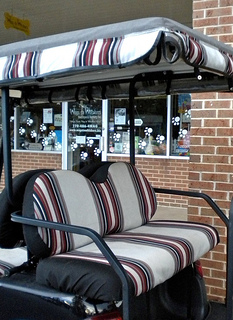 If you are in the market for a new golf cart enclosure and seat covers, you can get matching or coordinating fabrics made by Sunbrella.
Sunbrella fabrics are stain and mold resistant and do not fade or dull.
Seat covers come in an assortment of solid colors and stripes.
Other seat cover fabrics are synthetic sheep skin or terry cloth.
Another option is to recover your seats with new vinyl and a heavy duty stapler.
New seat golf cart seat covers can make a tired and worn golf cart look like new. Club Car Seat Covers


Golf Cart Steering Wheel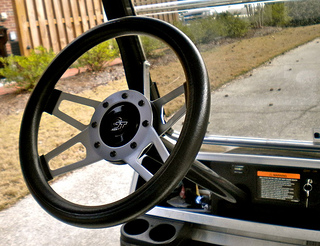 Add a custom golf cart steering wheel to your Club Car for a customized look.
This is the new one I put on my 2006 refurbished Club Car. It was easy to remove the old one and put on the new one.
Of course there are lots of styles and finishes to choose from: Golf Cart Steering Wheel




Golf Cart Flags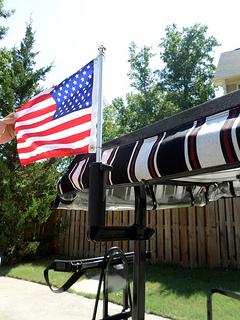 Around Peachtree City, many golf cart owners proudly display flags of their favorite football team or affiliation with the Marines or U.S. Air Force.
You can easily remove the flag posts for times when you don't want them on or you can move the posts from the front struts to the back struts.
Or you can change out your flags - replace your Auburn flag with a US flag for the Fourth of July.
Poles can be attached with easy to use brackets or velcro straps: Golf Cart Flags

Golf Cart Roof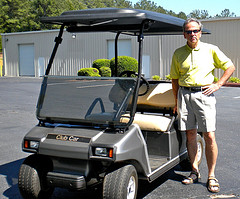 You may need to add a golf cart roof or you may want to change the color of the roof to match the golf cart body.
A colored golf cart top, rather than a white or cream colored top, gives a custom look to your golf cart.
Tops come in different sizes. An extended top is longer and protects those who are sitting in the back seat of a 4 seat golf cart. Golf Cart Roof
Club Car Enclosure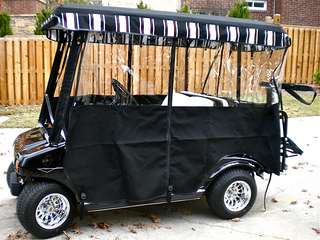 For those of us who like in a golf cart community, golf cart enclosures are really one of the necessary Club Car accessories.
These enclosures really do help to keep you dry and warm on cold or rainy days. Since we use our Club Car to get around town, we keep it on year round and just roll up the sides when the weather is nice.
To learn what you need to know before selecting a golf cart cover click here: Club Car Enclosure
Golf Cart Storage Cover
If you are unable to store your Club Car in a garage, then a golf cart storage cover will help to protect the finish of the body, the golf cart seats and golf cart components.
This is an inexpensive investment that will help to keep your cart looking like new.


Customize or provide comfort by adding Club Car accessories to your golf cart.

Go form Club Car Accessories to Golf Carts Etc. Home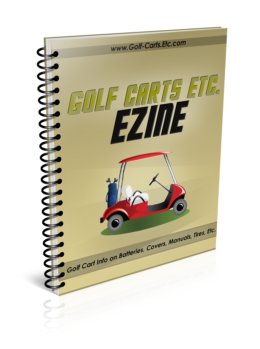 If you are interested in the free Golf Carts Etc. Newsletter you will find information and updates on:
√ Golf Cart Accessories, Parts and Tires
√ Golf Cart Repair FAQ
√ Golf Cart and Battery Maintenance
√ Electric Golf Cart Reviews
√ Golf GPS Reviews
.... and more.
Provide just your first name and e-mail address for the FREE Ezine: