Electric Golf Cart Batteries - Water Levels
Electric golf cart batteries require a regular watering program to keep them running properly. It's not that hard, but it is important to maintain water levels so that the batteries are not over-watered or under-watered.
Extend Your Golf Cart Battery Life

Understanding golf cart batteries requires knowledge about how to check and maintain the water levels of your deep cycle batteries.
Many people who move to Peachtree City find themselves as golf cart owners for the first time. It's great fun to hop on the golf cart and drive it daily to do errands, take kids places or for a joy ride. But if you continue to drive it and ignore it, you may find yourself in the same boat as my friends, Jeff and Laura, new golf cart owners.
One day their golf cart completely and suddenly stopped on one of the golf cart paths. A local golf cart dealer picked it up and without much need for troubleshooting they told my friends that they had let the battery water level get too low. They had been using their golf cart for a year and a half and never so much as lifted the golf cart seat to check anything. So now these new golf cart owners check the water levels regularly and I might add compulsively.
Here are some critical points for you to remember:
1. Under watering can ruin your electric golf cart batteries
If the water level falls below the tops of the plates, the exposed plates can become permanently inactive which ruins your batteries.
2. Water the batteries AFTER they are fully charged, unless the water levels are below the level of the plates.
If you fill the batteries before charging you may end up overfilling your batteries. This happens because the electrolyte levels rise while being charged and then can bubble out of the cap which reduces the battery capacity.
The general rule of thumb is to water 1/4" above the plate.
3. Always use distilled water.
Do not use tap water. Tap water contains minerals that are harmful to golf cart batteries. Distilled water will extend the life of your batteries.
4. Put on gloves and goggles for protection before removing the plastic caps. Remember the cells are filled with acid.
I purchased this golf cart battery kit from Buggies Unlimited that includes a battery water fill bottle (the one in the picture), battery terminal protector, battery terminal cleaner, and a battery hydrometer - all at a savings of 28% if purchased separately.
Golf Cart Battery Kit
Golf Cart Battery Information

Golf cart battery information on water levels, from the Club Car manual, instructs that the water level should be "at least 1/2" above the plates or to the level indicator."
How often should you check your water levels? Well, that depends on: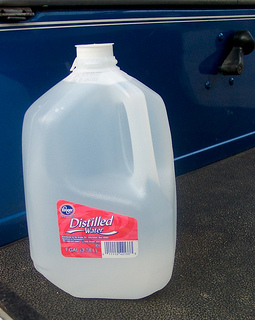 1. The Temperature
In warmer weather, the water level needs to be checked more frequently. Most golf cart manuals recommend the water levels to be checked weekly.
2. The Age of the Batteries
The older your batteries, the more frequently you need to check the water levels. You may be tempted to just check a couple of the cells, but this isn't a good indicator of all your batteries. If you're going to take the time to look at the water levels, be sure to examine all cells and all batteries. You may find that some levels may be good while other cells are low.
Maintaining the correct water levels in your deep cycle batteries may be one of the most important things you
Electric Golf Cart Battery E-Book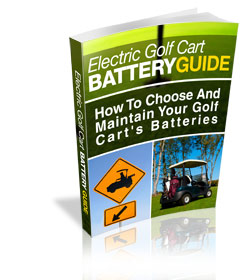 Are you new to golf cart ownership? The biggest investment in the cart is the batteries - take care of them properly and they will last for years. Don't care for them and you could be replacing them in less than a year.
I purchased this electric golf cart battery guide and found it a great help. You will find lots of simple tips to help ensure the productivity and the longevity of your batteries.
If you need help understanding deep cycle batteries, how they work and how to maintain them so that they last a long time get yours here:
Golf Cart Battery Guide
Go from Electric Golf Cart Batteries to Golf Cart Battery Maintenance

Go from Electric Golf Cart Batteries to Golf Carts Etc. Home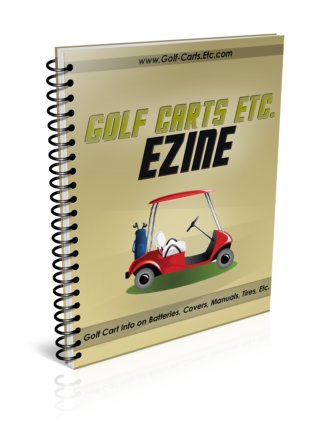 If you are interested in the free Golf Carts Etc. Newsletter you will find information and updates on:
√ Golf Cart Accessories and Products
√ Golf Cart Repair FAQ
√ Golf Cart and Battery Maintenance
√ Electric Golf Cart Reviews
√ Golf Cart Parts
√ Golf Cart Tires
√ Golf GPS Reviews
.... and more. Your e-mail information will never be shared with anyone else. Simply sign up here: