EZ Go Golf Cart Parts

EZ GO golf cart parts can be found easily on line or of course from your local authorized EZ GO golf cart dealer.
What Year is My EZ Go Golf Cart?

Golf cart solenoids to shocks all eventually need replacing. To order the right part you will need to know the make, model and year of your EZ Go golf cart.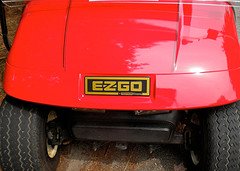 For EZ Go golf carts 1994 and newer the serial and manufacturer numbers can be found in the glove box area or the dash compartment on the passenger's side of the golf cart.
The plate will contain the 6 or 7 serial number.
The manufacturer's number will provide information on the year of the golf cart, but the serial number does not.
Usually the last two numbers of the manufacturer number reflects the year your golf cart was made.
EZ Go Golf Cart Manual

While a golf cart parts manual may be helpful, it is really not necessary any more. However an EZ Go Repair Manual can certainly be useful in not only providing instructions on repairing, maintaining or upgrading your golf cart, but will list exactly what EZ Go parts are needed. 
Amazon carries a complete selection of golf cart repair manuals. 

EZGO Golf Cart Manuals
Electric Golf Cart Motor
If you want to upgrade and increase the speed of your golf cart, change out the motor. Get your cart going up to 20 mph.
This electric golf cart motor is for EZGO 1988 & UP series cars.
High Speed Electric Golf Cart 36 Volt Motor 4 HP 4400 RPM 19 Spline
Golf Cart Body Parts

What's great about owning a golf cart is that the body parts can be easily replaced - whether it's a front cowl or a new seat.
Perhaps you need to replace a part that's broken or worn, not only is it easy to order the needed part, you can replace that part yourself.
Or maybe you are looking for ideas to customize your golf cart.
You can turn your common golf cart into a custom golf cart with custom golf cart body parts like custom golf cart wheels, fender flares, or diamond plate panels.
A new dash with a glove box that locks and a custom golf cart steering wheel are on my list - not the "need" list, the "I want list."
Electric Golf Cart Parts

Maybe it's your golf cart performance that needs a kick. Upgrading your performance parts will help your golf cart handle hills better and can give speed to a slow golf cart.
A new motor also requires other upgraded components. To make it easier, Buggies Unlimited has put together a Speed Kit for non-lifted golf carts that are not used for off-roading. The kit includes:
Speed Motor
500-Amp Speed Controller
Heavy-Duty 36V 4-Terminal Solenoid
Cable Kit
Modified Forward & Reverse Switch Assembly
Forward & Reverse Handle
Controller Cover
250-Ohm Resistor
Resistor Lead
Hardware Kit
Here is link for further info on this speed kit:
EZ Go Golf Cart Accessories

Golf cart accessories include fun stuff like golf cart radios, enclosures, storage nets, or heaters and fans.  Radios can be installed in the golf cart dash board or onto the golf cart top.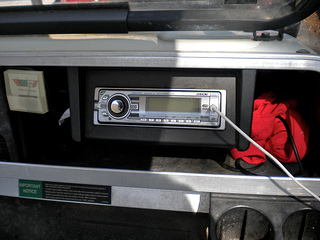 Keep comfortable with a heater that runs either by butane or using the golf cart batteries.
My favorite golf cart accessory is a golf cart enclosure. For chilly early morning tee times (thanks to my early bird golfing buddy, Peter) or for cold, rainy days on the golf cart paths, the enclosure really helps to keep us warm and dry.

For whatever reason you have for needing EZ Go golf cart parts, you can keep your golf cart running smooth or looking really cool by getting just the parts you need.
Go from EZ Go Golf Cart Parts to Golf Cart Parts

Go from EZ Go Golf Cart Parts to Golf Carts Etc. Home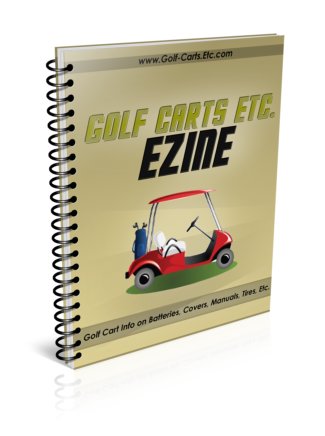 If you are interested in the free Golf Carts Etc. Newsletter you will find information and updates on:
√ Golf Cart Accessories and Products
√ Golf Cart Repair FAQ
√ Golf Cart and Battery Maintenance
√ Electric Golf Cart Reviews
√ Golf Cart Parts
√ Golf Cart Tires
√ Golf GPS Reviews
.... and more. Your e-mail information will never be shared with anyone else. Simply sign up here: