Cleaning Golf Cart Bodies
Golf cart bodies need to be cleaned and maintained just like your car. Here are some tips for protecting the finish and removing marks.
Golf Cart Scuff Marks
The body of your golf cart will eventually get some scuff marks that plain old water and soap will not be able to remove. They might be black scuff marks on the fiberglass or from tree or brush scrapes.
The picture below shows some black scuff marks on the side of my Club Car body.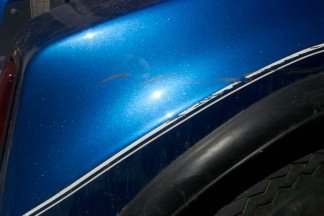 I had just purchased a new fiberglass cleaner called Fiberglass, Plastic, & Rubber Restorer and thought I'd give it a try.
The directions stated to "spray directly onto the mark from a distance of at least 8 inches." Which I did.
Then you need to allow the spray gel to work for several seconds. I probably waited 30 seconds or so.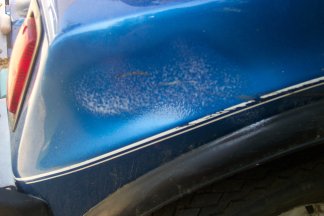 Always use a soft cloth on fiberglass bodies. I save all of my old white cotton t-shirts for cleaning my golf cart.
After gently wiping off the area that was sprayed, the fiberglass looks as good as new.
Fiberglass Cleaner for Golf Carts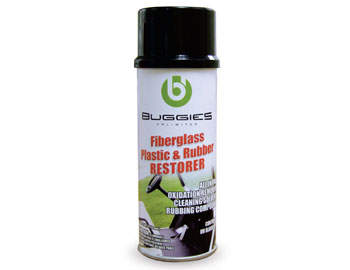 The fiberglass cleaner called Fiberglass, Plastic, & Rubber Restorer from Buggies Unlimited is around $8.99 a can. I try to get it when I'm ordering a couple of things to save on shipping.
The directions stated to just spray it on and rub it in with a soft cloth. It did help to restore some shine to my 1987 Club car.
It also says that the spray provides protection from UV damage - such as fading and the wax finish helps to prevent scuff marks.
Go from Cleaning Golf Cart Bodies to Golf Cart Body

Return to Golf Carts Etc. Home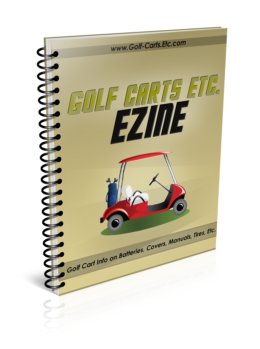 Sign up for our free Golf Carts Etc. Newsletter. Get information and updates on ...
√ Golf Cart Accessories, Parts and Tires
√ Golf Cart Repair FAQ
√ Golf Cart and Battery Maintenance
√ Electric Golf Cart Reviews
√ Golf GPS Reviews
.... and more.

Sign up with just your first name and e-mail address for the FREE Ezine: