Golf Cart Rain Covers

Golf cart rain covers provide protection to your clubs and help keep your game going - even when a person shouldn't be outside golfing.
One of these covers sure would have been handy today. Living in Georgia, we've had a drought for the last several years, and we hardly knew what a rainy day looked like.
I know where my sunscreen is, where my golf sunglasses and hat are, but I don't know where to find my golf cart umbrella and I certainly never thought about buying a golf cart rain cover...until today.
It was a golf tournament for Young Life that, unless lightening struck, would carry on rain or shine, and rain it did.
A golf bag rain cover is an inexpensive way of keeping your golf cart bags and clubs dry.
There are several styles available depending on what kind of golf cart you are using.
There are golf rain covers for these styles:
1. Electric golf cart
2. Golf Push Cart
3. Golf Bag Rain Covers
Features to look for are:
1. Easy to put on and take off
2. Easy access to clubs, balls, and tees
Golf Bag Rain Cover

A golf bag rain cover is golf cart accessory that helps protect your golf club and bag investment.
The Wedge
The golf bag Rain Wedge is a popular rain cover for golf clubs. It can be used on most golf bags and offers a quick and easy way to access your clubs. With one hand you can flip the canopy up and with the other hand grab one of your clubs.
A popular and easy to use golf bag rain cover is the Rain Wedge. You can use one hand to flip up the cover while your other hand removes a club from your golf bag.

It sets up very quickly and simply. You just attach two clips to the sides of your golf bag then loop and secure the strap through your golf bag handle.
The clip and strap system secures the Rain Wedge to your bag so the wind won't blow it away.
It has an adjustable strap so this rain cover can be used if your carrying your bags or using a pull or push cart.
The cover is stored inside your golf bag like a club and is very lightweight.


There are a couple of steps to attach it to your bag. First you need to clip it to the sides of your bag, unzip the rain wedge to open it up and then take the strap through the golf bag handle of your bag and pull the strap tight.
An affordable cover, the Golf Bag Rain Wedge goes for around $20.
Full Bag Cover
Want to keep your whole golf bag dry - not just your clubs? This is the one to get.
Store it in your bag so it's handy to pull out when the rain starts and won't stop. This is the one the pros use to keep the contents of their golf bag dry but also provides easy access to the clubs.

So if you like to keep playing in the rain, get this one for under $40 and your buddies will wonder where you got it:
Clear Bag Cover
f you want complete protection for less - protecting not only your
clubs, but your bag from the rain, this Clear Golf Cart Rain Cover attaches easily to your push or pull cart with velcro straps.
It stays soft in cold weather - doesn't get brittle or stiff. Easy to use zippers makes access to your clubs a breeze.
At less than $12, this is a great cover for those who like to walk the course.
Bubble Umbrella

My favorite golf bag rain cover is this simple bubble umbrella. 
For some reason, when I use it the other guys think it's wimpy and actually make fun of me. But I like it because it's easy to carry with me for those sudden downpours and it provides quick and easy access  to my bag and clubs. There's no searching for the opening and then opening and closing zippers all the time.
It doesn't matter what bag you have this golf bubble umbrella fits into any bag. Of all the golf bag rain covers, find out why this is my favorite.
Here are the reasons why I use this umbrella to protect my clubs.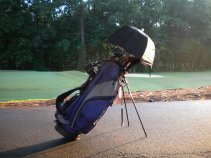 1. Easy to Carry

I can keep this in my bag and carry it with me all the time. In the summer, it's not unusual to have a sudden downpour develop late in the afternoon, just when I want to hit a couple of balls. With this small, lightweight umbrella I am always prepared. It can be kept in the umbrella compartment of your golf bag so it doesn't take up any club space.
2. Easy to Use
Simply open up the umbrella and put the umbrella pole in with the golf clubs. It opens in seconds. There is no fiddling around trying to get a golf bag rain cover to fit over the bag and clubs. No zipping and unzipping every time you get a club out or put it away.
The DrizzleStik has different locking sections so that there are three different lengths to the shaft. This telescoping action makes it easy to adjust the height. It also has a hinge that allows you to bend it out of the
3. Easy to Get to the Clubs
There are no zippers or openings to open and close. It's easy to see and access just the right club.
4. Can be used with any Golf Bag
It doesn't matter what make or type of golf bag you have, the golf bag umbrellas will keep your clubs protected.
5. Inexpensive
For less than $20 the Drizzle Stick is well worth the money.
If you are looking for an enclosure for your golf cart visit Golf Cart Enclosures.

Go from Golf Cart Rain Covers to Golf Push Cart

Return to Golf Carts Etc. Home Page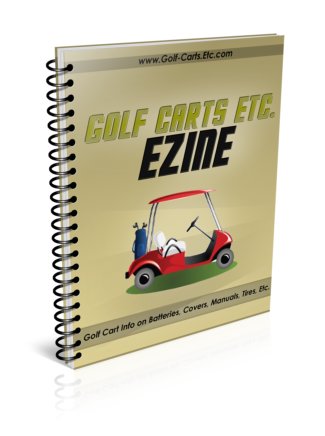 If you are interested in the free Golf Carts Etc. Newsletter you will find information and updates on:
√ Golf Cart Accessories and Products
√ Golf Cart Repair FAQ
√ Golf Cart and Battery Maintenance
√ Electric Golf Cart Reviews
√ Golf Cart Parts
√ Golf Cart Tires
√ Golf GPS Reviews
.... and more. Your e-mail information will never be shared with anyone else. Simply sign up here: