Golf Cart Roof
A golf cart roof keeps you dry on rainy days and protects you from the glaring sun on hot days. Sometimes golf carts are sold without a roof and you may need to add your own. This accessory comes in different lengths and different colors for a custom look.


Custom Look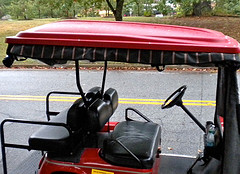 Instead of a plain white or cream colored top many people get a roof that matches the color of their golf cart body - like this red one.
Another custom option is to have an aluminum or powder coated black trim placed along the bottom edge of the top.
Golf cart tops can come in just about any color - red, black, burgundy, navy blue, etc. The roofs also come in different lengths from 54" to 112" depending on the number passenger golf cart.
Grab Handles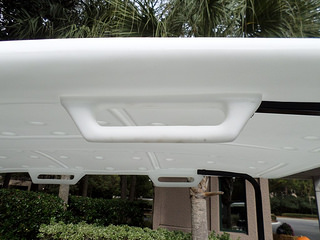 New tops often come with grab handles to help with getting in and out of the cart.
Colored Tops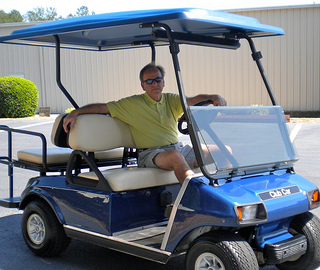 There are actually many different color choices for golf cart tops. Beige and white are the most common, but you can also get a top in red, black, blue, or even custom painted to match the color of the cart.
If you are going to use an over the top golf cart enclosure, don't spend the extra money buying a colored golf cart top, because it will be covered up by the enclosure.
Different Lengths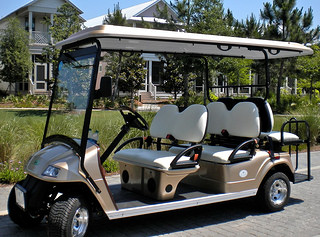 You will need to know the year the golf cart was made. Some golf cart tops are specific to a golf cart make and model.
The other consideration is if your golf cart is a 2, 4 or 6 passenger cart. An extended top protects the rear passengers.
As you can see from this picture the roof accommodates all of the seats keeping everyone protected from the hot sun or drizzling rain.
Buy Locally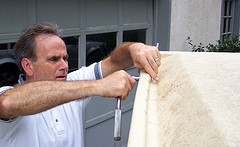 The shipping costs of purchasing a top vary. FedEx and UPS will not ship it because of its size, so it must be shipped by common carrier - which means by semi and then it has to be delivered to a commercial address. So it's best to buy this part locally.
Be sure to shop around. The prices that were quoted for our 1987 Club Car at our local Club Car dealers in Peachtree City ranged in price from $70 - $350 for the same top. See if the dealer has any used ones for some extra savings.
Golf cart roofs can be bought from your local golf cart dealer, from E-bay or on Craig's list. New ones will come as a kit and include the front and rear supports. Most of these struts or supports are aluminum but you can get them in black too.
Buy Used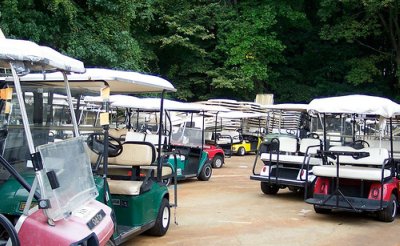 I replaced my golf cart top with one I found at a golf cart salvage place. Want to know how I found it? I placed an ad (for free) on Craig's list stating that I was looking for a used golf cart top. Several people and dealers responded to me. I payed half of what it would have cost if I had bought a new one from Golf Rider in Peachtree City.
They sell and repair golf carts and have a bunch of used parts in their repair yard.
So off I went to the golf cart "yard" and after some help from Tony we were able to locate a used top that should work just great. This is an easy do-it-yourself job. It took me about fifteen minutes to take off the old golf cart roof and put on the new top.
It took me a lot longer to clean and scrub the dirt off - but now it looks like new :) Replacing or adding a roof can be simply functional, providing protection from the rain or sun, or it be a customized feature for your golf cart. Keep in mind if you decide to add a golf cart enclosure that sits over the golf cart roof rather than the track system, the color of the roof won't matter - because the enclosure covers it.


Go from Golf Cart Roof to Club Car Accessories

Go from Golf Cart Roof to Golf Carts Etc. Home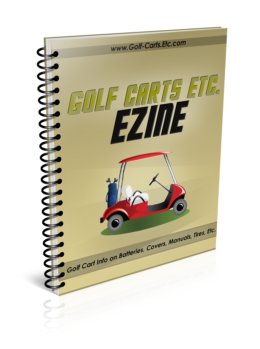 Sign up for our free Golf Carts Etc. Newsletter. Get information and updates on:
√ Golf Cart Accessories and Products
√ Golf Cart Repair FAQ
√ Golf Cart and Battery Maintenance
√ Electric Golf Cart Reviews
√ Golf Cart Parts
√ Golf Cart Tires
√ Golf GPS Reviews
.... and more.
Simply provide your first name and e-mail address. Your e-mail information will never be shared with anyone else. Sign up here: