Golf Pull Carts
Golf pull carts are a great way to walk the course and to reduce your golfing expenses. They provide some exercise and some golfers think walking the course helps their mind focus as they think about distance and the lay out of the hole.
These carts usually have just the two wheels and are much less expensive than the new 3 wheel push carts. I love walking the course rather than using a golf cart when the weather is cool. Don't try to carry your bags. It's too hard on your back and shoulders and takes some of the enjoyment out of walking - in my opinion :)
Walking the course can save you quite a bit of money since you don't need to rent a cart - so consider your investment in a good golf pull cart as a way of reducing your golfing expenses. 
Bag Boy Pull Cart M 330
A Bag Boy Pull Cart is one of your better options if you are wanting a pull cart instead of a push cart.
This pull golf cart is the most economical cart and a good standard, solid cart to use if you are walking. Many golfers still prefer pulling their golf cart. If it's working for you why change. Many proponents of walking with a golf cart rather than riding on one, state that while walking the player can focus better on their next stroke and improve their game. While I have not experienced this benefit of walking the course, I do enjoy the exercise.
The Bag Boy M330 Pull Cart is an adequate cart for the price. The new M330 runs around $50-$70. It's a lighter weight golf cart and easy to maneuver. Folds easily to put into the trunk. It rolls smoothly on the fairway and on bumpy terrain.
If you're looking for an inexpensive small, compact and lightweight pull cart this one may be for you.
The Bag Boy golf pull cart is one of the most well known pull carts. They have been in the golf cart business since 1948 and they know golf carts. Many golfers still prefer this style over the push cart. Bag Boy M 330 features:
√ Lightweight Aluminum
√ Two Wheels (rather than the 3 wheel push carts)
√ Adjustable Handle for golfers of all heights
√ Folds up easily for storage or putting it in the trunk
√ Extra Wide 9.5" wheels
√ Score card, ball and tee holder
Most of the reviews showed that those who were looking for a less expensive and more compact and lightweight pull cart, found this one sturdy enough and easy to maneuver up hills and through out the golf course.
The biggest complaint is that the golf bag shifts to the side and needs to be periodically adjusted. The new cart may have improved on this flaw as it has reinforced side rods.
This pull cart doesn't have a water bottle holder.
A prior suggestion that was posted on golf pull cart reviews, stated that this pull cart would be better if it had bigger wheels - well Bag Boy must have listened because this bag has larger 9 1/2" extra wide wheels.
Go to Amazon and read what others are saying about this golf pull cart click here:
Inexpensive Golf Pull Carts
Not quite as ergonomically good for your body as the push cart, but definitely more economically good for your wallet, pull golf carts are still favored by many golfers.  You don't have to buy a well known brand, like Bag Boy, to get a durable pull golf cart. You can find inexpensive pull golf carts at nearby stores like Target, K-Mart, Dick's Sporting Goods, etc.
The Intech LiteRider Cart is a "no frills" 3 wheel pull cart. Very inexpensive - a little over $40 - and light weight - weighs all of 8.6 pounds. Compare that to the new Sun Mountain push cart I just bought for $175.
A sturdy well made cart with a steel frame makes it durable and long lasting. Wide 10" wheels provide stability and a smooth ride.
This cart is lightweight. It is very compact when it folds up and stores easily in the trunk of any size car which is why most people buy this pull cart. Not a lot of features on it, for instance no brake - but it does have a water bottle holder.
It also has a tee, game card and ball holder. If you are new to the game of golf or wanting to save money on course fees this is the right cart for you. Truly a bargain.
The Intech pull cart got some great reviews. The reviewers compare it to a trusty Toyota. If you are looking for an inexpensive pull cart, look no farther - this one is the one to get.
To read reviews on this golf pull cart click here:
Intech LiteRider Cart (10-inch wheels, steel frame) 
Child's Golf Cart
If you want to spend some quality time with your child - play some golf together. Walking the course is a great way to expend some of that youthful energy - but you don't want to be carrying your child's clubs. For less than $40, get your child his or her own junior golf pull cart.
A child's golf cart needs to be lightweight and easy to maneuver - and not too expensive since they can grow out of them quite quickly. A golf cart for children needs to accommodate a smaller golf bag. Some features you want to be aware of would include: Wider wheels for stability Score Card Holder Water Bottle Holder Adjustable Handle There is no one child's golf cart that has all of the above features - so decide which ones are most important to make your child's golf experience a positive one. This junior golf pull cart had the best reviews. It has a strong but lightweight steel frame with a water bottle holder. To read what parents are saying about this golf cart click here:
Junior Lightweight Steel Frame Golf Cart with Detachable Water Bottle.
There's often not a lot of fancy features on these carts, but if you are looking for a way to reduce your golfing expenses and get some exercise at the same time, investing in a pull golf cart is the way to go.
For More Information check out: Keep Your Clubs Dry - Golf Cart Rain Covers
Go from Golf Pull Carts to Golf Carts Etc.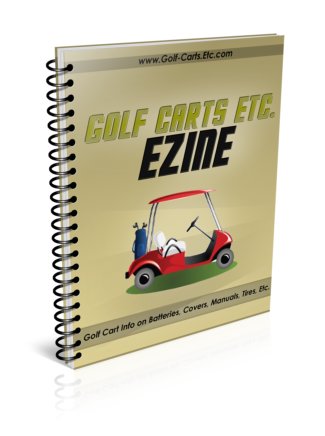 If you are interested in the free Golf Carts Etc. Newsletter you will find information and updates on:
√ Golf Cart Accessories and Products
√ Golf Cart Repair FAQ
√ Golf Cart and Battery Maintenance
√ Electric Golf Cart Reviews
√ Golf Cart Parts
√ Golf Cart Tires
√ Golf GPS Reviews
.... and more. Your e-mail information will never be shared with anyone else. Simply sign up here: