Golf Push Cart

Except for the hot summer months, I prefer to use a golf push cart when playing golf. I get a little exercise and think about how I'm going to play the next hole.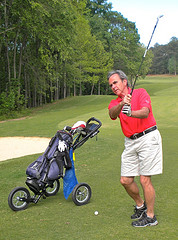 My favorite push cart is the Sun Mountain push cart, but all of the new push carts are ergonomically well made.
There isn't the strain on your shoulders or back from carrying your clubs or pulling a cart behind you.
I like walking for lots of reasons, but the best one for me is that I just enjoy the exercise of walking.
After sitting in an office at the computer all day it feels good to be on my feet.
Sun Mountain Golf Carts

My favorite push carts are the Sun Mountain Push Carts. I have owned two of them. I just replaced my old Sun Mountain with a newer style.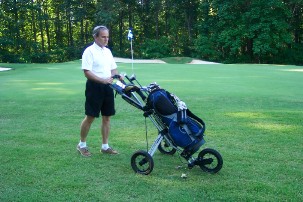 Even with a full bag of clubs it is easy to push for 18 holes of golf or more :)- this is the result of the three inflatable tires or solid foam tires. An air pump is attached to the cart for the pneumatic tires.
It is very easy to push over the course and has several features that I use - like, a cup holder, umbrella holder, and a portable air pump for the tires
I prefer the ergonomics of pushing my golf cart instead of pulling it when I walk. This push cart is very light and easy to fold up and put into the car.
To learn more click here: Sun Mountain Golf Carts
Bag Boy Push Cart

Bag Boy has been around since 1946. Many of their golf cart designs have won the top selections for equipment by the Golf Digest magazine equipment editors. According to their website the Bag Boy company developed their first-ever push golf cart in 2002.
It was a great ergonomical change to move from a pull cart to a cart designed to be pushed in front of the golfer.
These push carts quickly became very popular and moved the industry standard from pull carts to push carts. Although Bag Boy still does make pull carts, they state that 80% of Bag Boy carts sold today are push golf carts.
The Bag Boy golf push cart is a 3 wheel cart that is easy to fold up and get into the trunk of your car. If you like walking the course, choose a push cart - it is so much easier to use and better for you ergonomically.
The adjustable height feature works well on these carts as does the parking break. One of the models is called an Automatic One Step Fold - it really is one step - by simply pulling up on one lever the cart folds easily and compactly.
They also are the makers of the unique Bag Boy Revolver - it's like a lazy susan that separates all your clubs, but by simply twisting the top you can access your clubs very easily.
To learn more about the different Bag Boy Push Carts click here:
CaddyTek Superlight Cart

This superlight push cart weighs just around 12 lbs and comes with features found on more expensive carts - like an umbrella and beverage holder.
This 3 wheel push cart has a solid steel frame and adjustable handle.  It moves smoothly over all kinds of terrain.  If you are looking for a good value at just under $100 this is the cart to get.

CaddyTek SuperLite Deluxe Golf Push Cart
Golf Rain Covers

Consider a golf cart rain cover if you are one of those crazy golfers who likes to golf rain or shine.
I'm not one who pays much attention to weather reports nor do I check them before I head out to golf.
So, it is not surprising that I've been caught golfing in an entire afternoon of rain or in a sudden, downpour without any way of protecting my golf bag or clubs.
No longer. I have been reminded of my Boy Scout days and trying to learn to live by the helpful motto - "Be Prepared."
So now I have a golf cart rain cover for my Club Car golf cart, my Sun Mountain pull cart and one to take with me when I rent a golf cart at other courses.
My wife thinks I may have gone too far - but, it seems lately that in the early evening when these sporadic thunderstorms hit, I may get soaking wet, but my clubs stay nice and dry.
Now if you live in Arizona, you might not want to invest in one, but if you live in Florida where a late afternoon shower occurs just about daily, this would be a good investment to protect your clubs.
To learn more click here: Golf Cart Rain Covers
Go from Golf Push Cart to Golf Carts Etc. Home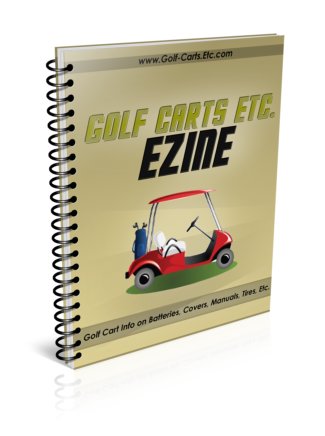 If you are interested in the free Golf Carts Etc. Newsletter you will find information and updates on:
√ Golf Cart Accessories and Products
√ Golf Cart Repair FAQ
√ Golf Cart and Battery Maintenance
√ Electric Golf Cart Reviews
√ Golf Cart Parts
√ Golf Cart Tires
√ Golf GPS Reviews
.... and more. Your e-mail information will never be shared with anyone else. Simply sign up here: