The Villages in Florida

The Villages in Florida is true golf cart community - with over 24 9 hole golf courses and access to all areas of the village via a golf cart.
Unlike Peachtree City, The Villages is a retirement community.
You or your spouse must be 55 years old to liver here...and no one under the age of 19 is allowed to live in this retirement community.
It is located in central Florida mid-way between the Gulf and Atlantic coasts - an hour north of Orlando near Interstate 75 and the Florida Turnpike.
Free Golf for Life

The Villages provide free golf for the rest of your life on all of their executive golf courses. Well, almost free.
Residents of The Villages pay a monthly amenities fee which is currently $135/month. This fee includes use of the golf courses, tennis courts, swimming pools and recreation centers.
The trail fee for using a golf cart is $3.00 and it is free if you are walking.
This golf course community currently has 24 (and growing yearly) nine hole courses. The courses are primarily par 3 holes with the occasional par 4 or par 5.
If this community interests you check out their home page at: The Villages

Go from The Villages in Florida to Golf Cart Community

Return to Golf Carts Etc. Home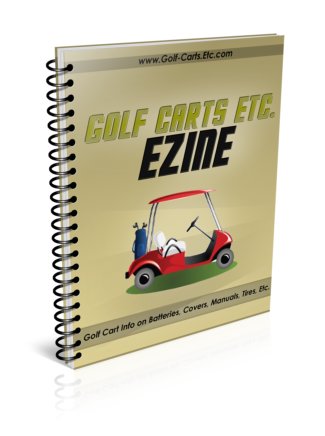 If you are interested in the free Golf Carts Etc. Newsletter you will find information and updates on:
√ Golf Cart Accessories and Products
√ Golf Cart Repair FAQ
√ Golf Cart and Battery Maintenance
√ Electric Golf Cart Reviews
√ Golf Cart Parts
√ Golf Cart Tires
√ Golf GPS Reviews
.... and more. Your e-mail information will never be shared with anyone else. Simply sign up here: