A Must Have Golf Cart Accessory
Keep your cell phone always charged with this handy accessory that plugs into a port on your golf cart.

Gimme Charge
No more drained batteries on your GPS device, SkyCaddie, or smart phone. Keep playing with fully charged electronic devices.
It works like a phone car charger adapter - only this one is adapted for electric golf carts. There is a different adapter for each golf cart make. Simply plug in one end of the USB cord to your cell phone and the other end to the designated power port.
Find out what devices this handy guy will charge and what year, makes and models can keep your devices all charged up.

The Handiest and Most Practical Golf Cart Accessory
P.S. Hit the Facebook Like Button in the Left Upper Corner if You like the page.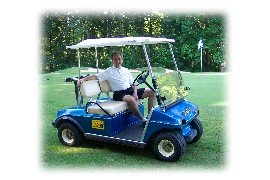 Thanks for subscribing to Golf Carts Etc. Newsletter.
Bill Degner