Hello


Golf Cart Battery Cables, Corrosion and Tips for Cleaning
Small but mighty, clean golf cart battery cables and terminals can make all the difference between your golf cart working or not working. Corrosion leads to bad connections which means a break in the power and can cause your golf cart to suddenly stop.
During heavy charging, acidic vapors are released by your electric golf cart batteries which contributes to corrosion buildup on the terminals and cables. Overfilling the batteries and loose connections can also be corrosion contributors.
While you can minimize this white buildup and take steps to prevent it, you will still need to periodically check your connections and clean the corrosion from the cables and terminals.
1. Find out how to correctly clean off corrosion - there is a right and a wrong way to neutralize the acid

2. Find out how you can prevent and protect your cables and terminals from future build up

Top Tips for Minimizing Golf Cart Battery Corrosion and Cleaning Your Connections
P.S. Hit the Facebook Like Button in the Left Upper Corner if You like the page.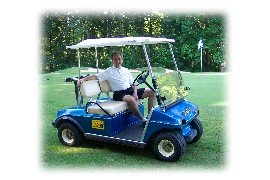 Thanks for subscribing to Golf Carts Etc. Newsletter.
Bill Degner