Your Guide to Golf Cart Enclosures
How we lived many years in a golf cart community without a golf cart enclosure is really unexplainable. If there was one golf cart accessory I would recommend to a golf cart owner is to get an enclosure.


Most enclosures can be left on year round making them easy to use when the temperatures turn cool or when the rains come.
Three Top Tips for Buying A Golf Cart Enclosure
1. Inexpensive or Expensive

Enclosures can range in price from $60 to $600. We have owned expensive custom Sunbrella enclosures and universal ones. Surprisingly you can get some high quality covers made out of durable and thick canvas for less than $100. An inexpensive cover is what is called a universal enclosure - meaning it can fit most Club, Yamaha, EZGo and other golf cart makes.
2. Size
The size of a universal or custom golf cart enclosure is dependent on whether it is a 2 passenger or 4 passenger golf cart and the length of the top. An extended top requires a different size. Be sure to measure the length of your roof before ordering a cover.
3. Three or Four Sided
If you have a windshield, order a 3 sided enclosure. Four sided ones cover the windshield making it difficult to see and even if it has a zippered front that can come down, it doesn't look that great and of course it isn't necessary.
Get more use out of your golf cart more months out of the year with this essential golf cart accessory. Find out my recommendations for an over the top or track system as well as covers that use a snap verses a hook to attach the bottom of the cover to the cart.

Top Tips for Buying a Golf Cart Enclosure
P.S. Hit the Facebook Like Button in the Left Upper Corner if You like the page.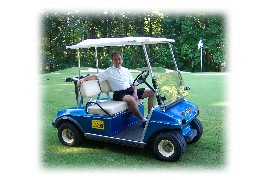 Thanks for subscribing to Golf Carts Etc. Newsletter.
Bill Degner