Happy Fourth - Accessorize with a Golf Cart Flag
We got our U. S. golf cart flag and flag pole just in the nick of time. Of course we don't need to limit flying the Grand Old Flag to the Fourth of July, but it's great to have it during the Fourth festivities - such as riding the golf cart to the Fourth of July Parade and to the fireworks.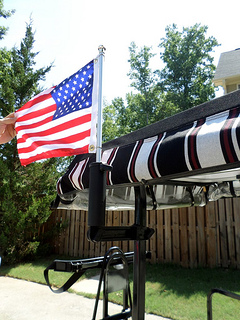 I purchased the flag pole and flag as a kit. It is so easy to put it on, take it off or move it to a different location.

An adjustable arm allows the pole to be positioned in many different ways.

Of course there are lots more flag options besides the United States flag. Show your team support and fly a flag that represents your favorite football team.

It's a fun, easy and inexpensive way to customize your golf cart and to show support to the United States troops or to your Alma Mater.

P.S. Hit the Facebook Like Button in the Left Upper Corner if You like the page.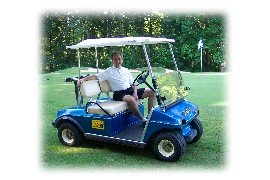 Thanks for subscribing to Golf Carts Etc. Newsletter.
Bill Degner