Keeping Warm - Golf Cart Heaters and More
As the winter season approaches, sunny warm days have become a faint memory. But that doesn't mean you have to park your golf cart for a couple of months just because it's cold outside. There are lots of ways to keep comfortable and to get more use out of your cart even when it's chilly.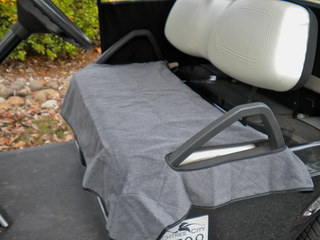 1. Enclosure
The most important accessory is going to be an enclosure. Whether you spend $100 for a universal cover or $500 for a custom cover having an enclosure that zips up all around often can be enough protection to keep you warm.
2. Windshield
A tight fitting windshield helps to keep the cold air out. Most of the new windshields are molded to the shape of the front cowl to prevent cold air from blowing into the cart. Creative people use a dollar store foam noodle inserted around the bottom of the windshield if their windshield allows too much air to get in.
3. Heaters
A propane heater sits in the cup holder and heats up an enclosed golf cart quickly. It requires the cartridge to be replace after about 6-8 hours of use. Am electric or mounted heater runs of the batteries and is mounted on the dash or steering wheel. It costs more initially but doesn't require any propane .
4. Seat
Sometimes the combination of an enclosure and a warm seat is enough to keep one warm without a golf cart heater. A golf cart blanket using flannel fabric fits onto the front seat and is much warmer to sit on than cold plastic. Do you have heated car seats? Want that same luxury on your golf cart? You can purchase an accessory that is quickly heated in the microwave, then placed on the golf cart seat and you can have warm buns for a couple of hours.
Want more tips and specifics on staying warm? Go to ....
P.S. Hit the Facebook Like Button in the Left Upper Corner if You like the page.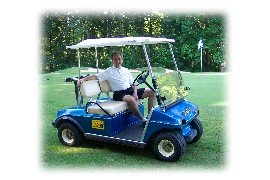 Thanks for subscribing to Golf Carts Etc. Newsletter.
Bill Degner