Golf Cart Repair Manuals - Why Do I Need One?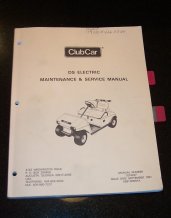 After many years of owning a Club Car golf cart and performing some, but not all, of the regular maintenance and repairs, I finally decided it would be a good idea to have a Club Car service manual.

Owning a golf cart does require regular maintenance and periodic repairs. In order to perform these tasks safely and correctly it is best to follow the golf cart manufacturer's recommendations.

One thing to be aware of is that there are different kinds of golf cart manuals - owners manuals, parts manuals and repair or service manuals.

If you bought your golf cart used, you probably did not get an owner's manual. These manuals can be found on line and often for free from the manufacturers website as a PDF file.

Some of the owner's manuals have some good foundational instructions on maintenance and safety - so this is a good place to start. The Yamaha Golf Cart Owner's manual for instance does include great instructions and graphics for golf cart maintenance and it also includes golf cart schematics.

Golf cart manuals come in different formats - as a PDF file that you download and print, as a CD or in a hard copy booklet. For me the most practical format is the hard copy booklet.

I did not want to mess with printing out all the pages and putting them in a notebook - only to lose some of the pages or to arrange them in the wrong order.

Having a hard copy manual to take with me into the garage while working on my Club car has worked out the best.

In order to get a manual for your golf cart, you will need to know the make, model and year of your golf cart. For links on how and where to get your golf cart manual click here:


Thanks for subscribing to Golf Carts Etc. Newsletter.

Bill Degner



New!

Comments Have your say about what you just read! Leave me a comment in the box below.