Cover Your Old Seats with Easy to Install Seat Covers
I still have my first golf cart - a 1987 Club Car. Works great, but the seats don't look that good anymore. A few tears and some stains that I can't remove means it's time to put on a new seat cover.
There are several options to choose from - whether it's simply replacing the vinyl over the old seat cover, getting a Sunbrella seat cover that uses elastic to hold it in place or a seat blanket that is warm fleece on one side and cool cotton on the other.

Find out what your seat cover options are here:

P.S. Hit the Facebook Like Button in the Left Upper Corner if You like the page.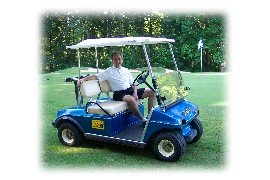 Thanks for subscribing to Golf Carts Etc. Newsletter.
Bill Degner