Golf Cart Seat Warmers - Heated Seats for Your Golf Cart
On a cold winter morning as I am heading off to work, one of the things I love about my car, is not just the heater, but the heated seats. It quickly takes the chill off and provides a comfortable ride for any cold morning.
You can experience that same comfort and warmth on your golf cart. If you are hesitant about having a propane heater, frequently run out of cartridges or are frustrated by the "safety" feature that turns it off whenever you go over a bump, you may just like to try a seat warmer.
It is battery operated so there is no installation required and better yet, the battery is rechargeable.

Of course these work best combined with an enclosure. Now that cold mornings and days are coming, keep using your golf cart comfortably with this golf cart accessory:

Golf Cart Seat Warmers
P.S. Hit the Facebook Like Button in the Left Upper Corner if You like the page.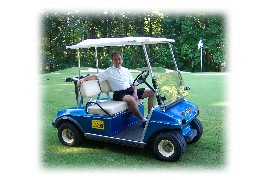 Thanks for subscribing to Golf Carts Etc. Newsletter.
Bill Degner