Golf Cart Speaker That's Easy to Use, No Installation, Affordable, Great Sound
Want to enjoy your favorite music while cruising on your golf cart? But you don't want to do all the work of installing and wiring a golf cart radio and speakers? Well, at the 2015 PGA Expo in Orlando we found a great bluetooth speaker that provides quality sound and good volume. The speaker is:
Portable
Just place it in your dash area. Because it's portable you can use it outside on your deck, at the beach, by the pool or by your fire pit.

Bluetooth
Easy to pair with your iPhone, iPod, smart phone or MP3 player.
Water & Weather Resistant
A black rubberized metal covering protects the speaker from dust and splashes of rain
Let me show you why I love this affordable, portable speaker:

Golf Cart Speaker
P.S. Hit the Facebook Like Button in the Left Upper Corner if You like the page.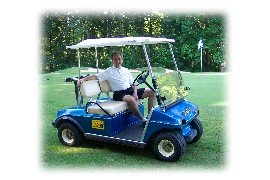 Thanks for subscribing to Golf Carts Etc. Newsletter.
Bill Degner