Golf Cart Cover - Protect Your Investment
A golf cart cover has lots of practical uses. It's a great way to protect your golf cart if you aren't able to keep it in a covered garage.
Many people have golf carts at their beach home or RV park where there is no access to a garage. Others want their cars in the garage this winter and not the golf cart.
I found a simple cover that is easy to put on and take off, made of high quality fabric and has vents to prevent condensation.
Prevent your seats from becoming stained with mildew and the finish of your body from becoming dull for just under $50.
P.S. Hit the Facebook Like Button in the Left Upper Corner if You like the page.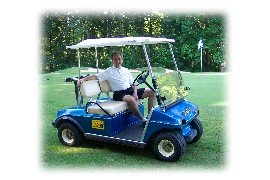 Thanks for subscribing to Golf Carts Etc. Newsletter.
Bill Degner