Precedent Performs
We are seeing more and more Club Car Precedent golf carts on the paths and golf course in our golf cart community. I've always owned a Club Car DS but there are some features that are making this make and model more and more attractive.
AlumiCore™ Chassis which means you have a rust and corrosion proof frame

A protective bumper that isn't just in the front, it goes around the whole golf cart adding extra protection

A PowerShield™ housing that protects the electrical and power systems

Two different kits for extra seating

The rear facing flip flop seats and now a new stretch kit that offers the ability to change your 2 seat Precedent golf cart into a 4 passenger cart with front facing seats. That's a lot cheaper option than buying a new or used 4 passenger golf cart with forward facing seats.

Catch a quick video on how the stretch kit works by clicking here:

P.S. Hit the Facebook Like Button in the Left Upper Corner if You like the page.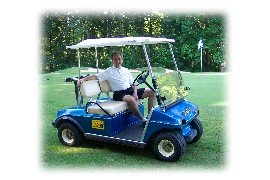 Thanks for subscribing to Golf Carts Etc. Newsletter.
Bill Degner