EZ Go Gas Golf Cart

The EZ Go gas golf cart for personal use is available for sports and golf enthusiasts.
Here is a run down of their different models which are available as gas or electric carts. Some of the specs for the EZ GO gas models are:
1. Clays Car
This is the perfect gas golf cart for sports enthusiast. With a heavy duty front ammo rack and floor mounted gun racks, it is no surprise that it is endorsed by the National Sporting Clays Association. It seats 4 or the back seat can be converted to a cargo deck. This one has a 5.8 gallon tank, 13 hp, and a ground clearance (at the differential) of 5.5".
2. Freedom RXV
EZ Go recommends this model for playing golf or for cruising the neighborhood. The standard color is forest green and ivory, but of course can be customized. The gas tank on this one hold 6.2 gallons and it can go up to 19 mph on level ground.
3. ST Custom
This is a 4 passenger cart with a convertible cargo deck. It has a 6 gallon tank and can go up to 17 mph. This one has 22 inch trail tires.
4. ST Sport 2+2
If you want to use your golf cart for off road this is the model for you. It also is a 4 passenger cart. The back seat can be converted to a cargo deck. Holds 6 gallons of fuel and can go up to 17 mph.
5. ST Express
This neighborhood golf cart has 4 forward facing seats. Has 13 hp and with a 5.8 gallon fuel tank. It can go up to 16 mph.

Go from EZ Go Gas Golf Cart to EZ Go Golf Cart

Go from EZ Go Gas Golf Cart to Golf Carts Etc. Home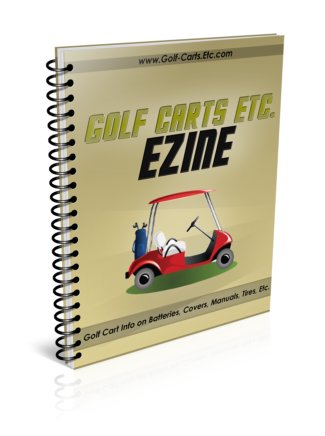 If you are interested in the free Golf Carts Etc. Newsletter you will find information and updates on:
√ Golf Cart Accessories and Products
√ Golf Cart Repair FAQ
√ Golf Cart and Battery Maintenance
√ Electric Golf Cart Reviews
√ Golf Cart Parts
√ Golf Cart Tires
√ Golf GPS Reviews
.... and more. Your e-mail information will never be shared with anyone else. Simply sign up here: