Gas Golf Cart

Wondering if you should get an electric or a gas golf cart? Here are the questions to ask yourself.
Gas Powered Golf Cart

When considering a gas powered golf cart the questions to ask are:

1. How will I use the golf cart?
2. Where am I going to use the golf cart?
For most uses and functions the electric golf cart can provide the power and length of charge that is needed.
A gas golf car may be best if it is used for hunting, farming, or for trips that require you to go a greater distance than an electric charge can take you.
With a gas cart you can fill the tank and carry an extra gas can with you so you can go farther than a fully charged electric golf cart.
Gas verses an Electric Golf Cart
Because of the pressure from the EPA, there has been tremendous progress in the performance of the electric golf cart rather than the gas cart.
Cost
One of the biggest costs of maintaining an electric golf cart is the batteries. That is one reason some people want to consider a gas golf cart. A set of 6 batteries can cost around $400. They need to be replaced every 4-6 years depending on your use and regular maintenance. However, gas carts require engine tune ups, maintenance and the cost of gas. Many of our golf cart repair centers will tell you that the cost of operating and maintaining a gas cart is much more expensive than an electric cart.
Distance and Range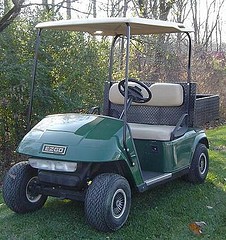 The range of electric golf carts (including ours which is 16 years old and does not have the new more efficient motor) can easily go more than 2 rounds of golf and we can drive on the paths for hours on one charge.
Of course your batteries need to be fully charged. If you will be using the golf cart in a way that you'd be literally driving it all day, lets say for hunting, then consider a gas cart like this one from Beaver Creek Golf Carts - you can always bring extra gas with you - but you can't bring extra batteries.
Pollution
Gas carts pollute and electric carts do not. The electric golf cart engine is much more environmentally friendly producing no emissions. The Federal Government and many state and local governments continue to crack down on all types of gas engines, including the gas golf cart. Some states like California have been gas golf carts in several regions and other states are considering it. Be sure to check the regulations for your state before you make your purchase.
Golf Cart Gas Engine

The new 4 cycle engines run much quieter and cleaner than the old 2 cycle engines did.
The 4 cycle engines mean there is no more mixing your oil and gas up which was a very messy job. But gas engines are still noisy and they still have emissions.
A gas cart uses engines of up to 13 horsepower. Most tanks hold around 6 gallons of gas and can be continuously driven for about 150 miles per tank.
EZGo Gas Golf Cart
Consider an EZGo gas golf car if you are looking for a gas model cart. They have lots of different options for the sports and the golf enthusiasts.
Click here to learn more: EZGo Gas Golf Car

Go from Gas Golf Cart to Golf Carts Etc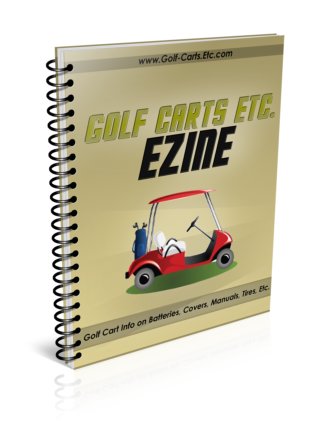 If you are interested in the free Golf Carts Etc. Newsletter you will find information and updates on:
√ Golf Cart Accessories and Products
√ Golf Cart Repair FAQ
√ Golf Cart and Battery Maintenance
√ Electric Golf Cart Reviews
√ Golf Cart Parts
√ Golf Cart Tires
√ Golf GPS Reviews
.... and more. Your e-mail information will never be shared with anyone else. Simply sign up here: