Flip Flop Seat for a 4 Seat Golf Cart
One of my favorite add-ons or accessories that I added to my Club Car was a back seat that can serve dual purposes.
Use it to carry extra passengers or flip the seat down to carry plants.

Flat Utility Bed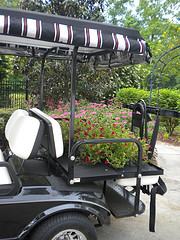 Just flip down the seat and you have a flat bed that can be used to carry mulch, branches, plants or for extra large shopping trips.


Fold down rear seat kits are available for Club Cars, E-Z-Go Carts, and Yamaha golf carts. They cost about the same as a standard seat and ride just as comfortably. Install it yourself or have your local golf cart dealer do it for you.

It's recommended that you also purchase rear heavy duty springs for appropriate rear suspension support.

Seat cover colors include white, beige, buff and black and strut finishes come in aluminum, black powder coated, or a factory replacement finish.

Turn your golf cart into a multi-use vehicle with a fold down rear seat kit:

Flip Flop Kits for Your Golf Cart

P.S. Hit the Facebook Like Button in the Left Upper Corner if You like the page.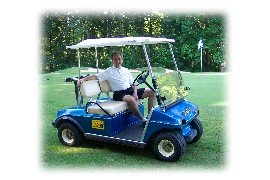 Thanks for subscribing to Golf Carts Etc. Newsletter.
Bill Degner