Buying a Used Golf Cart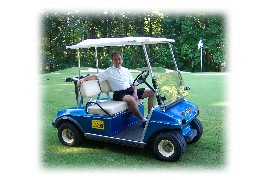 My wife announced to me yesterday that on Saturday we are going shopping for a used electric golf cart. One of our local golf cart dealers is having a weekend sale of all of their used carts.

We got our 1985 used Club Car golf cart when we moved to Georgia 15 years ago. It has been a great golf cart for us, on and off the golf course - although it hasn't helped me much with my golf score.
Golf Cart Rear Seat
However, three grandchildren later, the one seater golf cart just doesn't give us the room we need. I thought about trying to add a rear seat to our existing golf cart, but then decided that it really was time to upgrade.

My wife thinks that the color of the cart is the most important feature, which is why I need to be there to examine the really essential components like the batteries, the body, tires, etc.

If you are in the market for buying a used electric golf cart here is a list of what you should look for, how to take a test drive and questions you will want to ask the seller before making that important purchase.


Thanks for subscribing to Golf Carts Etc. Newsletter.

Bill Degner



New!

Comments Have your say about what you just read! Leave me a comment in the box below.