Buying or Selling a
Used Electric Golf Cart?

Consider a used electric golf cart if you are in the market to get a golf car for the first time or if you are about to replace your existing golf cart.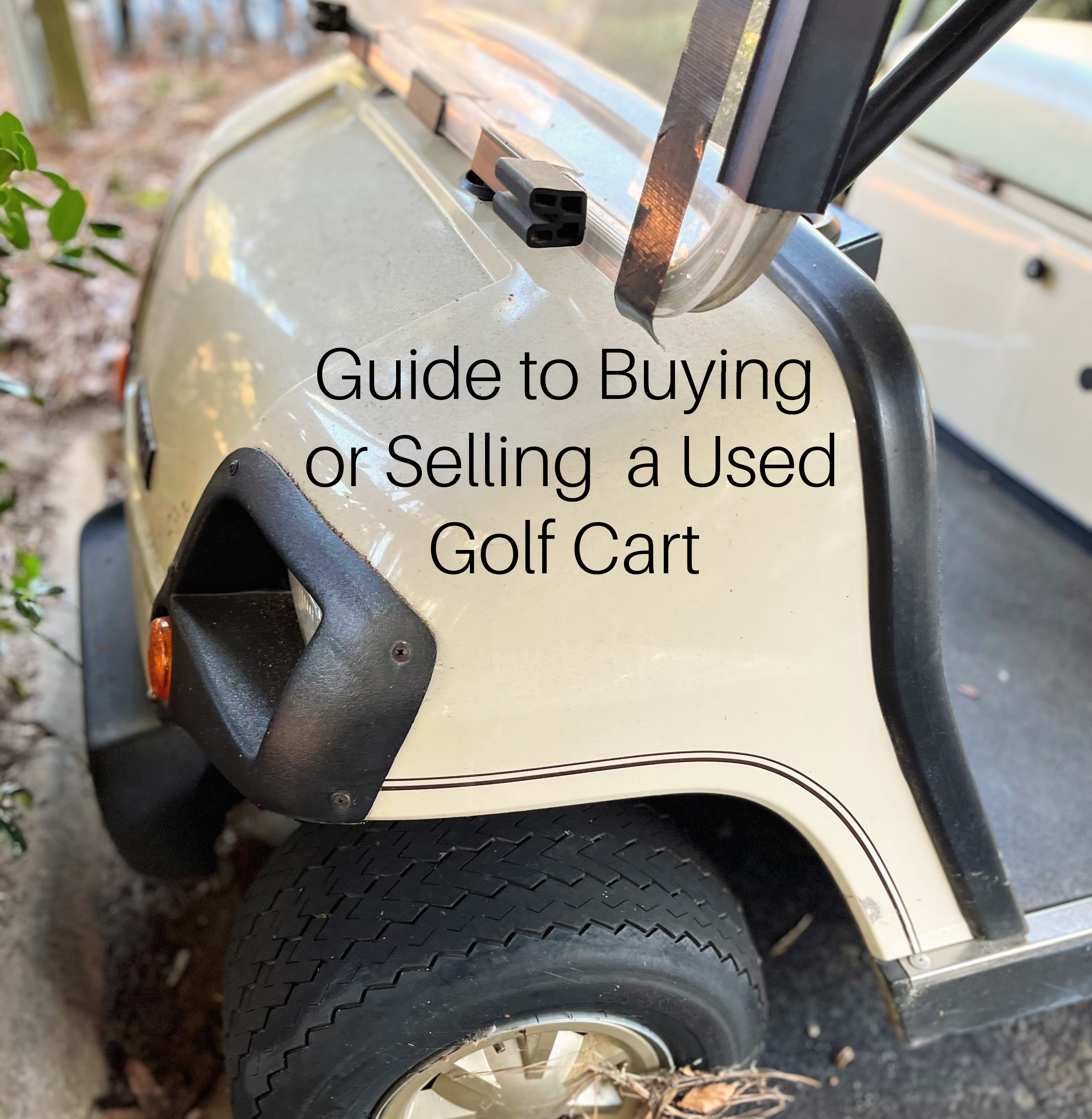 A Better Value?
In our golf cart community many people will opt for a used cart rather than a new one. That's because used golf cars offer a better value than a new one and they are readily available from private parties or from our local golf cart dealers.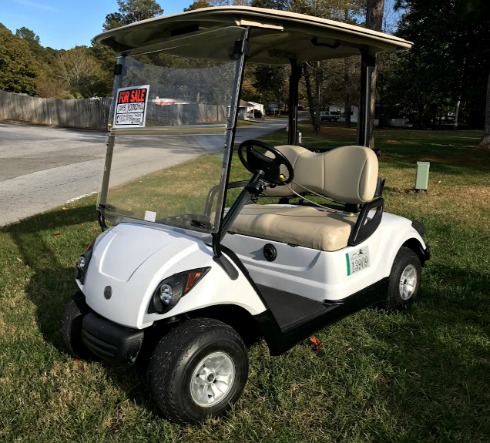 There is no golf cart "blue book" to look up the value of a golf cart. So whether you are trying to figure out what price to put on your used golf cart or how much you should offer for a used cart, you do need to figure out what the golf cart is worth.
A couple of places to check to get some price ranges of used golf carts are Craig's List, a local community Facebook group and eBay. You can also check with your local golf cart dealers. 
Significant Savings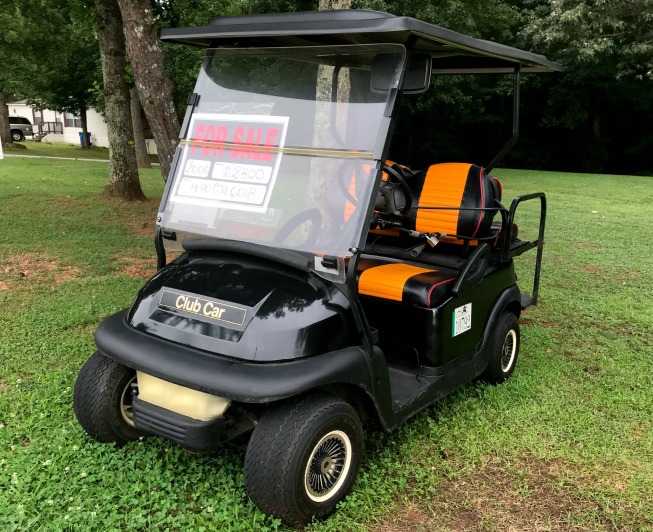 Why Buy a Used Electric Golf Cart Instead of a New One
When buying a used electric golf cart instead of a new one you will find ....

1. Significant Savings
Used golf carts can provide significant savings over buying a new one - often they can be half of what you would pay for a new one. 
2. Provides reliable and solid performance
A well maintained used golf cart can provide the same performance and reliability as a new cart. However, this does requires that you do some inspecting and ask some maintenance questions.
---
Some links in the following sections are eBay or Amazon affiliate links, which means that if you purchase a product through them I receive a small commission. There is no extra cost to you. Find more details on this page.
---
What to Inspect When Buying a Used Electric Golf Cart
Often it is cheaper to buy from an individual than it is from a dealer. The catch is that you will be buying the golf cart "as is."
A well maintained used electric golf cart can provide the same performance and reliability as a new cart if the cart has been well maintained and worn parts have been replaced.
1. Find the serial number - the number tells you the age of the golf cart.
2. Inspect the golf cart body for rust, scratches, damage, or roof leaks
3. Inspect the battery cables and batteries for corrosion, leaks, wear and tear.
Lift the seat and look for the month (A being January through L being December) and year the batteries were made.
4. Check the water levels of the batteries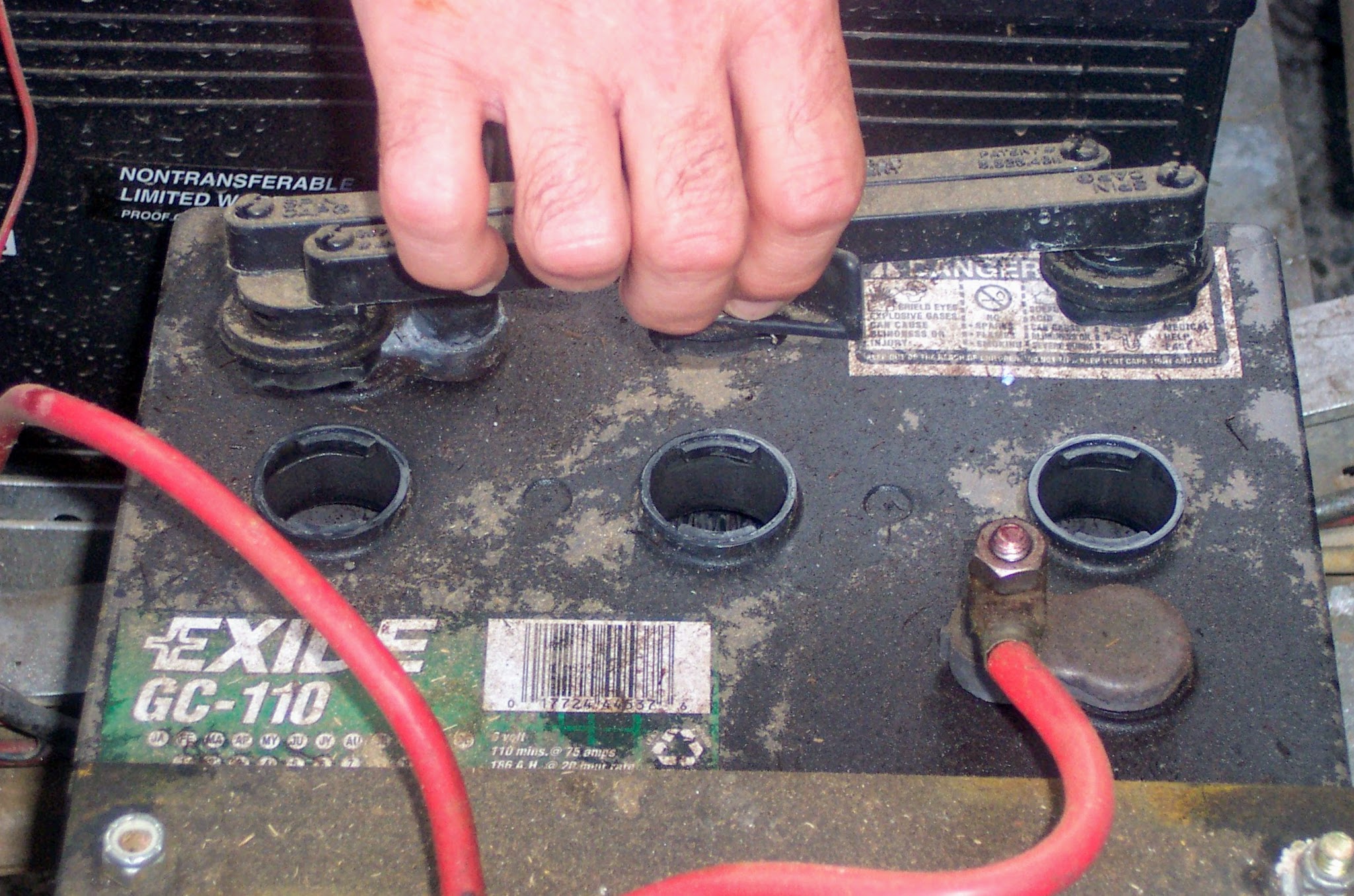 If the water level falls below the tops of the plates, the exposed plates can become permanently inactive which ruins electric golf cart batteries.  Shining a flashlight into the cells makes it easier to see if the plates have water covering them.

5. Check the tires for wear
Tire wear should be even on all the tires with minimal signs of worn down tread.
6.  Turn on the headlights to be sure they work and check the brake lights and turn signal if there is one.
7. Take the golf cart for a test drive including a hill, or with a load of people to see how well it can handle it. Test the brakes, acceleration, turning, stability, play in the steering wheel and the battery charge.
8. Ask if it includes a batter charger
Find out whether it is an automatic battery charger that shuts off automatically when the batteries are fully charged (which is the better option) or with a manual timer.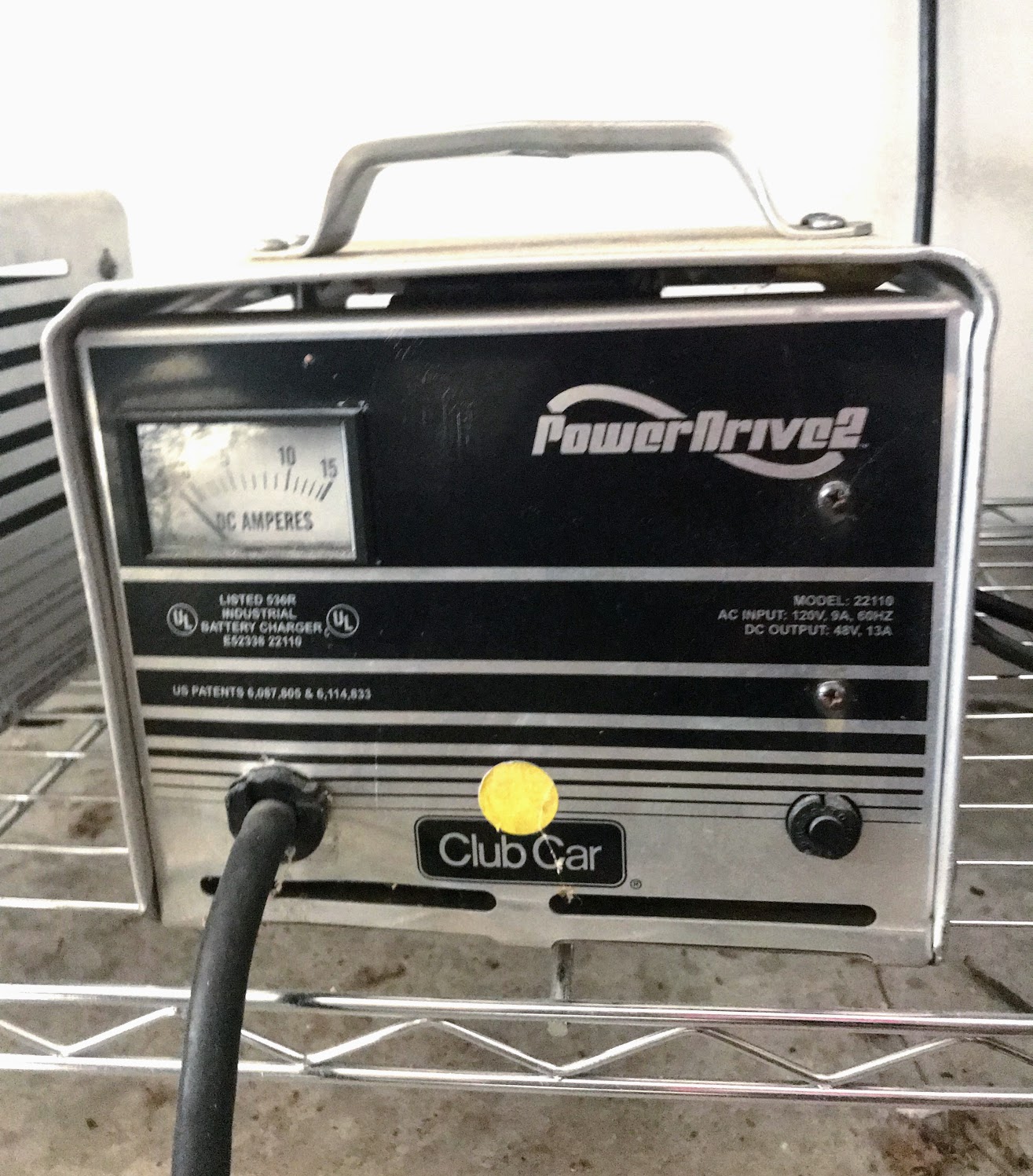 9. Consider only used golf carts from well-known companies like Yamaha, EZ Go and Club. 
If you buy a cart made by a company you have never heard of, you will have a hard time finding replacement parts.
Questions for the Seller

1. How old is the cart?
2. How was it used and how often?
3. When were the batteries last replaced (Golf cart batteries have a typical life span of around 5 years)?
4. What parts have been replaced or repaired?
5. What kind of battery maintenance was provided and how often?
6. What accessories are included? Golf cart cover, baskets, enclosure, radio, heater, etc.
7.  Is there a warranty (if the seller is a dealer) and how long is it good for.
After a thorough inspection and a satisfactory test drive (include a ride up a hill with an extra passenger or two) don't be afraid to consider a used golf cart.
Used Electric Golf Cart Prices
Used electric golf cart prices are often half of what a new golf cart will cost. The price depends on:
1) The size of the cart - is it a 2, 4 or even 6 passenger cart
2) The year of the cart - of course the newer the higher the price
3) What accessories or features are included - things like a radio, custom wheels, custom seats,  enclosure, battery charger, etc.
4) Where do you live? Areas where golf cars are in higher demand - like golf cart communities - can get a higher price.
Refurbished Golf Carts
When golf courses upgrade their fleet, a whole new batch of used golf carts become available, so it is not difficult to find a used electric golf cart.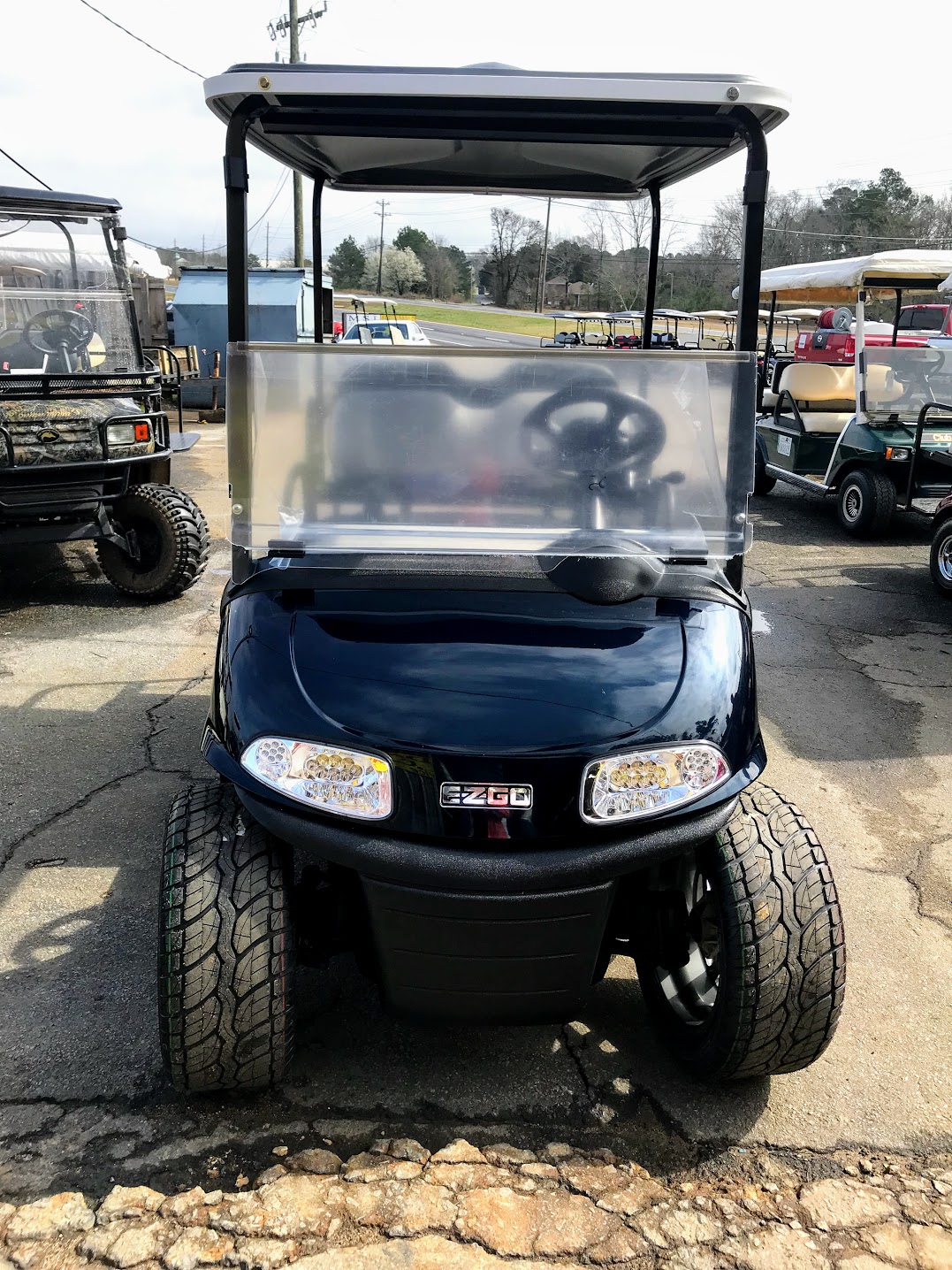 These carts are usually all electric carts. The dealer then refurbishes the golf carts which usually include an inspection, a good cleaning, and a comprehensive overhaul. Dealers often sell refurbished golf carts with a warranty. Find out how long the warranty is good for and what it covers.
If you are in the market for buying or upgrading your cart consider a used electric golf cart.
Go from Used Electric Golf Cart to Electric Golf Carts

Go from Used Electric Golf Cart to Golf Carts Etc. Home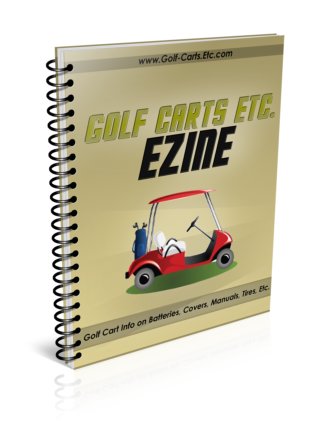 If you are interested in the free Golf Carts Etc. Newsletter you will find information and updates on:
√ Golf Cart Accessories and Products
√ Golf Cart Repair FAQ
√ Golf Cart and Battery Maintenance
√ Electric Golf Cart Reviews
√ Golf Cart Parts
√ Golf Cart Tires
.... and more. Your e-mail information will never be shared with anyone else. Simply sign up here: