Gas vs Electric Golf Carts for
Getting Around


Electric golf carts are not only for golfing, but they are a great form of transportation if you live in a golf cart community like we do.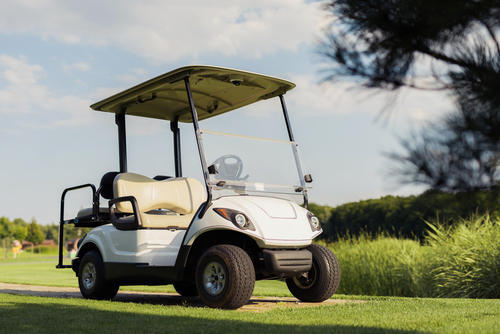 We can get to stores, schools, restaurants, dentists, doctors offices or any neighborhood all on 100 miles of golf cart paths in Peachtree City. 

Gas vs Electric Golf Cart
Wondering if you should get an electric or gas golf cart? Here are some of the things one should consider.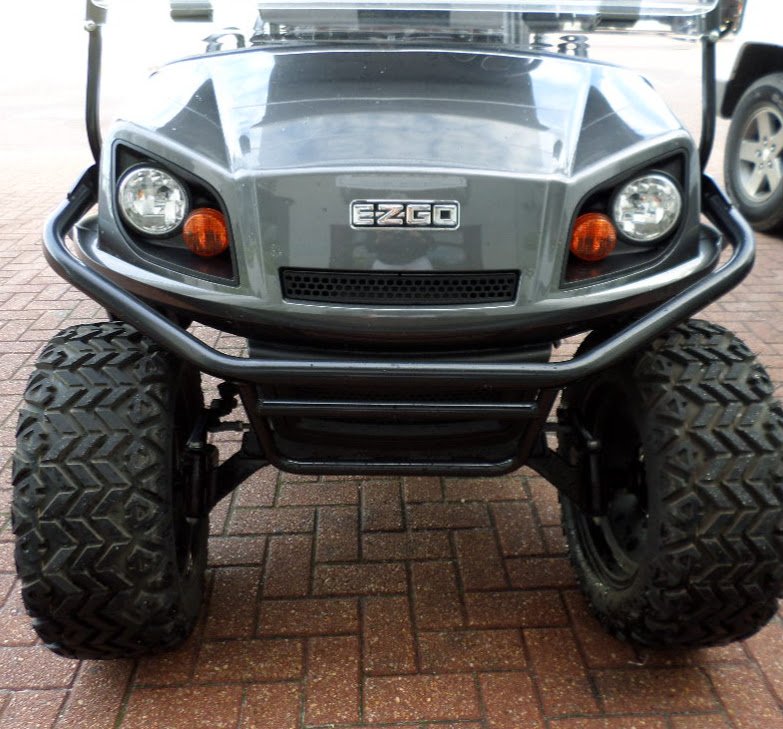 1. How will I use the golf cart?
Is it to go long or short distances?  What kind of terrain will you be traveling on? Pavement or rough terrain? Steep hills or flat paths? 
2. Where am I going to use the golf cart?
For most uses and functions the electric golf cart can provide the power and length of charge that is needed.  Gas golf carts are not allowed on golf courses. 
A gas golf car may be best if it is used for hunting, farming, or for trips that require you to go a greater distance than an electric charge can take you. 
With a gas cart you can fill the tank and carry an extra gas can with you so you can go farther than a fully charged electric golf cart.
Because of the pressure from the EPA, there has been tremendous progress in the performance of the electric golf cart.
Mileage, Distance and Range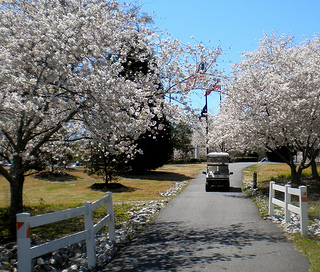 You can always keep your gas golf cart running as long as you have access to fuel.  The range of a fully charged electric golf cart depends on the golf cart battery manufacturer, the age and maintenance of the batteries, whether it's an AC or DC motor, tire pressure and the type of terrain driven.  
General estimates put the range of electric golf carts at typically between 25-40 miles.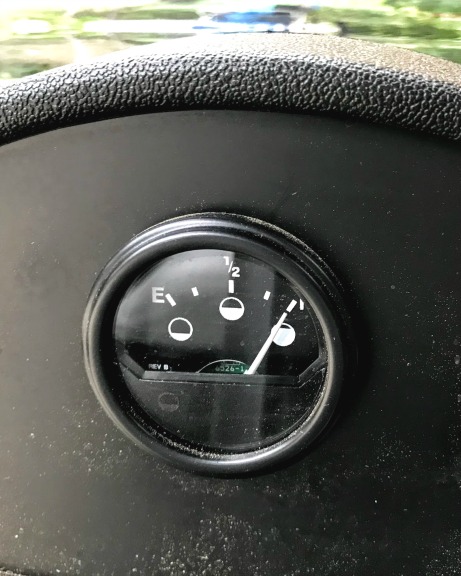 Of course your batteries need to be fully charged. If you will be using the golf cart in a way that you'd be literally driving it all day, lets say for hunting, then consider a gas cart  - you can always bring extra gas with you - but you can't bring extra batteries.
An electric golf cart needs several hours to recharge once the charge has been depleted. How far or how many hours do you plan to use your cart? There seems to be a wide variety of statistics for this. Between 30-50 miles on one charge is possible with new, fully charged batteries.
The gas models are used by our Peachtree City police - yes, they cruise the golf cart paths, seeking to assist and defend. Because they are literally driving the cart all day, they can simply add more gas when they need to rather than having to sit and wait for their cart to recharge

Maintenance of Gas vs Electric Golf Carts 
One of the biggest advantages of an electric cart, is that it is much easier to maintain. With less than 50 moving parts, compared to over 1000 for a gas cart, there is much less opportunity for things to go wrong. A gas cart is much like a gas operated car - it requires regular oil changes and tune ups while an electric cart does not.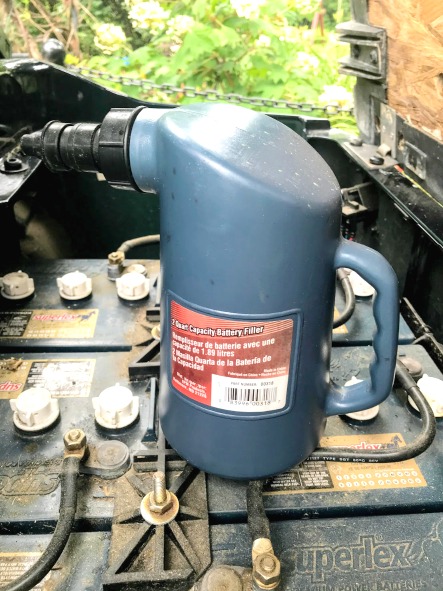 Cost
As gas prices go up, so does the cost of using a gas cart. You also need to be sure you have gas on hand. An electric golf cart only needs an outlet.  One of the biggest costs of maintaining an electric golf cart is the batteries. That is one reason some people want to consider a gas golf cart. A set of 6 batteries can cost around $800. They need to be replaced every 4-6 years depending on your use and regular maintenance. However, gas carts require engine tune ups, maintenance and the cost of gas. 
One area that the gas cart excels in, is power. If one is using it to go over rough and steep terrain gas has more power to climb those steep hills. When I'm driving up one of the long inclines in our golf cart community, it is a slow climb while the gas cart owner quickly passes me without any problem.
Noise and Air Pollution
Other disadvantages to gas is the noise. An electric cart is so quiet that often I need to make some noise with a bell to an unsuspecting runner on the paths. Electric is more environmentally friendly - it doesn't produce any fumes or smell.  If I ride behind a gas golf cart the fumes can be overwhelming and often I get a headache. 
Power
We have a 2018 an EZ Go AC electric golf cart that does a great job of hauling heavy yard debris or materials and handles steep hills with lots of power. 
"...the newer 48v carts, specifically the Yamaha and EZGO AC Electric carts have a ton of power and will actually pull hills just as well, or even better than many gas carts."

Most carts that are used for golfing or for cruising around town are electric. Because they are quiet and "green" they are the preferred type of cart in our community. 
Yamaha Gas Golf Cart
There is a new game changer in the gas golf cart industry. 
Yamaha has developed a gas golf cart that is as quiet as an electric golf cart using Quietech technology and the Drive2EFI offers an economical option of 45 mpg. 
Club Car Golf Carts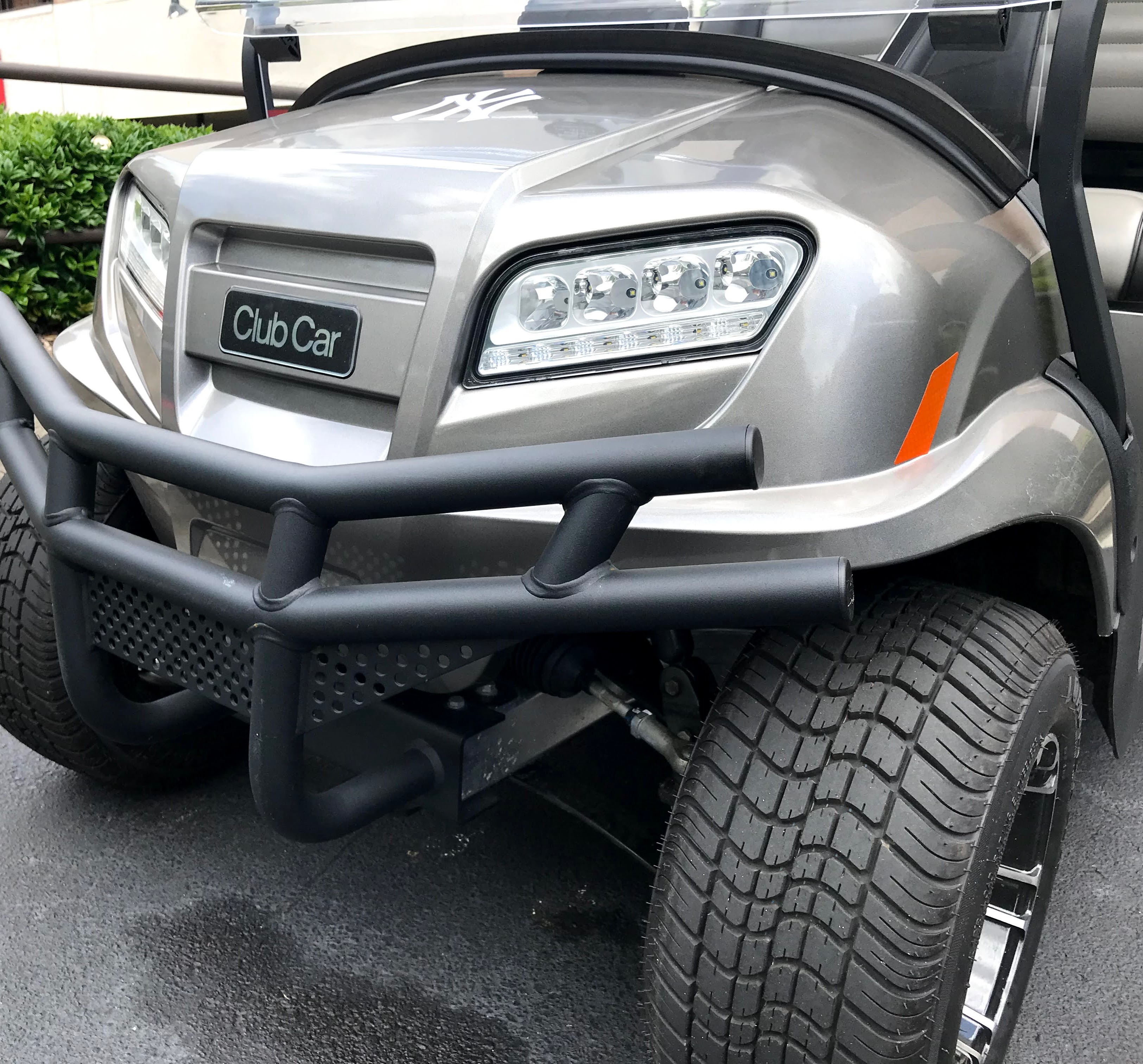 I have owned a used Club Car electric golf cart for the past 22 years.
We bought a 1987 Club golf cart used when we first moved to Peachtree City and then upgraded to a used 2006 Club Car. It has been a very reliable and low maintenance golf cart.
A lot has changed in 18 years and Club Car offers some great new golf carts. They are one of the top choices for an electric golf cart for golf courses and for golf cart dealers.
To learn more click here: Club Car Electric Golf Carts
EZ Go Electric Golf Carts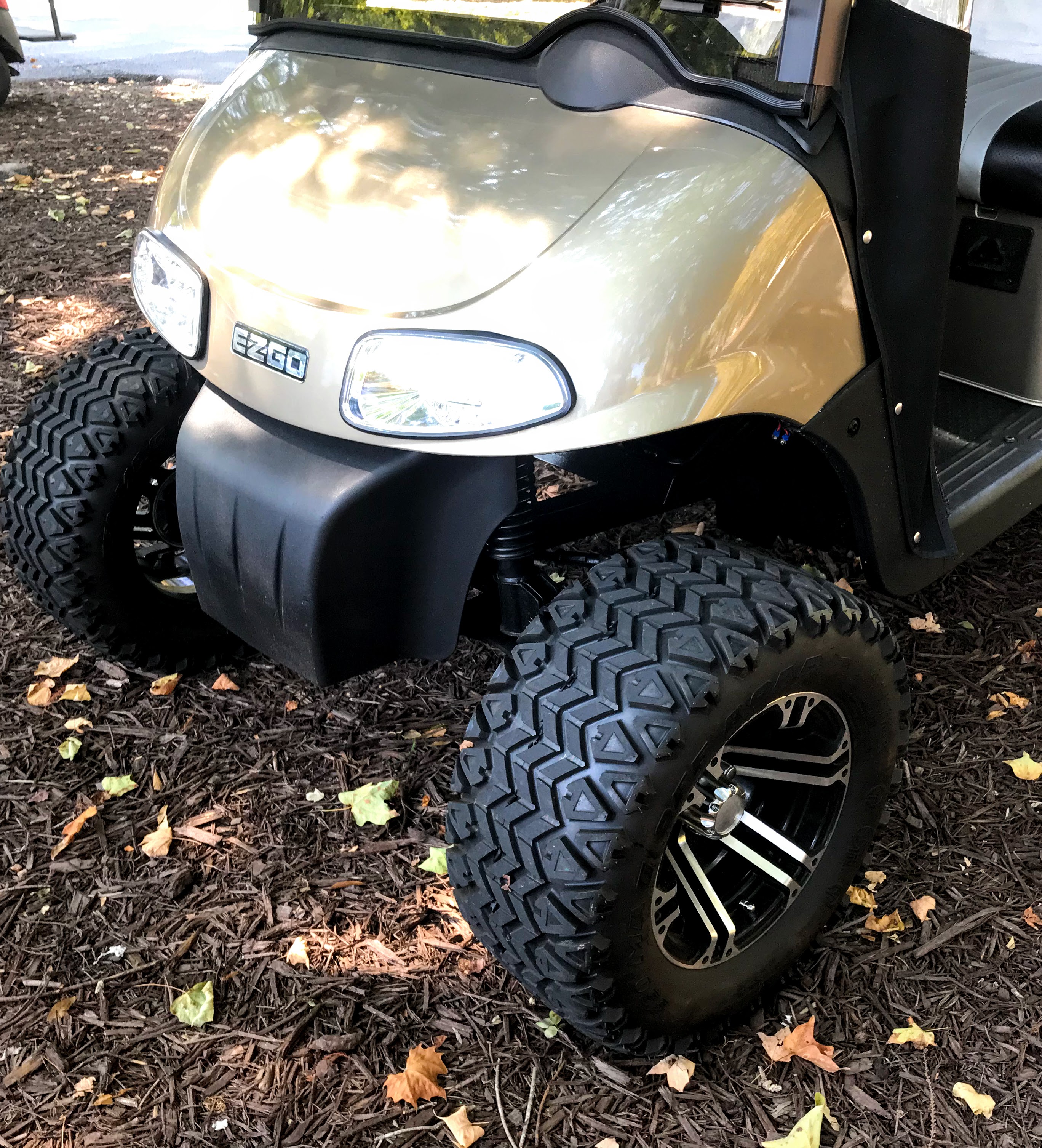 The EZ Go Golf Cart is a very familiar brand of golf carts in Peachtree City. My daughter and son-in-law love their EZ Go.
They have owned theirs for 15 years with little need for repairs - well except for when my son-in-law overinflated the tires. Oh, yes and then there was the time my daughter ran the golf cart into a wall.
It is available as gas or electric and can be used for golf, personal use or hunting.  The new EZGO carts are being manufactured with no maintenance lithium batteries that provide a longer charge and more power. 
To learn more click here:
Yamaha Electric Golf Cart
The Yamaha golf cart comes in many different models and can be used for many different functions. They are a solid performer with good reliability.
1) Personal Golf Cart for Home Use
2) Fleet golf carts for golf clubs
3) Transportation golf carts used by hotels, churches, resorts, etc.
4) Utility Golf Cart for maintenance purposes
5) Refreshment Golf Cart for selling refreshments
To learn more click here: Yamaha Golf Cart
Used Electric Golf Cart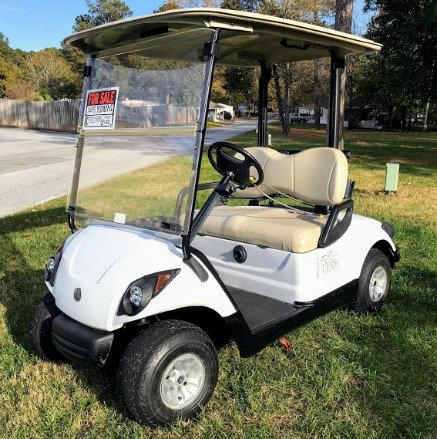 Living in a golf cart community, there are many used golf carts for sale. Don't be afraid to consider a used golf cart.
The most important questions to ask the buyer are ...
how old are the batteries and what kind of regular maintenance was performed on them?
Replacing batteries can be a big expense - and they keep getting more expensive each year.
To learn more about what to look for in a used golf cart and what questions to ask the seller click here:
Street Legal Golf Carts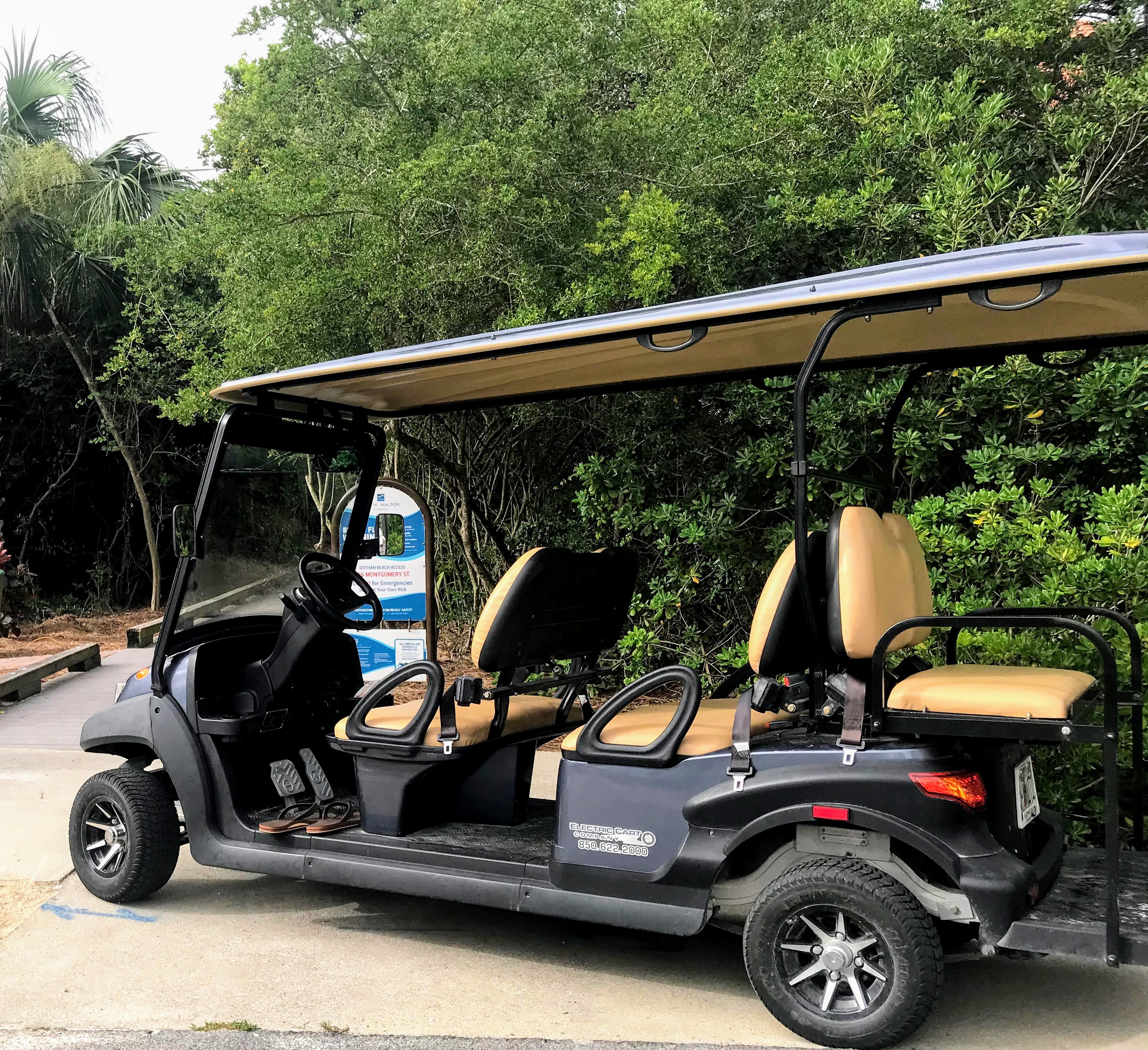 Some electric golf cars belong to a class designated by the Federal Government as a 'Street Legal' vehicle.
They are also called Neighborhood Electric Vehicles (NEV).
The main difference between a regular golf cart and a NEV is that they are safer, go faster and usually seat four people.
Electric Golf Cart Repair

A golf cart electrical wiring diagram is essential for those who, like me, do their own electric golf cart repair. So if you landed on this page after an internet search you are wanting to know, "How can I get golf cart wiring diagrams?"
Of course to get the right diagram you need to know the make and model of your cart and the year it was made. I have found that the Buggies Gone Wild forum posts many of electrical wiring diagrams for most of the common electric golf carts - so you may want to try there first. 
You can find a golf cart wiring diagram at most of the golf cart manufacturers websites (except for Club Car) by going to their service manuals.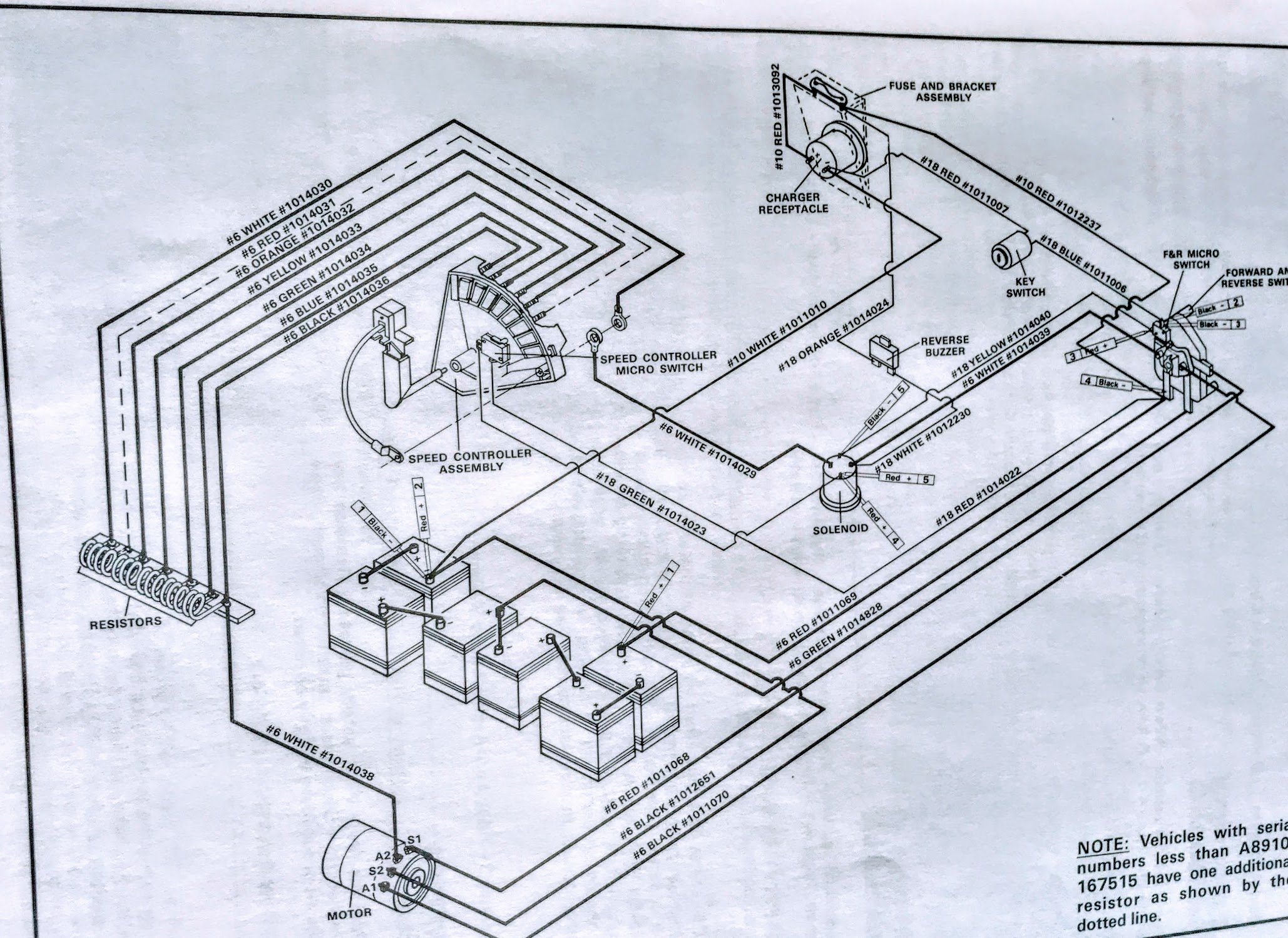 Most often they are free and can be downloaded and printed in a PDF file.

Click here to get the links to the different golf cart manufacturers websites for their wiring diagrams:
Golf Cart Electrical Wiring Diagram/Repair Manuals
Return to Golf Carts Etc. Home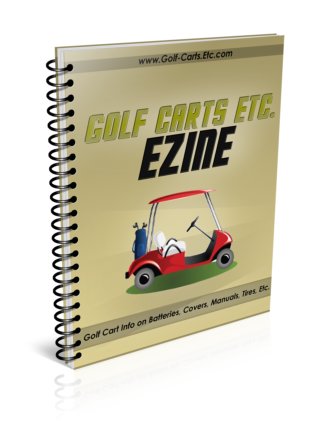 If you are interested in the free Golf Carts Etc. Newsletter you will find information and updates on:
√ Golf Cart Accessories and Products
√ Golf Cart Repair FAQ
√ Golf Cart and Battery Maintenance
√ Electric Golf Cart Reviews
√ Golf Cart Parts
√ Golf Cart Tires
.... and more. Your e-mail information will never be shared with anyone else. Simply sign up here: