Golf Cart Parts

Replace, Upgrade Your Yamaha, Club or EZ GO Golf Cart Parts
Golf cart parts can be purchased from your local golf cart dealer, but why make the trip when you can save time and money buying them on line? Most on-line suppliers have technicians available to help you if their customer representative isn't knowledgeable in the area that you need.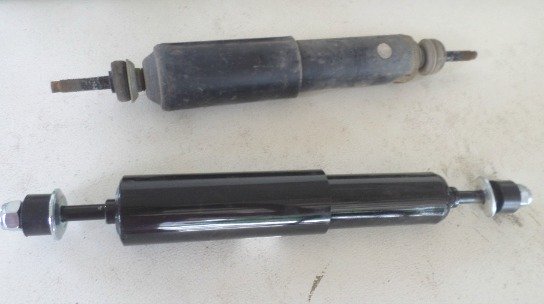 Parts with the OEM (Original Equipment Manufacturer) parts numbers can be found in the manufacturers OEM manual.

If you don't have a parts manual listing the parts number, don't worry, all you need is the make, model and year of your golf cart.
Golf Cart Serial Number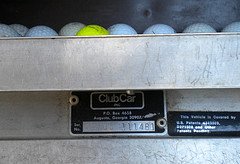 An important number for you to know or at least know where to find it, is the golf cart serial number.
The serial number provides important information about your cart - one being the year that it was made.
Many times, in order to buy the correct golf cart part, you will need to know not only the make and model of your golf cart, but also the year that it was manufactured.
For tips on how to find the serial number for your golf cart click here:
---
Some links in the following sections are affiliate links, which means that if you purchase a product through them I receive a small commission. There is no extra cost to you. Find more details on this page.
---
Golf Cart Windshield Parts
Golf cart windshield parts are an easy and inexpensive way to secure your windshield when the clips start to get brittle and can no longer secure your windshield to the struts. 
Upper Retaining Clips are generally slipped onto the top half of the struts, then wrapped around the side rails to hold the windshield when in the open position.
The longer, around 12" windshield sashes are made of heavy duty plastic and are easy to replace.
EZ Go Golf Cart Parts
If you're looking for EZ Go Golf Car Parts you can find a local dealer by going to the EZ GO website. Their website offers very limited parts to individual owners of golf carts - things like: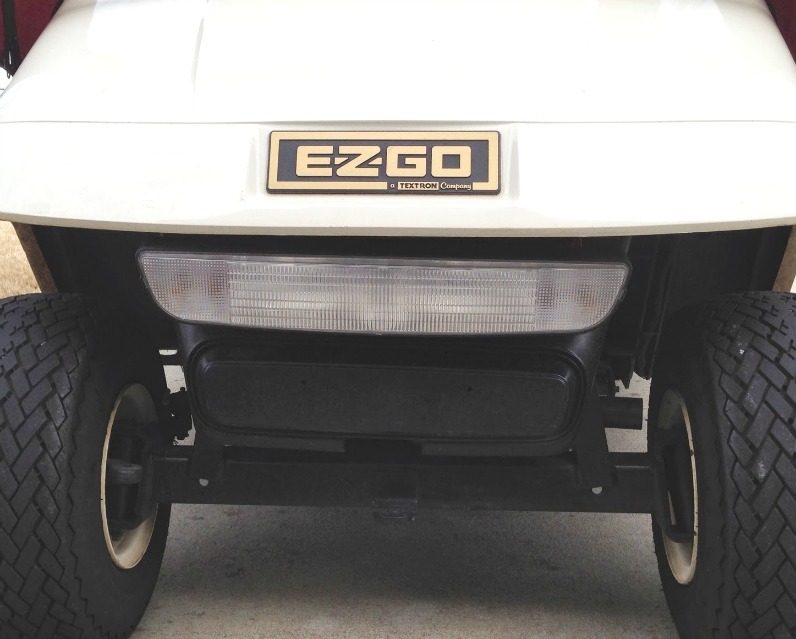 Wheels
Wheel covers
Windshields
Tools
However, there are many discount golf cart parts on several websites, such as Everything Carts.
Again you will need to know the model and year of your golf cart. Here are the basics:
Marathon (1976-1994) Two piece back rest and metal body
Medalist (1994-1995) One piece back rest and metal body
TXT (1996 & up) One piece back rest and plastic body
To find the manufacturer code look in the passenger glove box. The last two digits are the model year.
Club Car Golf Cart Parts
Looking for a Club Car golf car part? You will need to contact your local golf cart dealer or look on line. The Club Car website does not offer any parts, but other sites like Buggies Unlimited can provide you with any part you need. You will need to know the model and year of your Club Car.
Here are some basics: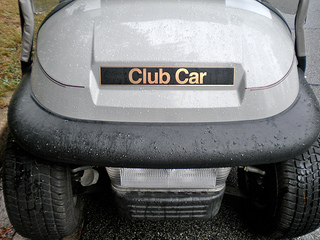 DS (1981-2000.5) Two piece back rest, silver/aluminum top supports. The roof has no handles
DS (2000.5 & Up) One piece back rest, black top supports. Roof has handles.
Precendent (2004 & up) One piece back rest, rounded body front
The plaque with the serial number is located at the lower edge of the dashboard under the passenger side glove box. The first two numbers are the model year of the cart.
Yamaha Golf Car Parts
You can get your Yamaha golf cart parts from your local dealer or on line.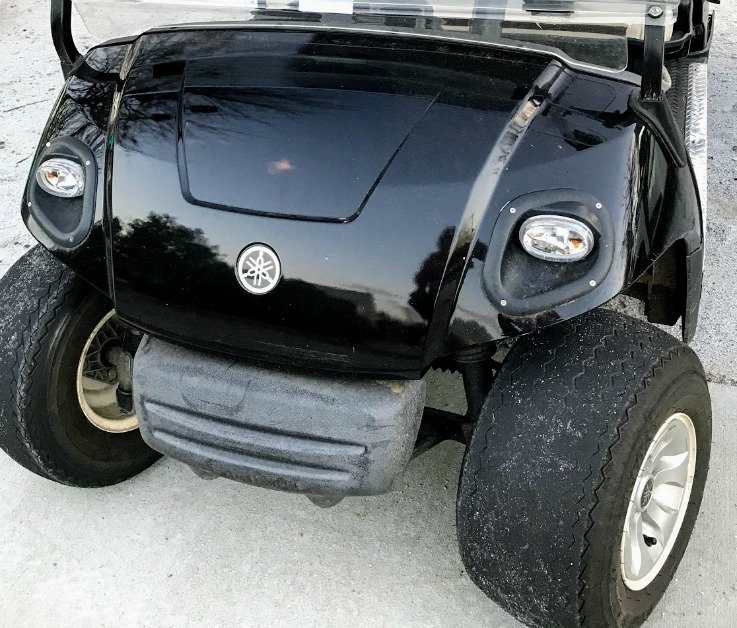 It is easy to find Yamaha golf car parts on line. At Buggies Unlimited you just go to their website choose Yamaha golf car parts and then you need to know the year and model of your golf cart.
Look for the serial code which begins with the letter "J." It can be found in different spots depending on the model. Look
under the seats
inside the glove box
or stamped in the frame.
Get some more tips and advice here: Yamaha Parts
Golf Cart Key
Be sure to have more than one Yamaha, EZ Go or Club Car golf cart key.  Our teenage granddaughter accidentally misplaced her EZ Go golf cart key. With no back up her cart sat there until she found it or bought another set - which only costs a few dollars.

Did you know that many golf carts use what is called a universal key?  Meaning that your EZ Go golf cart key will work in someone else's EZ Go golf cart.

Consider changing out your key switch to what is called an uncommon or unique key switch that way your key is one of a kind and will only work with your golf cart.

Golf Cart Key Switches for Yamaha Club and EZ Go Golf Carts
Used Parts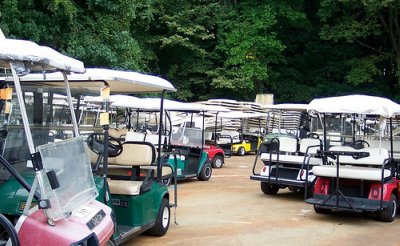 Used parts can be used instead of buying new ones - I know, I just put in a used solenoid in my 1987 Club Car and it now works like new. Of course how do you find these used parts?
Well in my case I was (again) on Craig's list looking for a Club Car Repair Manual and I got a response (from no less a neighbor) who works on Club Cars in his spare time.
My cart would stop intermittently and I needed some help figuring it out. So I took my Club Car over to his house one evening, he did some troubleshooting and figured out it was my solenoid. He happened to have a used one from a cart he had taken apart and voila - the cart is working like new.
Kits for Lifted Golf Carts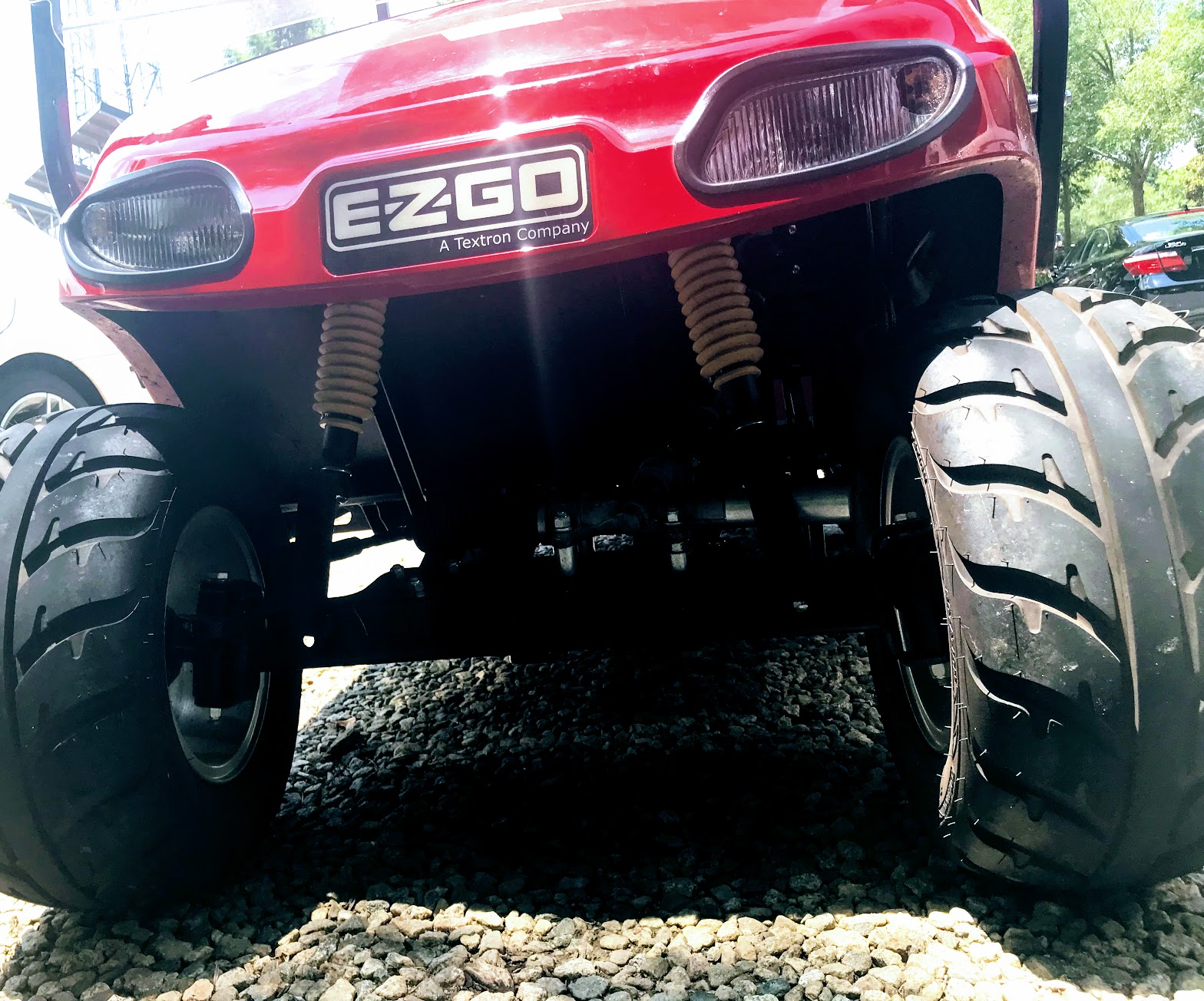 Anyone who wants to take their golf cart off the smooth pavement and unto some rough and uneven terrain, will need a cart with more clearance.
Lifted golf carts are great for hunting or just for some fun off road adventure.
Find out more about the different sizes of lift kits and what you will also need to know about off-road tires and wheels.
Golf Cart Steering Wheel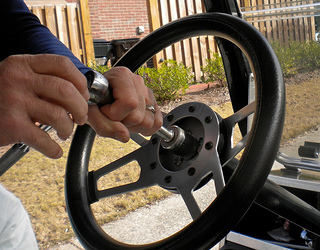 If your refurbishing an old cart or maybe just want to customize your cart with a new steering wheel, you can find a golf cart steering wheel in lots of different finishes and features.
Another option that's much cheaper is to get a steering wheel cover.
Adding a custom steering wheel accessorizes your golf cart in a way that makes your cart different than all the others.
This is an easy golf cart part to replace. Find out what I bought and how to replace your steering wheel here:
Golf Cart Parts for a Smoother Ride
Golf cart shock absorbers need to be periodically replaced for a more stable and smoother ride.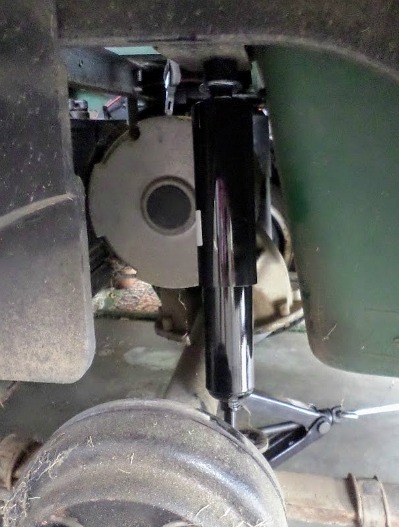 Avoid a stiff ride and absorb rough terrain bumps and dips by replacing your shock absorbers. There are front and rear shock absorbers and the sets can be bought separately.  This golf cart part is specific to your golf cart make and model.  Once you replace this golf cart part you'll remember what it was like to ride your cart when it was new. 
Golf Cart Shock Absorbers
Golf Cart Performance Parts

Golf cart performance parts can enhance the power and speed of your cart. What parts to replace depends on how you use your cart and where you use it.
There are several things you can do to add performance to your cart. Learn more by clicking here:
Return to Golf Carts Etc. Home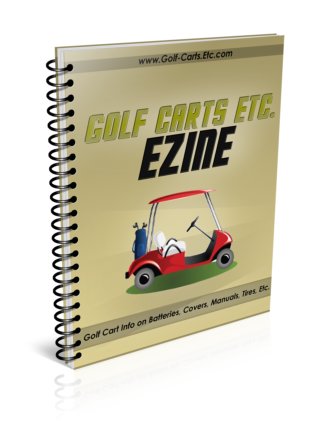 If you are interested in the free Golf Carts Etc. Newsletter you will find information and updates on:
√ Golf Cart Accessories and Products
√ Golf Cart Repair FAQ
√ Golf Cart and Battery Maintenance
√ Electric Golf Cart Reviews
√ Golf Cart Parts
√ Golf Cart Tires
.... and more. Your e-mail information will never be shared with anyone else. Simply sign up here: