Yamaha Golf Cart Parts

If you're looking for Yamaha golf cart parts, there are many reputable on-line parts stores that provide you with easy ordering, technical support and quick shipping.

Find Your Yamaha Golf Cart Serial Number
Parts for Yamaha golf carts can be purchased from your local Yamaha Golf Cart dealer or for more convenience go to an online golf cart parts store.

But before you start looking for Yamaha golf cart parts, there is some basic information you will need to know about your golf cart. They are:
1. The Model of your Golf Cart
2. The Year of your Golf Cart
The model numbers begin with the letter "G." The serial code begins with the letter "J."
Believe me Yamaha does not make it easy to find - they can be found in several different locations depending on the model.
The places to look are:
Under the Seats
Inside the Glove Box
or Stamped in the Frame.
Golf Car Catalog provides a complete Guide to Finding Your Yamaha Golf Cart Serial Number

Where to Order Yamaha Golf Cart Parts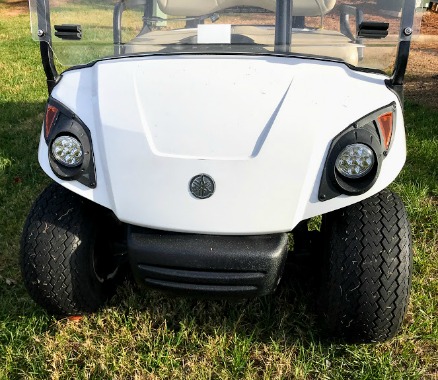 ---
Some links in the following sections are eBay or Amazon affiliate links, which means that if you purchase a product through them I receive a small commission. There is no extra cost to you. Find more details on this page
---
Unlike a car, it's easy to order and replace golf cart body parts.  You can find parts easily at e-Bay, Amazon, Buggies Unlimited or Everything Carts. Perhaps the front cowl of your golf cart slammed into something that doesn't move - like a tree.
Instead of trying to repair it, just order a new front cowl - unless of course you like to do fiberglass work.
Other body parts that can be replaced or customized are rear fender panels, the golf cart windshield, golf cart roof or top, and side trim.
Style enhancements like brush guards and fender flares add a custom look to any cart.
Yamaha Golf Cart Parts For a Smoother Ride
You will know when it's time to replace your shock absorbers by the kind of ride you experience especially when going over uneven terrain or bumps.  If the rear of the cart bottoms out when driving over pot holes or bumps it may be a sign that the rear shocks need to be replaced.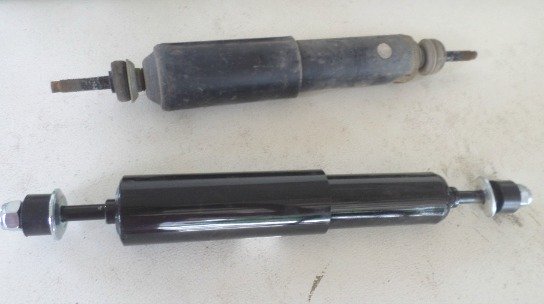 There are front and rear sets of shock absorbers.  Each are sold in a set of two.  However just because the rear ones need to be replaced doesn't mean that the front ones need it.  Usually the rear shock absorbers go first because of the extra weight from the motor and rear passengers.
Yamaha Golf Cart Shocks
Yamaha Golf Cart Windshield
Golf cart windshields periodically need to be replaced. Perhaps it has a crack or the pixels has become foggy.  Maybe you just want to upgrade your existing clear windshield for a tinted windshield. 
This Yamaha golf cart part is specific to your model and year cart. It's easy to replace by ordering on line with free shipping.
Yamaha G29 Drive TINTED Golf Cart Windshield by Parts Direct
Replace Worn Yamaha Golf Cart Parts
The forward and reverse switch is a part that can go out on your cart and can be replaced by a golf cart owner.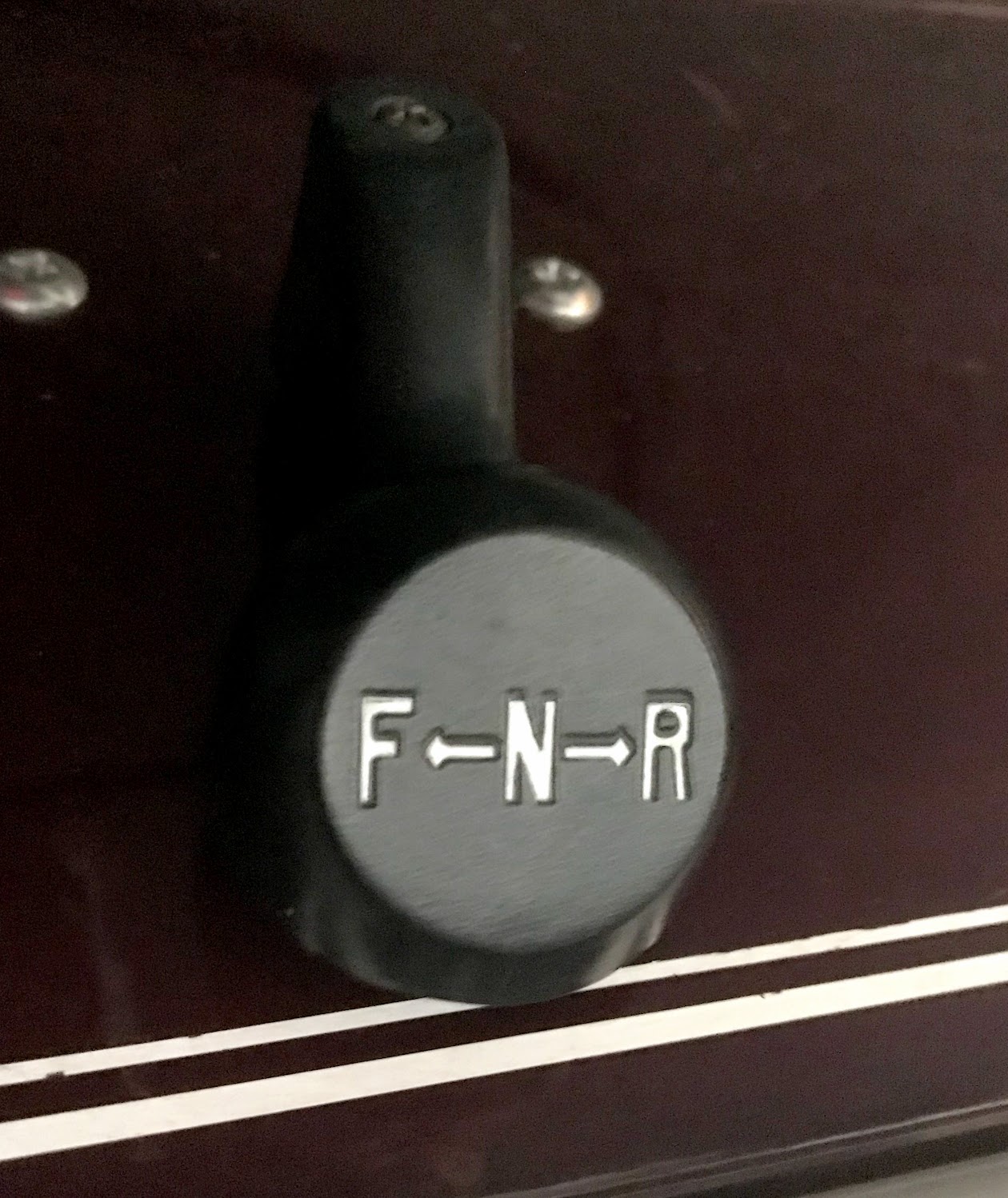 Be sure to disconnect the battery before installing this part. 
Yamaha Forward and Reverse Switch Assembly (1995-02) G14/G16 36 Volt Golf Cart
Solenoids get constant use and are a part that needs to be replaced on occasion. 
Solenoids are specific to either gas or electric carts and to 36V or 48V carts.
Yamaha G8, G9, G11, G14, G16 Electric Golf Carts, 36 Volt, 4 Terminal Solenoid
Yamaha Golf Cart Battery Indicator
A golf cart battery charge indicator can be a universal golf cart part such as this one.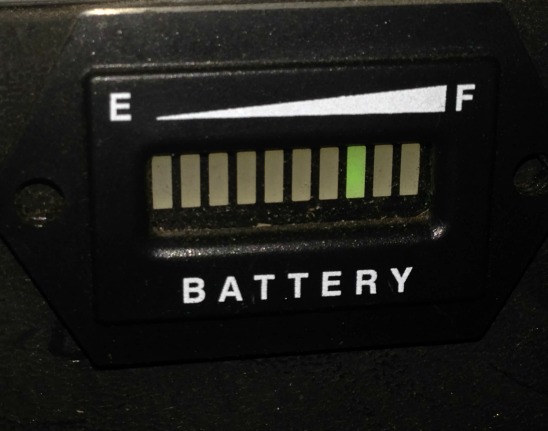 You will need to know your golf cart voltage. There is one for 36 volt golf cart batteries and one for 48 volt golf carts.

Yamaha%20Golf%20Cart%20Battery%20Indicators
Performance Parts
Besides looking good, you may want to improve the performance of your golf cart. Give it some extra power for going up hills or give it a speed boost with upgraded motors, high speed gears or high performance engines.
Amazon sells speed kits specific to Yamaha electric or gas golf carts.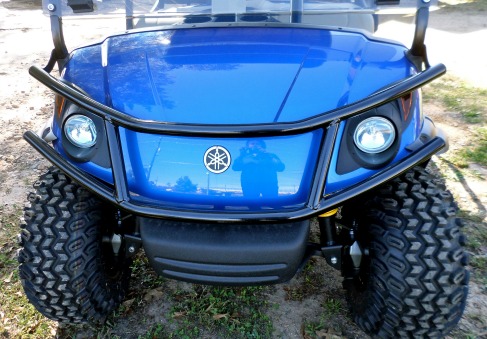 Each kit contains a new speed motor, a matching controller, and all the necessary components and hardware you need to perform your upgrade. They also include a complete set of color instructions to guide you through the installation process.
This performance kit is good for golf cart owners who own non-lifted golf carts, but want more speed. These kits work well with golf carts that are used mainly on flat surfaces, such as streets or golf course paths. If you live in a gated community and use your golf cart for street driving or golfing, this kit is for you. It is not recommended for lifted golf carts or for off-roading.
Front and Rear Light Kits
I'd like to tell you that golf cart lights are helpful for driving to a restaurant in the evening or running to the store after dark to get a loaf of bread, but really I need the headlights for playing those last 2-3 holes of golf at the end of the day.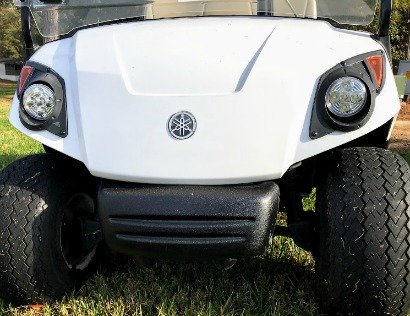 Yamaha golf cart lights can be purchased as just a headlight kit or a headlight and rear light kit.
The most complete kit that fits Yamaha G2/G9 is the cheapest at $99. It includes two halogen headlights and two LED taillights pre-mounted in black plastic bezels, a wiring harness, and an on/off switch. Installation instructions are included as well as a template for a precise cut to install each light.
NEW YAMAHA G14 G16 G19 22 LED HEAD LIGHTS & LED TAIL LIGHTS GOLF CART LIGHT KIT
Keep Your Yamaha Golf Cart Safe
Replace your common key that can make it easy for someone to ride off with your golf cart with an uncommon key switch and key.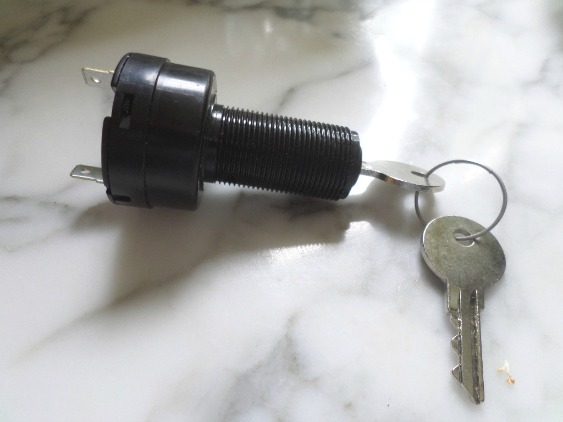 OEM Yamaha Golf CART G22 G29 Drive Main Ignition Switch Uncommon KEYED
Keep your Yamaha golf cart running smoothing or enhance it with golf cart body parts. Do it yourself and save lots of money, have some fun and get a custom look.

Go from Yamaha Golf Cart Parts to Golf Cart Parts

Go from Yamaha Golf Cart Parts to Golf Carts Etc. Home Page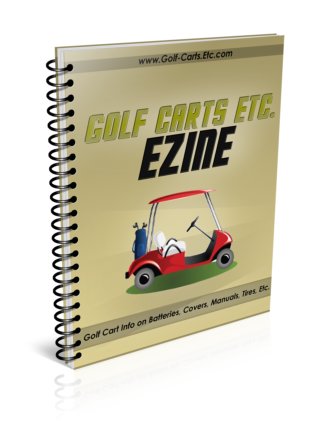 If you are interested in the free Golf Carts Etc. Newsletter you will find information and updates on:
√ Golf Cart Accessories and Products
√ Golf Cart Repair FAQ
√ Golf Cart and Battery Maintenance
√ Electric Golf Cart Reviews
√ Golf Cart Parts
√ Golf Cart Tires
.... and more. Your e-mail information will never be shared with anyone else. Simply sign up here: