Golf Cart Maintenance
Regularly scheduled golf cart maintenance can prevent many unscheduled golf cart repairs.

If you have just purchased a new or used golf cart, you may be wondering what kind of golf cart care is needed to keep your golf cart running optimally.
The good news is that the care that is needed to maintain a golf cart is really quite easy. Here I'll cover just a couple of them.
Your golf cart service manual is a good source of information that provides a very detailed list of a periodic service schedule. 
Find out how to extend the life of your batteries, how tire pressure can impact the speed of your cart, and why lubricating should be part of your regular golf cart maintenance.  You can keep your golf cart running optimally with some preventative measures. 
Golf Cart Tow/Run Switch
Later models of golf carts often have a Tow/Run switch that is located under the seat. Set the switch to Tow anytime you perform any maintenance on your golf cart including working on the batteries.
This switch is also used anytime the golf cart needs to be towed. The golf cart can roll freely in this position which helps to protect internal components like the electric motor and controller.
Golf Cart Repair and Service Manuals
If you own a golf cart, I'd recommend that you purchase or download a golf cart service or repair manual based on the make, year and model of your golf cart.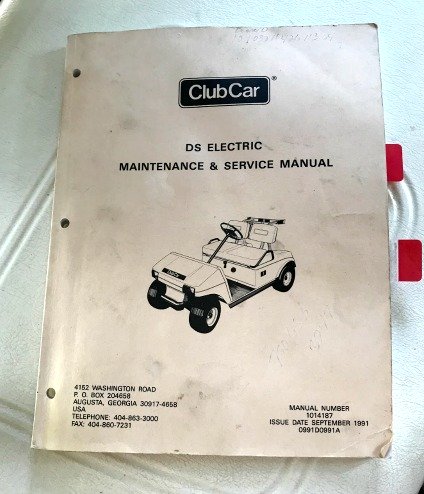 In the manual you will find detailed information on how to service and repair your golf cart.
An owner's manual can be downloaded for free if you own an EZ Go golf cart or a Yamaha golf cart. But if you are looking for golf cart repair manuals, you will need to purchase them.
To learn more about how to obtain golf cart repair manuals or a golf cart service manual click here:
Golf Cart Maintenance for Electric Golf Cart Batteries
Golf cart battery maintenance requires checking your batteries for water and keeping the terminals and posts clean of debris.
There are several safety precautions before checking your batteries. According to the Club Car Service manual:
There are several safety precautions before checking your batteries. According to the Club Car Service manual:
"1. Always wear a full face shield when working around batteries, because of the danger of an exploding battery
2. Batteries contain explosive gases - Keep sparks, flames, cigarettes away. Tools, wires and metal object cause sparks when "shorted" across a battery
3. When wires are disconnected be sure to keep them away from battery posts and other wires
4. Ventilate when charging or using in an enclosed space to prevent explosive gas build up"
Learn more about golf cart battery maintenance here:
Inspect and Clean Golf Cart Battery Cables
Prevent corrosion and increase cart reliability by checking to see if your golf cart battery cables are free of corrosion and fraying.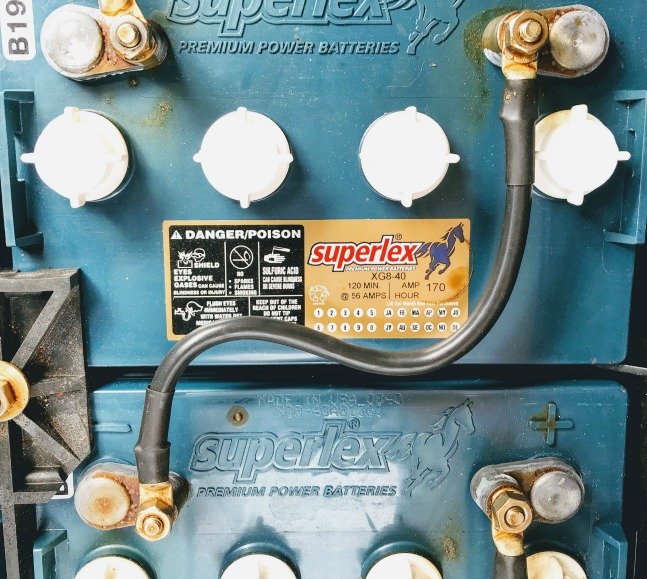 Golf cart battery cables require some periodic cleaning and maintenance or you may find yourself with a golf cart that won't start or dies suddenly.  Find out how to check your cables for fraying and how to use a battery cable cleaner to remove acid build up. 

Golf Cart Battery Cable Cleaning and Replacing
Golf Cart Maintenance for Tires
You can optimize the life of your golf cart tires by maintaining the proper air pressure. Overinflated tires will wear faster and wear uneven.
Tire pressure is important for not only the safety of your cart but also for the life of your tire and for the quality of your ride.
You will find the recommended Tire Pressure, or psi (pounds per square inch), on the tire's sidewall.  Get more info here:
Lubrication Schedule
For fun evening reading, I was going over my Club Car service manual and found that I should be following a periodic lubrication schedule. I knew it had been a long time, since this had been done, so I started with the front suspension.
Check your golf cart manual for specific recommendations for your golf cart. The Club Car manual recommends that the front suspension be lubricated quarterly.
Here's a video of me doing this maintenance on my Club Car golf cart:
Cleaning Your Golf Cart and Windshield
Cleaning, washing and polishing your golf cart body and windshield will help keep it looking like new. 
---
Some links in the following sections are eBay or Amazon affiliate links, which means that if you purchase a product through them I receive a small commission. There is no extra cost to you. Find more details on this page.
---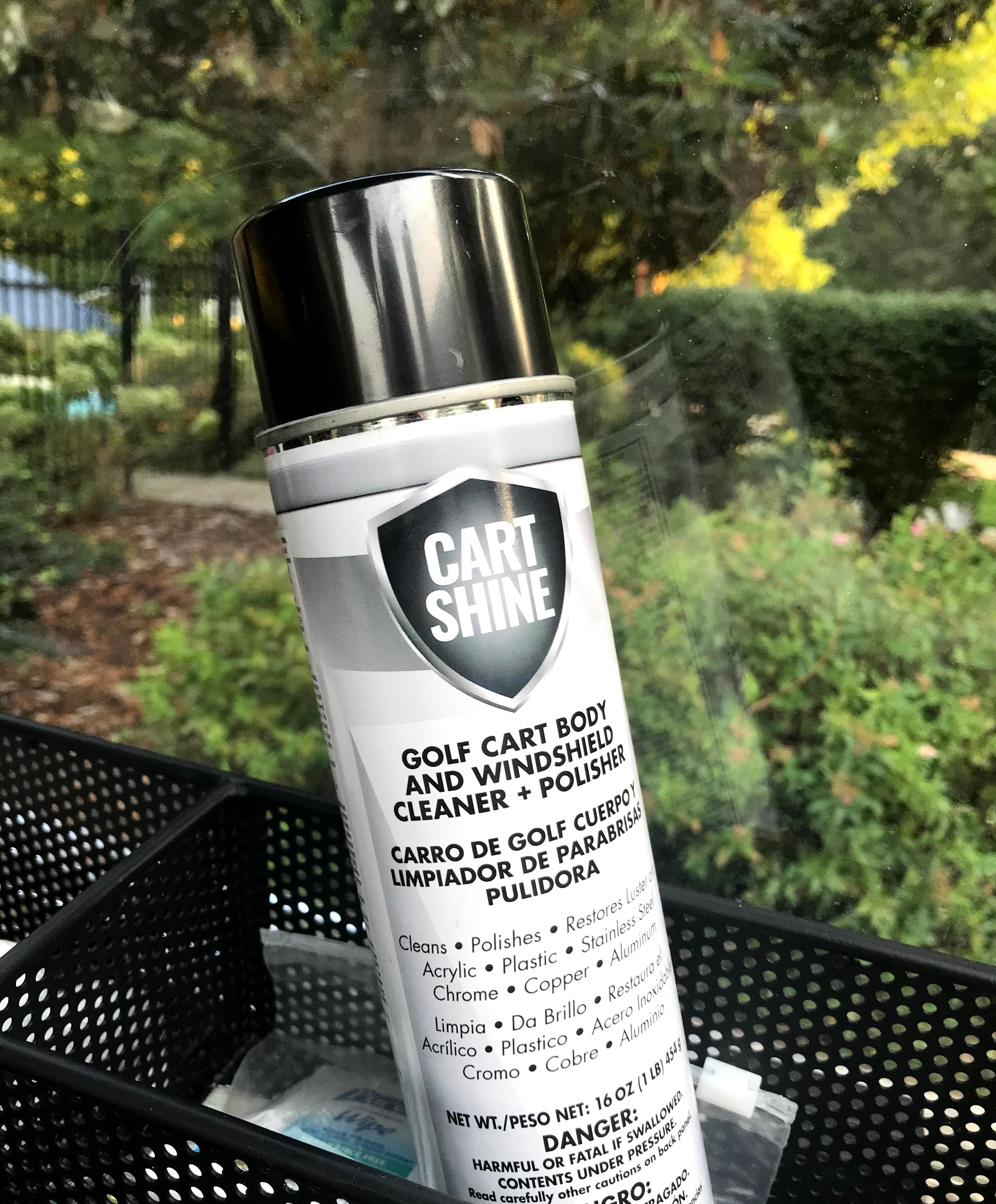 Do not use ammonia based products - like Windex on your windshield.  Cleaning solutions with ammonia (like Windex) will eventually cause the plastic to become dull or hazy.
You can use warm water and mild soap detergent with a soft cloth or use a product like Cart Shine. Wipe the windshield down gently. If there is a lot of dirt on the plastic, applying pressure can cause the plastic to scratch.
Regular golf cart maintenance is important for maintaining top performance and for keeping your cart looking like new. 
Go from Golf Cart Maintenance to Golf Carts Etc.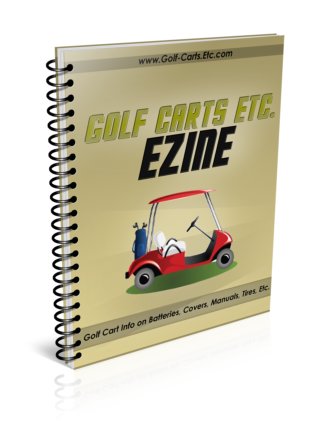 If you are interested in the free Golf Carts Etc. Newsletter you will find information and updates on:
√ Golf Cart Accessories and Products
√ Golf Cart Repair FAQ
√ Golf Cart and Battery Maintenance
√ Electric Golf Cart Reviews
√ Golf Cart Parts
√ Golf Cart Tires
.... and more. Your e-mail information will never be shared with anyone else. Simply sign up here: