The Golf Bag Rack
A Golfer's Favorite Golf Cart Accessory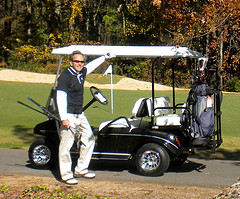 The golf bag rack is what makes my golf cart valuable and why you won't see my golf cart in the garage very often. Attach it to the back of your 2 or 4 seat golf cart and you'll be ready for a round of golf in no time.
This golf cart accessory along with a grab bar is helpful to your back seat passengers and can save you lots of money in the long run if your golf course charges you less for using your own cart.
Choices and Consideration

1. What Direction the Rack Faces
For those who will be using their golf bag rack on the rear seat, the rack can face the bags away from the back seat passengers or face the bags towards them

2. With or Without the Grab Bar
You can buy the grab bar and the golf bag rack separately or as a kit that provides both. The rack slips over the required grab bar.

3. With Additional Accessories
The deluxe golf cart rack includes sand and seed bottles, club and ball washer, and a golf cart cooler.

4. Replacement Straps & Buckles
For those who already have a rack you'll find that the buckles and straps eventually wear out and need to be replaced. You can replace them for less than $15.

Check out this golf cart accessory here for added security for back seat riders, for those who need to replace straps or buckles or for golfers who want to use their cart on the course:


P.S. Hit the Facebook Like Button in the Left Upper Corner if You like the page.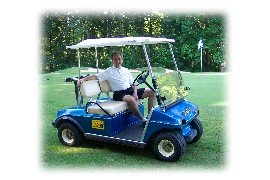 Thanks for subscribing to Golf Carts Etc. Newsletter.
Bill Degner