Protecting Your Passengers
"A 14-year-old Kamuela boy died Thursday… The cart made a sharp left turn into a driveway, and Derego, who was riding in the back, fell off and struck the pavement, police said."
Honolulu Star Bulletin, June 5, 2010
One of our granddaughters was riding in the front seat of the golf cart with my wife on the golf cart paths going to the drug store. When she took a sharp, quick left turn into the parking spot, our granddaughter flew out of the golf cart. Thankfully she landed on her feet and was not harmed.
Passenger ejection is one of the main causes of injuries to golf cart passengers who are not wearing seat belts.
Most ejections happen when a fast moving golf cart takes a sharp left turn. Passengers are not prepared for the quick change of motion. Their bodies shift to the right due to centrifugal force and they are thrown from the cart. Children, teenagers and adults can be injured and even killed from this type of accident.
The Consumer Products Safety Commission reports that around 40% of golf cart accidents involve a passenger being thrown from the cart. They also report that 40% of golf cart accidents involved children under the age of 16.
According to Technology Associates, who are experts in accident investigations:
"Anthropomorphic Hybrid III dummy testing and computer simulation analyses have confirmed that children are especially susceptible to ejection from these vehicles because of their small size, their inability to touch their feet to the floor, and their reliance upon the hip restraint for stability. The same studies have shown that seatbelts are extremely effective in preventing occupant ejection.
For More Info Go To:
Golf Cart Safety and Seatbelts
P.S. Hit the Facebook Like Button in the Left Upper Corner if You like the page.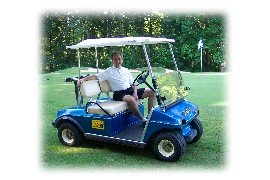 Thanks for subscribing to Golf Carts Etc. Newsletter.
Bill Degner