Golf Cart Enclosures - Keep Using Your Cart on Cold and Rainy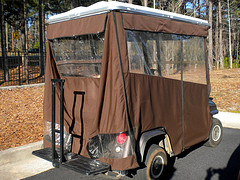 Here in Georgia, where the snow rarely lasts more than a day, it is the golf cart owners who have an enclosure that use their golf carts year round. Using heavy duty snaps and zippers, golf cart enclosures keep cold air, wind and rain from getting in.

It actually stays quite comfortable even without a heater. (Now on real cold days, a warm blanket may help too).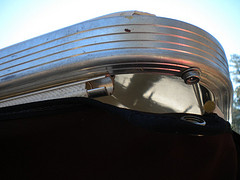 A universal enclosure can be purchased inexpensively. The size is based on whether the golf cart is a 2 or 4 passenger cart and makes little difference as to whether it is a Yamaha, Club Car or other golf cart make.

A more custom enclosure uses a track that is installed on the golf cart top and offers a more high end look. These covers can be kept on the cart year round as the sides roll up and snap out of the way.

This is one golf cart accessory that I wouldn't be without. We use ours year round whether it is to keep us warm in the winter or dry on a summer rainy day. For more tips on purchasing a

Golf Cart Enclosure Click Here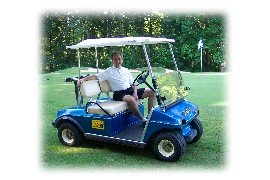 Thanks for subscribing to Golf Carts Etc. Newsletter.
Bill Degner
New!

Comments Have your say about what you just read! Leave me a comment in the box below.