Finally, We Have A New, Used Golf Cart - Almost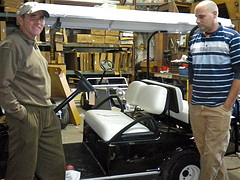 We have finally found a used electric golf cart to replace our 1987 Club Car. After looking at used golf carts for months, the deal we got, is by far the best value.

We have looked at used electric golf carts in all different conditions and price ranges - $1600 to $4300. Used Club Cars, used EZ Go's, and used Yamaha golf carts. The year of the golf cart is not as important as how well the golf cart has been maintained and if it's been kept in a garage or outside.
Used Golf Cart Dealers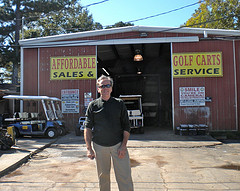 Many of the cheaper golf carts we looked at just required too much time and effort to refurbish them. The newer used electric golf carts made from 2000 - 2006 were asking top dollar, yet still had wear and tear on the bodies, seat covers, batteries, etc.

So when I found that I could get a customized, like new, 2006 used Club Car for the same price private individuals were asking for their used and banged up carts, I knew I had found the best used golf cart value.
Golf Cart Paint Job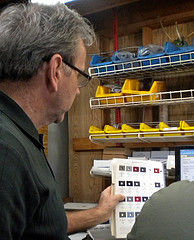 For starters the refurbished golf cart is stripped down to the frame and acid washed. A new golf cart body is included in the price and we could pick out our color.

With more than 1500 paint colors to choose from, we picked a metallic black.

The paint job looks great and gives the golf cart a custom look with all the metallic flakes in it. The color actually has a chameleon affect - changing slightly to different colors depending on how the light catches it.

The golf cart body isn't the only new part in a refurbished golf cart. Find out what other brand new parts are usually included to give you the best used golf cart value out there: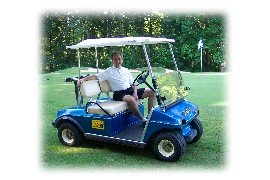 Thanks for subscribing to Golf Carts Etc. Newsletter.
Bill Degner
New!

Comments Have your say about what you just read! Leave me a comment in the box below.