Refurbished Golf Carts - A Good Deal?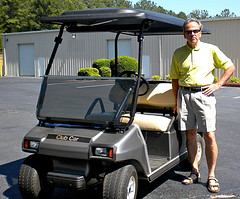 We are looking for a used electric golf cart to replace our 1985 Club Car. It still runs great and looks great, but it's time to get a little more power and speed so that not every golf cart in town is passing us on the hills. And we need a rear seat to carry around a couple of grandkids.
The two places to look for a used cart is from a private individual or from a local golf cart dealer if you have one. Living in a golf cart community, means there are several dealerships. They are able to get used golf carts from Club Car, EZ Go, or Yamaha when a golf course upgrades its fleet of carts.
When they come to the dealer most of them don't have headlights or tail lights, no rear seats and of course show some signs of wear and tear.
The dealer then adds the lights, a rear seat, maybe even a flip seat, puts in new batteries, replaces tires, etc and then calls it a refurbished golf cart.
Find out what else is often included in a refurbished cart and why it may be the best deal for a used golf cart.



Thanks for subscribing to Golf Carts Etc. Newsletter.
Bill Degner
New!

Comments Have your say about what you just read! Leave me a comment in the box below.