4 Seat Golf Cart - Rear or Foward Facing?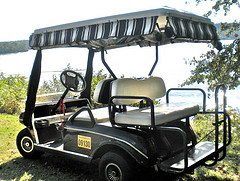 We recently purchased a refurbished 4 seat golf cart. When out of town guests came this weekend we wanted to show off our beautiful golf cart community.

Driving along tree lined paths of blooming red bud and tulip magnolia trees, my wife and I, sitting in the front seat, were enjoying every minute of the ride. However we soon found out that the scenic ride was not so enjoyable to our guests.

They did not like sitting in the rear facing seats. The curves were "curvier" and the bumps were "bumpier" sitting in the back seat. Now you may think I was driving as fast as I could around the corners and across the speed bumps - but I was actually driving extra cautious since one of the guests had had some recent surgery.
Golf Cart Rear Seat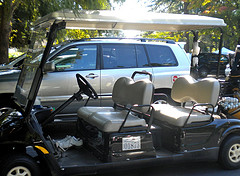 The least expensive option for a 4 seat golf cart is to install a golf cart rear seat kit. This is what we did.

Our adult daughter is in the market for buying a new golf cart. When our guests complained about the bumpy ride, our daughter chimed in that that is why she wants a golf cart with forward facing seats.

Golf carts with forward facing seats indeed provide a smoother and more enjoyable ride for the passengers. However, they are not as prevalent as the 4 passenger rear facing golf carts. Which means it is not easy to find one used. In that case you are talking about not only buying a new golf cart, but most likely a custom golf cart.

Trying to decide which set up is better for you? Think about how often passengers will be using the back seat and what your budget is for a new or used golf cart. I love my sister-in-law but not enough to get a new 4 passenger forward facing golf cart.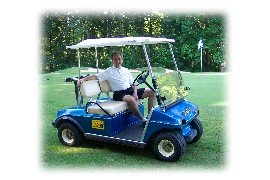 Thanks for subscribing to Golf Carts Etc. Newsletter.
Bill Degner
New!

Comments Have your say about what you just read! Leave me a comment in the box below.