Custom Golf Cart Bodies
Custom golf cart bodies can say a lot about who you are and make your humdrum cart (like mine) look really spectacular.
Like this Jaguar custom golf cart picture from Maxually's Photostream.
There are a couple of ways you can do this. The cheapest, do it yourself kind of custom golf car body can be done by purchasing golf cart skins or decals.
The more expensive route, with more paint options and colors is to have a custom paint job done.
Golf Cart Custom Bodies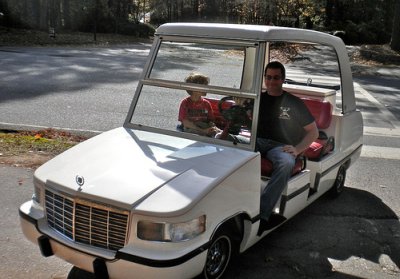 Golf cart custom bodies come in a wide variety of looks - from a Hummer to a '57 Chevy. Of course you can purchase a finished custom golf cart for around $10,000 - $15,000 or you can do it yourself by purchasing a custom golf cart body kit.
Golf Cart Body Kits
Golf cart body kits can provide your cart with a custom look that's classic, sporty, or your own style.
Made from fiberglass, the kits can be purchased based on the type of cart chassis you will put it on - such as a Yamaha, EZ Go or Club Car. Prices for a body kit range from from a couple of hundred dollars to several thousands of dollars.
The kits sometimes include only the custom golf cart body and other kits will include some accessories.
Golf Cart Custom Paint
A golf cart custom paint job offers a wider selection of paint colors than golf cart body kits. You can also customize the golf cart body by adding your own designs.
Designs like flames, pin stripes, etc. can be hand painted or customized with decals. Depending on what kind of look you want, you could check out the decals first. If you don't see anything that appeals to you - then go for a hand painted job.
Golf Cart Skins
Golf cart skins are another way to customize your golf cart body. You will need a friend to help you. The graphics are applied directly to the surface of your golf cart using a peel & stick application.
A kit will consist of several large sheets of graphic film. There are lots of different design options and it is much less expensive than a custom paint job.
A full kit runs around $350. To learn more click here: Golf Cart Skins
Golf Cart Decals
Golf cart decals have come along way. Many of them look very professional as if they were hand painted.
To get some creative decal ideas to customize your golf cart body click here: Golf Cart Decals


Go from Custom Golf Cart Bodies to Golf Cart Body

Go from Custom Golf Car Bodies to Golf Carts Etc.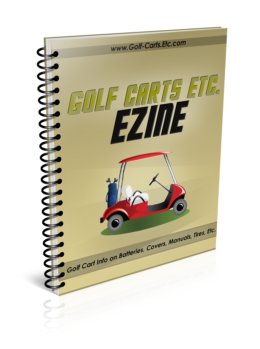 If you are interested in the free Golf Carts Etc. Newsletter you will find information and updates on:
√ Golf Cart Accessories, Parts and Tires
√ Golf Cart Repair FAQ
√ Golf Cart and Battery Maintenance
√ Electric Golf Cart Reviews
√ Golf GPS Reviews
.... and more.
Provide just your first name and e-mail address for the FREE Ezine: