Custom Golf Cart Bodies
Custom golf cart bodies can say a lot about who you are and make your humdrum cart (like mine) look really spectacular.
Like this Jaguar custom golf cart picture from Maxually's Photostream.
There are a couple of ways you can do this. The cheapest, do it yourself kind of custom golf car body can be done by purchasing golf cart skins or decals.
The more expensive route, with more paint options and colors is to have a custom body and paint job done.
Golf Cart Custom Bodies
Golf cart custom bodies come in a wide variety of looks - from a Hummer to a '57 Chevy. Of course you can purchase a finished custom golf cart for around $10,000 - $15,000 or you can do it yourself by purchasing a custom golf cart body kit.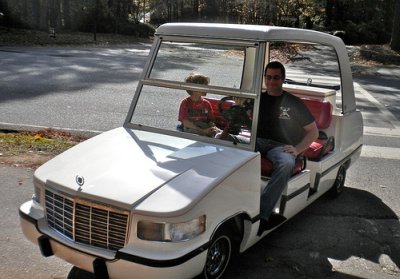 Golf Cart Body Kits
Golf cart body kits can provide your cart with a custom look that's classic, sporty, or your own style.
Made from fiberglass, the kits can be purchased based on the type of cart chassis you will put it on - such as a Yamaha, EZ Go or Club Car. Prices for a body kit range from from a couple of hundred dollars to several thousands of dollars.
The kits sometimes include only the custom golf cart body and other kits will include some accessories.  Take a look at this one offered on eBay:

Custom Golf Cart Body Kits for Club Car DS or Yamaha
Golf Cart Custom Paint
A golf cart custom paint job offers a wider selection of paint colors than golf cart body kits. You can also customize the golf cart body by adding your own designs.
Designs like flames, pin stripes, etc. can be hand painted or customized with decals. Depending on what kind of look you want, you could check out the decals first.
If you don't see anything that appeals to you - then go for a hand painted job.
Golf Cart Skins come in a variety of finishes - the most popular one is the camouflage design. But there are other ones as well such as wraps that look like a Nascar race car.
Anyone you pick will be sure to give your cart a custom look.
Custom Body Parts
Golf Cart Brush Guards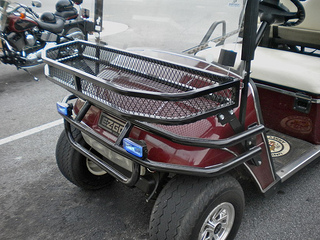 You can also customize your golf cart with some cool enhancements - like this golf cart brush guard and front basket. A brush guard gives the look of a more rugged and sporty look while also protecting the front cowl of the golf cart.
This enhancement is specific to the golf cart make and will run between $150 - $200.
The different finishes include a high gloss powder coated black, a gun metal silver finish, and a polished stainless steel.
Customize with Diamond Plate
Another way to provide a custom look to your golf cart is to add some chrome enhancements - like this diamond plate rocker or side panels that I just installed on our Club Car.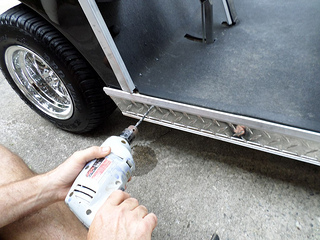 Other diamond plate enhancements include floor mats, kick plates, mud flaps and more.
The side panels were easy to install. Just removed the old ones, placed the new ones on to mark the holes. Drill two holes and put the new panels in.
I bought my diamond plate enhancements from Buggies Unlimited here: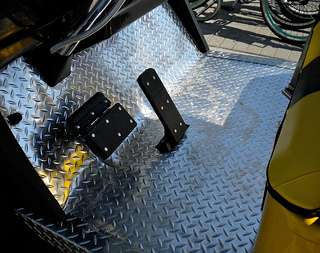 There are lots of places one can add chrome to their golf cart.
A diamond plate floor and kick panel just "kicked" up the customization of this golf cart.
These parts are specific to your golf cart make and model.
Go from Custom Golf Cart Bodies to Golf Cart Body

Go from Custom Golf Car Bodies to Golf Carts Etc.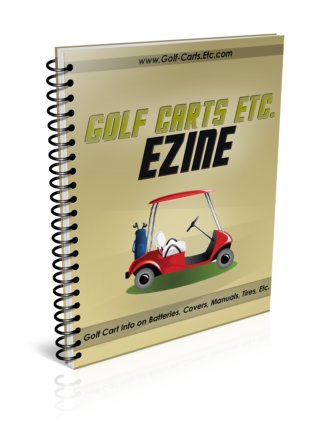 If you are interested in the free Golf Carts Etc. Newsletter you will find information and updates on:
√ Golf Cart Accessories and Products
√ Golf Cart Repair FAQ
√ Golf Cart and Battery Maintenance
√ Electric Golf Cart Reviews
√ Golf Cart Parts
√ Golf Cart Tires
√ Golf GPS Reviews
.... and more. Your e-mail information will never be shared with anyone else. Simply sign up here: