Golf Cart Tire
Keep your golf cart tire at the right pressure and replace it when it is worn. There are many different options for tire sizes and treads, depending on how you use your golf cart.
Golf Cart Tires and Rims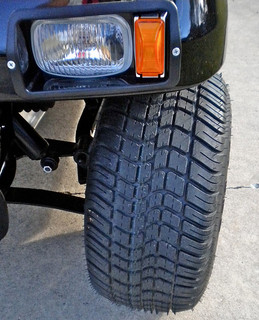 When is it time to replace your golf car tires?
Mike, if you are reading this, it's when they will no longer hold air. Also, just like car tires, when the tread wears down it's time to start shopping. Hairline cracks or places of swelling are also signs that new tires are needed. If you notice that you need to put air in every couple of weeks, your tire is experiencing a slow leak.
Golf cart wheels and tires can be purchased separately or as a package. They both need to be replaced periodically.
Read more to find out what size to get, who are the best manufacturers, and when it's time to consider getting new cart tires:
Golf Cart Tire Sizes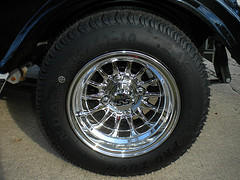 Golf cart tires come in a variety of sizes. The standard size is 8" but they also come in 9, 10 and 12" sizes. The 8" - 10" tires do not require any modifications to the cart or a lift kit.
If you use your golf cart like I do for golfing, you need to be sure your tires are "golf course approved." Certain off-road treads are not allowed on golf courses so be sure to check with your local golf course before making a new tire purchase.
My latest refurbished Club Car golf cart has 10 inch golf cart wheels. This is a picture of the ones I have on my cart. Who wouldn't like these?
I chose to go with a 10" Touring Tire.
It's a "beefier" tire compared to an 8" tire. I love the smoother ride and the more custom look it provides. Also because I spent a lot of money on custom golf cart wheels, I wanted a long lasting and durable tire.
You can always find the current size of your tires by checking the sidewalls - all of the tire info is printed right there.
Used Golf Cart Tires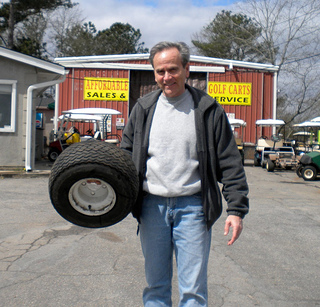 Have you considered getting used golf car tires to replace your worn tires?
It's possible when you live in a golf cart community where there are lots of golf cart businesses.
Golf cart salvage places often have some good used tires. Find out what to look for before you go this route.
To find out how you can save some money this way click here: Used Golf Cart Tires

Offroad Golf Cart Tires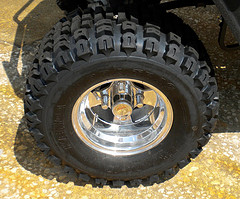 Offroad golf car tires are used on a lifted golf cart. The tires are wider which provides the lifted cart with more stability.
These tires also give your golf cart more clearance for offroading or hunting. New golf cart wheels will be needed for these larger tires. A golf cart with these tires cannot be used on the golf course.


Tire Pressure Information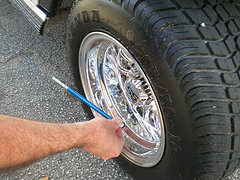 It is important that you maintain the proper air pressure in your golf car tires.
Tire pressure is important for not only the safety of your cart but also for the life of your tire and for the quality of your ride.
You will find the recommended Tire Pressure, or psi (pounds per square inch), on the tire's sidewall.
Tire pressure varies between each manufacturer and style of the tire.
To learn more about tire pressure information and what happens when you over inflate your tires click here: Golf Cart Tire Pressure
Golf Cart Tire Leak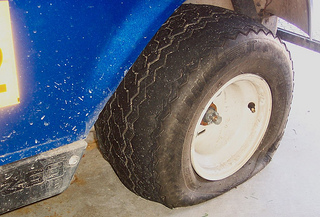 Here in a golf cart community, you can simply bring your old tire to one of our many golf cart shops to get new ones. They can match the new tire to the tires that you already have. Unlike golf cart batteries, you do not need to replace all of the tires at the same time, unless all four tires are worn.
Sometimes, your tires may develop a leak, just like your car tires. Bring it up to your local car repair shop - have them check the leak and plug it up for you. It costs a lot less to do this than it does to replace the tire.
You can also order tires on line, but be sure to check the sidewall of the tire to get your correct size.
Golf cart wheels and tires are available as packages for a better value and price from Buggies Unlimited. You can choose the tire you want and the wheel for a custom golf cart look.
Go from Golf Cart Tire to Golf Cart Wheels and Tires

Go from Golf Car Tire to Golf Carts Etc.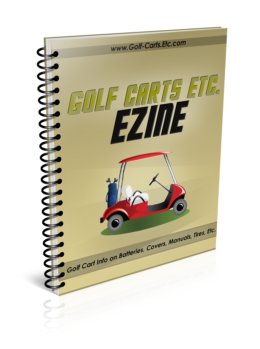 Sign up for our free Golf Carts Etc. Newsletter. Here you will find information and updates on:
√ Golf Cart Accessories, Parts and Tires
√ Golf Cart Repair FAQ
√ Golf Cart and Battery Maintenance
√ Electric Golf Cart Reviews
√ Golf GPS Reviews
.... and more.
Provide just your first name and e-mail address for the FREE Ezine: