EZ Go Golf Cart
The EZ Go Golf Cart is a very familiar brand of golf carts in Peachtree City - on and off the golf course.
EZ Go Cart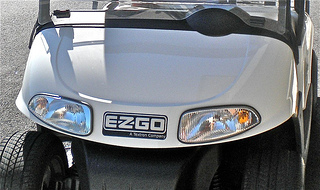 My daughter and son-in-law love their EZ Go golf cart. They have owned theirs for 8 years with no need for repairs - in spite of very little maintenance :)
Available as gas or electric carts, they can be used for golf, personal use or hunting.
E-Z-GO was founded in 1954 in a one-room machine shop in Grovetown, Georgia. They became part of Textron in 1961.
This golf cart make is a durable and high-performance vehicle. EZ Go is one of the top three manufacturers which means it is easy to find and gets parts as well as cart accessories.
EZ Go Golf Cart Manual
There are actually two different EZ Go golf cart manuals - an owners manual and a golf cart repair manual.
The EZGO golf cart service or owner's manual is available for free from the E-Z-Go website.
Click on this link for instructions on how to find the pdf file that you can download and print from your computer.
However, golf cart repair manuals need to be purchased. They aren't the cheapest books to buy, but they are a great investment and you'll recoup the money you spent in one repair.
Find out how to get yours here: EZGo Golf Cart Manual
EZ Go Electric Golf Cart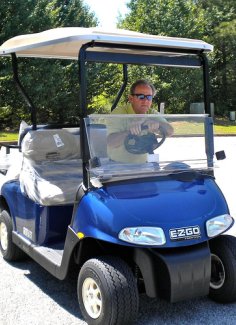 My son-in-law has a 4 passenger EZ Go Electric Golf Cart. It is great for taking the kids to the pool or for golfing 18 ( or maybe more) holes of golf.
Some of the features they offer are:
Precision Drive System™
Provides a comfortable and quiet ride
Four-Cup Drink Holder
Console with Golf Ball & Tee Holder
Reverse Warning Indicator (which at times can be very annoying)
Sweater Basket
They are fully customizable and offer many options and accessories. EZ Go Electric Golf Cart
EZ Go Gas Golf Cart
The EZ Go Gas Golf Cart is usually used when the single charge of an electric cart is not enough for your purpose. Most carts that are used for golfing or for cruising around town are electric. Because they are quiet and "green" they are the preferred type of cart in our community.
The gas models are used by our police - yes, they cruise the golf cart paths, seeking to assist and defend. Because they are literally driving the cart all day, they can simply add more gas when they need to rather than having to sit and wait for their cart to recharge. To learn more about the EZ Go Gas Golf Cart models click here: EZ Go Gas Golf Cart
EZGo Golf Cart Parts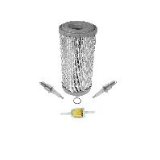 To purchase an EZGo Golf Cart Part, you can go online and find just what you need. Many of the on-line stores offer 800 numbers where you can find a helpful and knowledgeable sales associate.
Some sites offer free shipping. You will need to know the make, model and year your golf cart was made.
My favorite golf cart parts on-line store is Buggies Unlimited.
Find out how to order parts to keep your EZ Go going:
EZ Go Golf Cart Accessories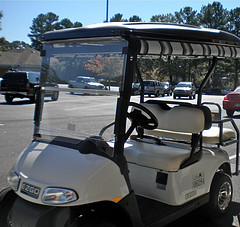 Are you considering an EZGO golf cart accessory such as wheel covers, storage bags or baskets, wheels, windshields, or a cooling fan?
There are lots of golf cart accessories that can be added after-market - which simply means after you've bought it.
One of the most common accessories to make your golf cart usable in cold or wet weather is a golf cart enclosure.
Find out some of your options here: EZGo Golf Cart Accessories


Go from EZ Go Golf Cart to Golf Carts Etc. Home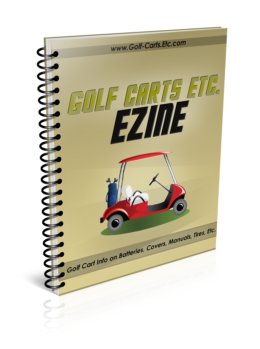 Golf Carts Etc. Ezine offers Free information and updates on:
√ Golf Cart Accessories, Parts and Tires
√ Golf Cart Repair FAQ
√ Golf Cart and Battery Maintenance
√ Electric Golf Cart Reviews
√ Golf GPS Reviews
.... and more.
Sign up here with your first name and e-mail address and the free ezines will come directly to your in-box.