Golf Carts - Manuals, Repairs, Maintenance
Golf carts have become popular in lots more places than just the golf course - from camp grounds, to resorts to communities. Are you a new golf cart owner with questions about how to keep your golf cart going strong? Maybe you are considering buying a golf cart or upgrading and replacing your existing golf cart? Wondering if you should buy an electric or gas, new or used? Are you the kind of guy/gal who likes to do your own maintenance and repairs and wants to know how much air to put in your tires or what do if your batteries won't charge?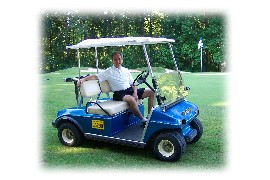 Golf carts are the main mode of transportation where I live in Peachtree City. New people moving in are buying golf carts for the first time, those who are leaving are trying to sell them and for those of us who have been here a long time, replacing or upgrading our existing golf cart is common.
Here you will find free information about golf carts including:
Different makes - Like Club, E-Z Go, Yamaha, Harley Davidson
How to determine Used Golf Cart Values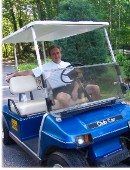 Simple tips to increase the lifespan of those expensive deep cycle batteries.
How repair manuals can save you lots of money.
What are some of the best golf cart accessories for a customized and comfortable ride.
Hi, my name is Bill Degner. I live and play golf in a golf cart community called Peachtree City. With over 100 miles of paths, I can get anywhere by golf car - to grocery stores, library, schools, friends' houses and of course to the golf course.
I have maintained my own golf car during these 18 years, replacing batteries, tires, enclosures and parts. From flat tires to batteries not charging, you can get your golf cart going by learning a few simple things. This site can help educate you if you are looking to buy a new or used golf cart or maintain and accessorize the one you have.
pinterest-b01b0-1.html
Current information on golf carts providing golf cart reviews, golf cart repair manuals and resources for golf cart accessories, batteries and more.
Golf Carts Etc Free Newsletter - News You Can Use on Batteries, Chargers, Manuals, Tires , Etc.
Golf Cart Accessories: Tips for Style, Storage, and Comfort
Customize with Club Car Accessories or Just Making Driving More Enjoyable
Golf Cart Seats - Covers, Seat Belts to Rear Seats
Golf Cart Wheels and Tires - What to Know BEFORE you Buy
Golf Cart Battery Maintenance - Corrosion and Charging
Golf Cart Batteries - Which ones are the best and last the longest.
Electric Golf Carts - Recommendations, Reviews, and Repairs
Club Car Golf Carts - Your Guide to Club Car Service Manuals, Parts and Accessories
EZ Go Golf Cart - Trying to Decide What Make or Model Golf Cart to Get? Get complete info here.
Yamaha Golf Cart Info, Manuals, Accessories and Parts
Used Golf Cart - Your Guide to Getting The Best Value
Gas Golf Cart versus an Electric Golf Cart
Golf Cart Maintenance of Batteries, Tires and More
Golf Cart Repair - Electric Golf Cart Help and Troubleshooting
Golf Cart Parts - Upgrade, Replace or Customize Your Golf Cart
Customize and Care for your Golf Cart Body
Golf Cart Salvage - Find Used Parts and Save Lots of Money
Find Golf Cart Repair Manuals Here - Some Free Downloads
Golf Push Cart - Features and Reviews for Top Push Carts
Golf Pull Carts for those who want a lightweight, compact golf cart.
Bag Boy Golf Carts - Which cart will improve your game and is the best ergonomically.
Motorized Golf Carts - Improve your Game and Your Health
Make a Golf Cart Community Your Home - I Did and Love It!
Privacy Policay for Golf Carts Etc.com
Search Page for Golf Carts Etc.com
Bushnell Golf Range Finder - Better than Golf GPS Devices?
Contact Me