Golf Cart Batteries
Golf cart batteries provide the energy and power to keep a golf cart going. These deep cycle batteries work differently than most other batteries and require some regular maintenance.
Electric Golf Cart
Batteries for an electric golf car are different from and serve a different purpose than a car battery.
The batteries for your electric golf cart must provide all of the energy that is needed to move the cart. So as they are used the batteries discharge or in other words their capacity is reduced - therefore you must recharge them after every use.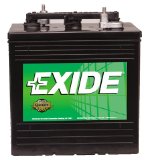 Deep Cycle Battery
A golf cart battery is called a deep cycle battery. A deep cycle battery can be deeply discharged and charged many times during its service life. They also provide a steady current over a long period of time, instead of brief bursts of high current over a short time period like a car battery. They have much thicker plates than automotive batteries.
Unlike a car that only needs one battery, a golf car requires battery packs. They come in 6 volt or 8 volt batteries.
Combine the total voltage from each battery to make up the total golf cart voltage. As an example, a 36-volt golf cart would have six 6-volt batteries. A 48-volt golf cart would have either eight 6-volt batteries or six 8-volt batteries. The higher the voltage the greater the power and the longer the service time.
How long will your golf car batteries last? It depends on how it is used, how well it is maintained and charged, temperature, and other factors. They typically are good for 2-7 years.
Golf car battery terms are usually in reference to the size of battery (commonly called GC-2, or T-105), not the type or construction. The quality and construction of a these batteries can vary considerably - ranging from cheap off brands with thin plates to the true deep cycle brands, such as Crown, Deka, Trojan, etc. This may be one of those cases where you get what you pay for.
Plate Thickness
Plate thickness of the Positive plate is a major consideration when purchasing your golf car battery. This is due to what is called "positive grid corrosion". One of the major causes of battery failure is due to the positive (+) plate getting eaten away gradually over time, so that eventually nothing is left - the corroded material just falls to the bottom. What this means for you is that thicker plates means a longer battery life.
The typical battery will have plates that are around .07 to .11" thick. Here is a comparison chart:
Concorde AGM's are .115"
Rolls-Surrette L-16 type (CH460) is .150"
US Battery and Trojan L-16 types are .090"
Crown L-16HC size has .22" thick plates.
While plate thickness is not the only factor in how many deep cycles a battery can take before it dies, it is the most important one.

US Battery
According to Don Wallace of US Battery, with the introduction of their new XC2 product he states that, "This new formulation has been designed to provide the highest performance possible with the greatest recharge acceptance. What this means to the end user is higher output, longer life and higher levels of efficiency when recharging."
US Battery has been in the battery business since 1926, specializing in the design of deep cycle batteries.
Find out why Don thinks that golf cart batteries made by US Battery are the best in the industry:
US Battery - Best Deep Cycle Battery?
Trojan Golf Car Batteries
Many golf courses use the Trojan batteries in their fleet. They have been around since 1952. This company offers a durable, reliable and well respected battery in the industry. Trojan also offers technical support provided by full-time engineers.
Trojan offers golf car batteries as sealed absorbent glass mat (AGM) and GEL batteries along with the deep cycle wet batteries. The AGM and GEL batteries are maintenance free.
To find out more about these batteries and how to get a free battery maintenance and User's Guide click here: Trojan Golf Cart Batteries
Exide Golf Car Batteries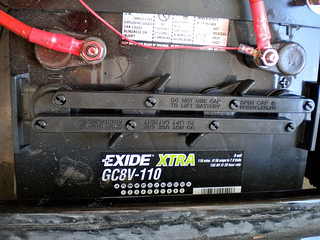 We have Exide golf car batteries in our newly refurbished golf cart. One of the features I like is that it offers a quick-release 3-gang vent which allows me to check water in all the cells of one battery at the same time.
Exide offers deep cycle 6 volt and 8 volt batteries.
This make is one of the most frequently used batteries that are put into new and refurbished golf carts.
6 Volt Golf Cart Battery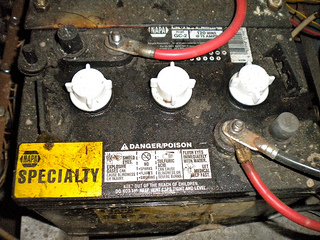 My 1987 Club Car golfcart uses 6V golf car batteries.
It has a battery pack of 6. This means that the combined voltage from each of the 6 batteries makes up the total golf cart voltage.
This gives me a total golf cart voltage of 36. To learn more click here: 6 Volt Golf Cart Battery
8 Volt Golf Car Batteries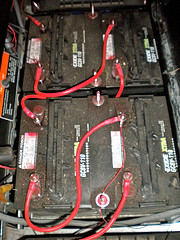 Electric golf carts are powered by six lead-acid batteries that sit mounted on a metal rack under the seat. They are either 6 volt or 8 volt batteries. It is important to check your golf cart manual to see which size battery is recommended.
The most common manufacturers of 8 volt golf car batteries are Exide, Trojan and Interstate.
To learn what Club and EZ Go have to say about 8 volt batteries click here:
Golf Cart Lithium Battery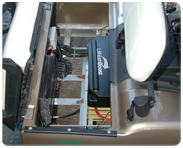 Golf cart lithium batteries are a new golf cart battery alternative that requires little maintenance and will provide more years of service than traditional deep cycle batteries.
Read our e-interview with John from Lithium Batteries to find out about whether you should replace your old lead acid batteries with this new technology. Golf Cart Lithium Battery
Discount Golf Car Batteries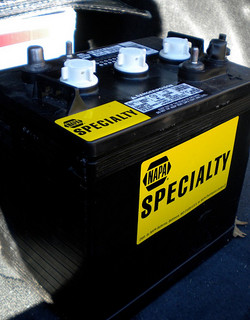 When it's time to replace your old batteries you may be tempted to get discounted ones to save some money.
I know, I was and I did ... buy them that is.
Got a set of 6 six volt deep cycle batteries from Napa for a $100 less than a set of Exide or Trojan batteries.
Discount batteries can be found at places like Sam's Club, Costco, or Nappa.
Find out if this is a good idea .... or not: Discount Batteries

Used Golf Car Batteries
Are you thinking about replacing your golf cart battery set with used golf car batteries? Ideally, when it comes time to replace your batteries, the entire set should be replaced with new batteries.
But if you are thinking about used ones, it is possible - but there are some things you want to know before you decide to do this.
Click here to learn more: Used Golf Car Batteries

The biggest investment in an electric golf cart are the batteries. These deep cycle or lead acid batteries are unlike other rechargeable batteries, so learn how to correctly charge them. Charging deep cycle batteries correctly and practicing regular Lead Acid Battery Maintenance can improve the longevity and lifespan of your investment.
Using Additives to Extend Battery Life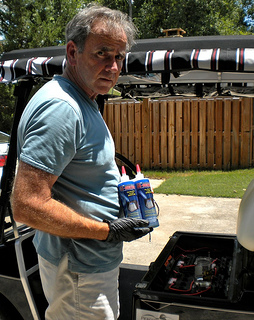 Battery additives can reduce corrosion which means your batteries will charge up quicker. A quicker charge means less internal heat which protects the paste on the plates.
It also reduces the frequency or need for watering which means it will take longer for the water levels to get low.
Find out what additive I use in all of my batteries here:
Golf Cart Batteries Not Charging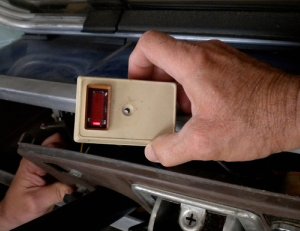 Having owned and used many golf carts for almost 20 years, I've experienced just about every golf cart "failure." One of them being "my golf cart won't charge."
The first time it happened I assumed it was the charger and took it in to a local golf cart dealer who tested it - it did need a new cord because of wear and tear - but it wasn't the charger.
Find out what prevents your batteries from charging: Golf Cart Batteries Not Charging

Return to Golf Carts Etc. Home Page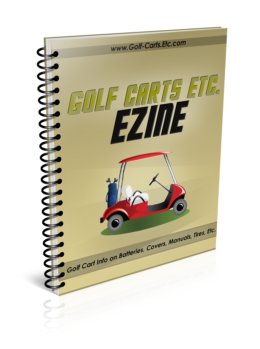 Sign up for our free Golf Carts Etc. Newsletter where you will find information and updates on:
√ Golf Cart Accessories, Parts and Tires
√ Golf Cart Repair FAQ
√ Golf Cart and Battery Maintenance
√ Electric Golf Cart Reviews
√ Golf GPS Reviews
.... and more.
Provide just your first name and e-mail address for the FREE Ezine: