6 Volt Golf Cart Batteries

Our 1987 Club Car uses 6 volt golf cart batteries, providing our golf cart with plenty of power and longevity.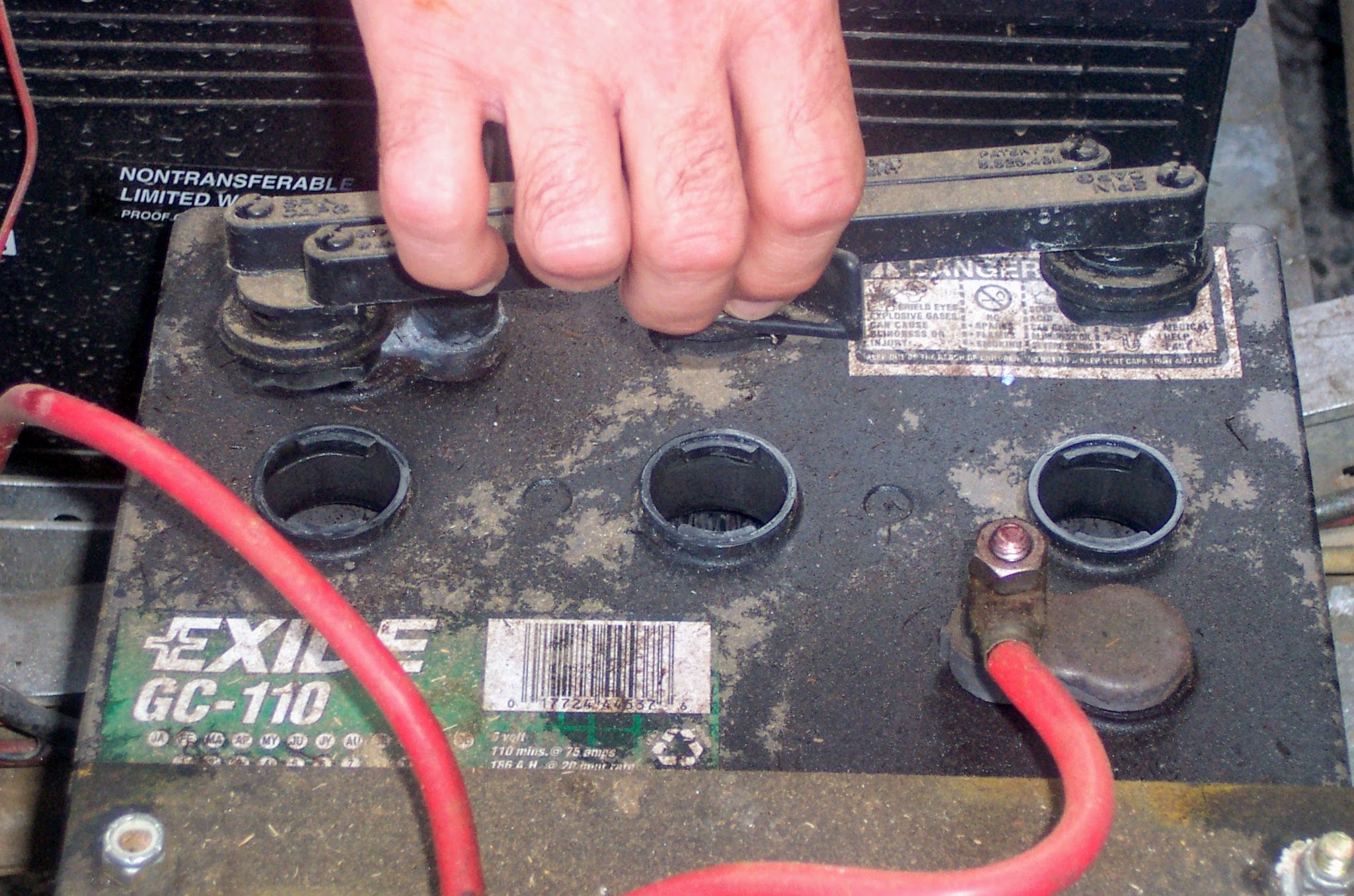 With a battery pack of six, this means that the combined voltage from each of the 6V golf cart batteries makes up the total golf cart voltage - which gives me a total golf cart voltage of 36.
How do you know if your batteries are 6, 8 or 12 volts? By looking at the cell holes. There are two volts per hole. As you can see from this picture, there are 3 white holes where water is added. The three holes mean that it is a 6 volt battery.
The power and longevity of the 6 volt battery has served us well these 15 years.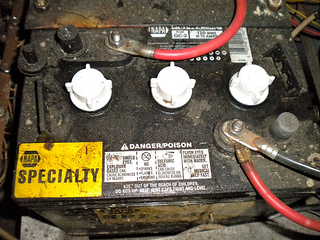 Playing 36 holes of golf on one charge is no problem. Or using it to get across town. The total golf cart voltage of 36 provides plenty of power for going uphills and a long enough charge to get us any where we need to go. 

Of course it is important that the cart is fully charged and that the batteries are receiving regular golf cart battery maintenance.

Replacing 6 V Golf Cart Batteries

If you are needing to replace your 6 volt batteries, you need to replace all of them.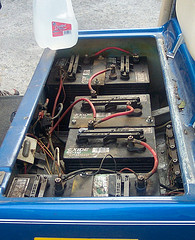 If you replace just one 6 volt golf cart battery the weaker batteries will drain the new battery. So instead of saving you money, it will actually cost you more because you've greatly shortened the life of the new battery.
Buy your batteries for your golf cart from a local dealer or from places like Batteries+Bulbs. 
You will know when it is time to replace your batteries by the charge. When the charge doesn't last as long as it did before or you can't go as far on a full charge it's time to start shopping around.
Trojan 6 Volt Golf Cart Batteries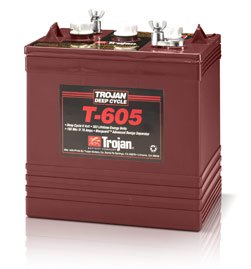 Five out of the 6 golf cart dealers in our golfing community use the Trojan batteries. They all stated that they performed better and lasted longer than the Exide golf cart batteries.
I was told by one dealer that if the Trojan golf cart batteries are well maintained using only distilled water, you may see them last 6-8 years.
But another dealer said you can expect a 4-5 year battery life with Trojan.  Either way this deep cycle battery is a favorite in our golf cart community. 
Exide 6 Volt Golf Cart Battery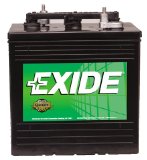 One golf cart dealer who uses only Exide golf cart batteries says his customers have been happy with Exide and that they have a better warranty than Trojan batteries.
We have the Exide batteries in our golf cart and have had them for 5 years.
They are still working fine and keep a good charge. The performance and longevity of your deep cycle batteries depend more on maintenance, proper charging and a good water maintenance program.
Secret to Long Lasting Batteries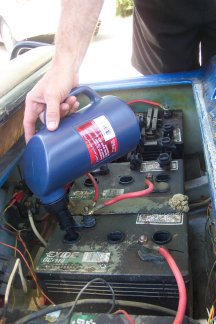 The secret to long lasting golf cart batteries, is to provide regular golf cart battery maintenance.
Especially during the long, hot summers in Georgia.
I get a golf cart battery maintenance kit  that includes a watering bottle, a battery terminal cleaner, and a battery terminal protector.
1) Check the water level of the batteries
The leaded plates in the battery must be submerged in order for it to work properly. If you use it several times during the week, especially in hot weather, check the water level once a week. Wear gloves and goggles.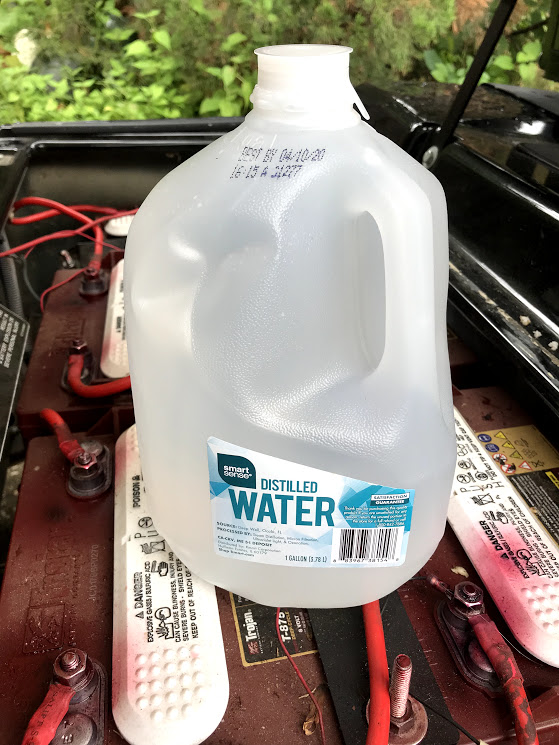 The leaded plates in the battery must be submerged in order for it to work properly. If you use it several times during the week, especially in hot weather, check the water level once a week. Wear gloves and goggles.
2) Use distilled water to fill the batteries
3) Do not overfill the batteries
Your owner's manual will tell you how full the cells should be for your golf cart model.
4) Inspect the cables and hook ups for corrosion
5) Tighten any loose connections and/or battery caps
6 Volt Golf Cart Battery Chargers
This charger is for an EZGo cart and EZ-Go has the 2 pin "D" shaped 36V Connector - so be sure the plug matches your cart before you place an order. 
---
Some links in the following sections are eBay or Amazon affiliate links, which means that if you purchase a product through them I receive a small commission. There is no extra cost to you. Find more details on this page
---
If you need a golf cart battery charger for your 6 volt golf cart batteries, you will need to look for one that says 36 volt.
This EZ-Go 36 volt 18 amp Accusense Intelligent charger with Powerwise Handle was made in the USA by Diversified Power International. It is for the EZGO TXT 1996-Up 36 volt golf carts.
This charger is designed to maintain your battery pack's voltage after it is 100% charged which can lead to longer battery life! It will not overcharge the batteries, either. It goes into maintenance mode once full charge is reached. Great for winterization purposes or to simply have your batteries always ready.  The charger is automatic and will shut off automatically when batteries are charged
The battery pack must have at least 32 volts in the pack for the charger to work. It will not turn on if batteries are completely discharged. Three Year Limited warranty through the manufacturer: The manufacturer, Diversified Power International LLC (DPI) warrants exclusively to the original purchaser that chargers will be replace or repaired , at DPI's option, if it fails during the first three years after date of purchase due to defect in material or workmanship.
36 Volt 18amp Golf Cart Battery Charger for Ez-go
Charge the batteries after every use. Many battery chargers are fully automated which means that they automatically shut off when the charge is full so there is no danger of overcharging.
Go from 6 Volt Golf Cart Batteries to Golf Cart Batteries

Go from 6 Volt Golf Cart Batteries to Golf Carts Etc. Home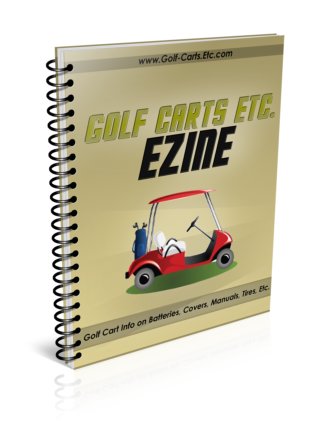 If you are interested in the free Golf Carts Etc. Newsletter you will find information and updates on:
√ Golf Cart Accessories and Products
√ Golf Cart Repair FAQ
√ Golf Cart and Battery Maintenance
√ Electric Golf Cart Reviews
√ Golf Cart Parts
√ Golf Cart Tires
.... and more. Your e-mail information will never be shared with anyone else. Simply sign up here: