Golf Cart Battery Charger
Your golf cart battery charger provides the power to your golf cart batteries for electric golf carts. There are several different makes, models and voltage options.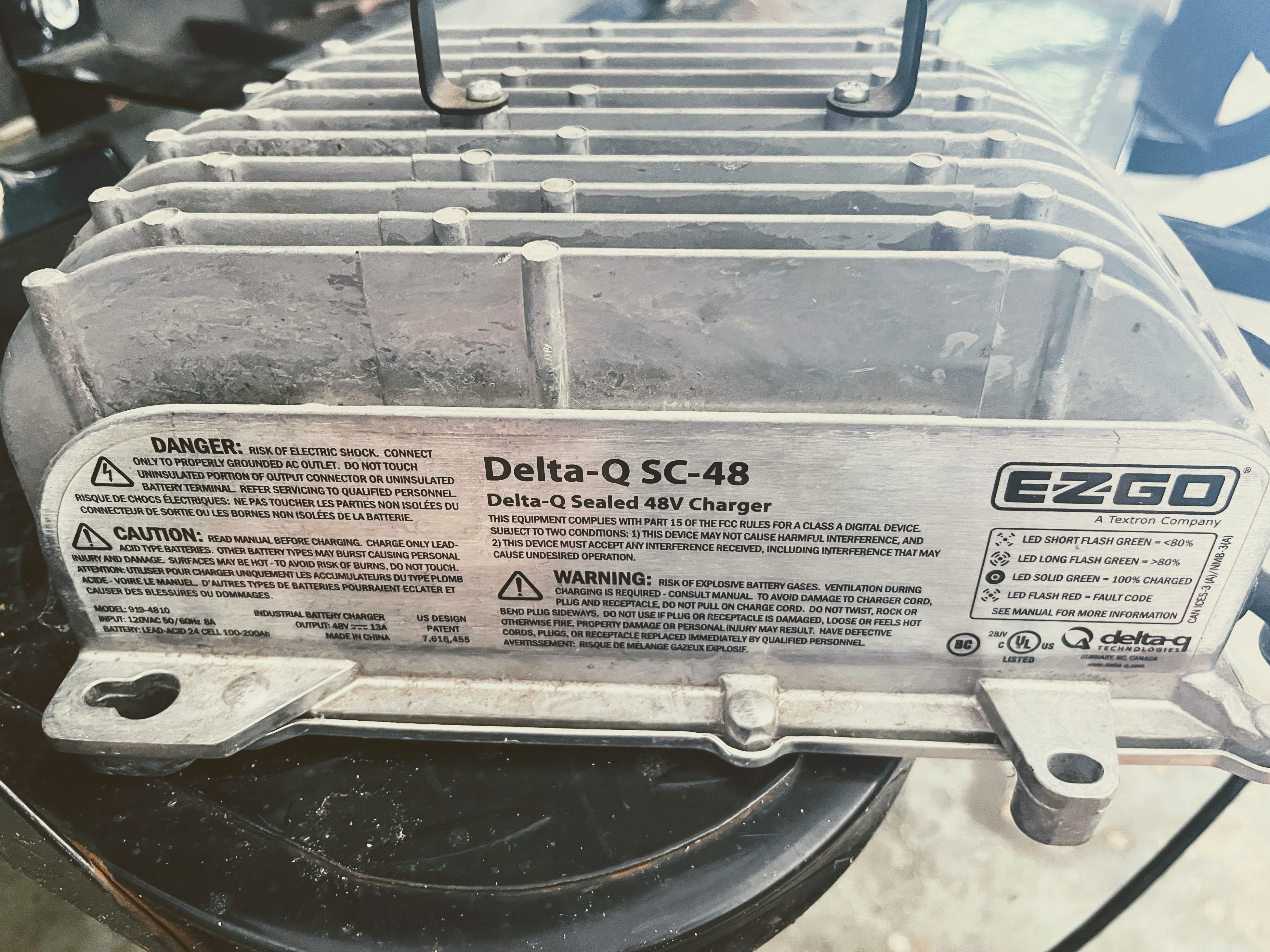 Purchasing a Golf Cart Battery Charger
A golf cart battery charger re-charges your golf cart batteries - after every use.  Selecting the type of golf cart charger is based on the total number of volts your battery pack has. A 36V golf cart requires a 36 volt charger, and a 48V golf cart requires a 48 volt charger.
The voltage from the charger needs to match with the voltage of the batteries.
Normally, if you are purchasing a new or used golf cart, the golf cart charger is often part of the deal. But if it is not, and you need to buy a deep cycle battery charger here are a couple of things you should know.
1. The make, model and year of your golf cart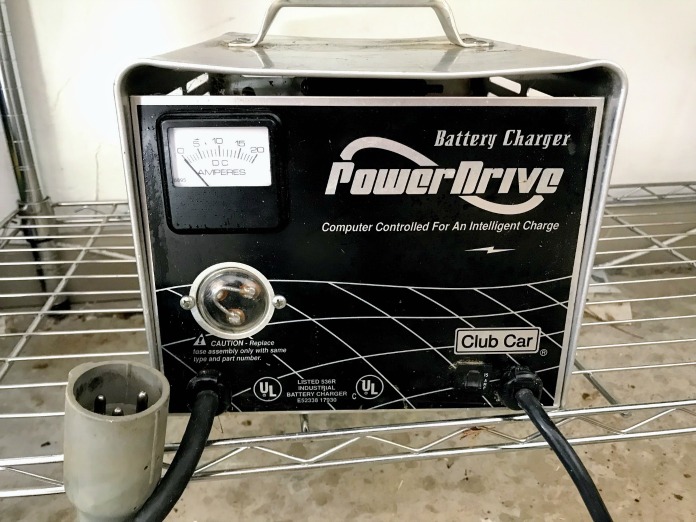 Golf cart battery chargers are specific to the make of the cart.
Meaning you must buy a Yamaha golf cart battery charger if you have a Yamaha golf cart.
Also there are different chargers depending on the year the cart was made.
2. The battery voltage 
The golf cart battery charger needs to match the same voltage as your golf cart. If you have a 36-volt golf cart, you need a 36-volt charger. If you have a 48-volt golf cart, you need a 48-volt charger.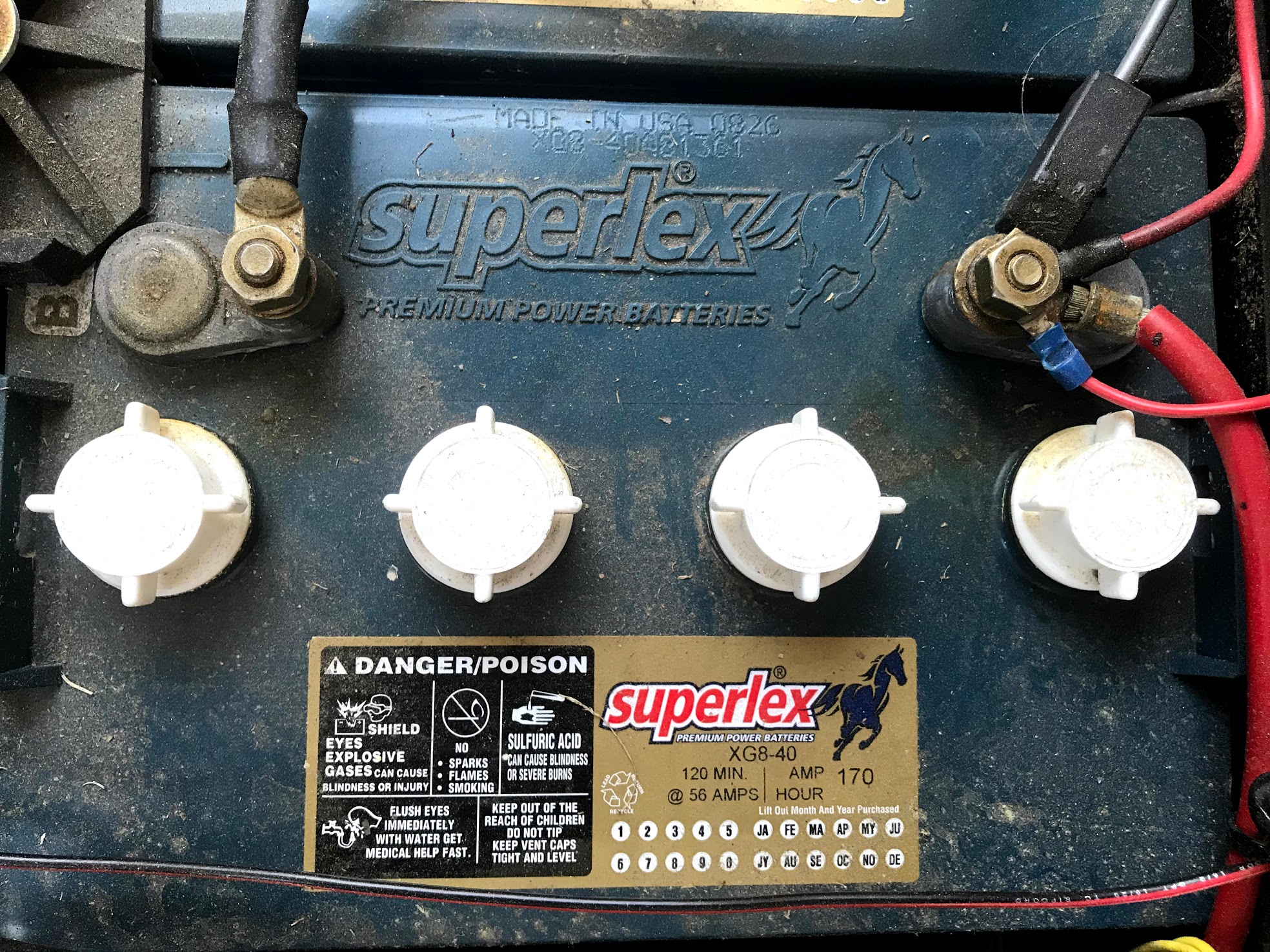 You can tell if your golf cart is 36V or 48V by the number of cells or holes it has.  Each cell is equal to 2 volts. Multiply the number of holes by 2. You see the 4 cells in this pictured golf cart battery? Multiply the 4 X 2 to equal 8.  Then multiply 8 by the number of batteries in your cart, which is 6 and that equals 48.
3.  The plug in type

The charging plug needs to match or fit into the cart receptacle. Two types of plug ins are the three pin round and the crow foot.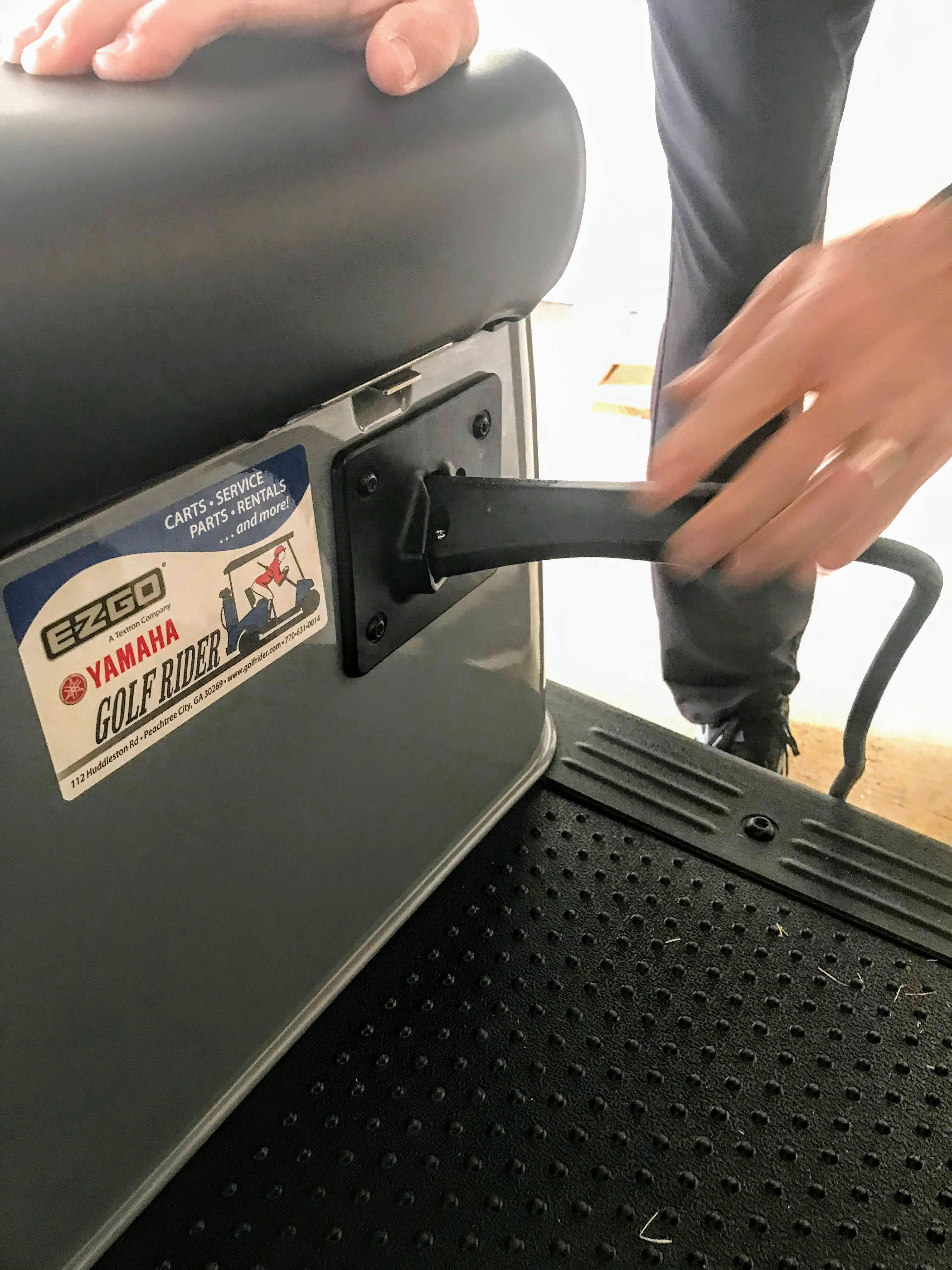 Golf Cart Battery Charger Troubleshooting
The golf cart battery charger may or may not be the problem when your deep cycle batteries won't take a charge.
There are several types of battery chargers for electric golf carts:
1.  Automatic for the newer carts
2.  Non-Automatic for older carts
3.  On board golf cart chargers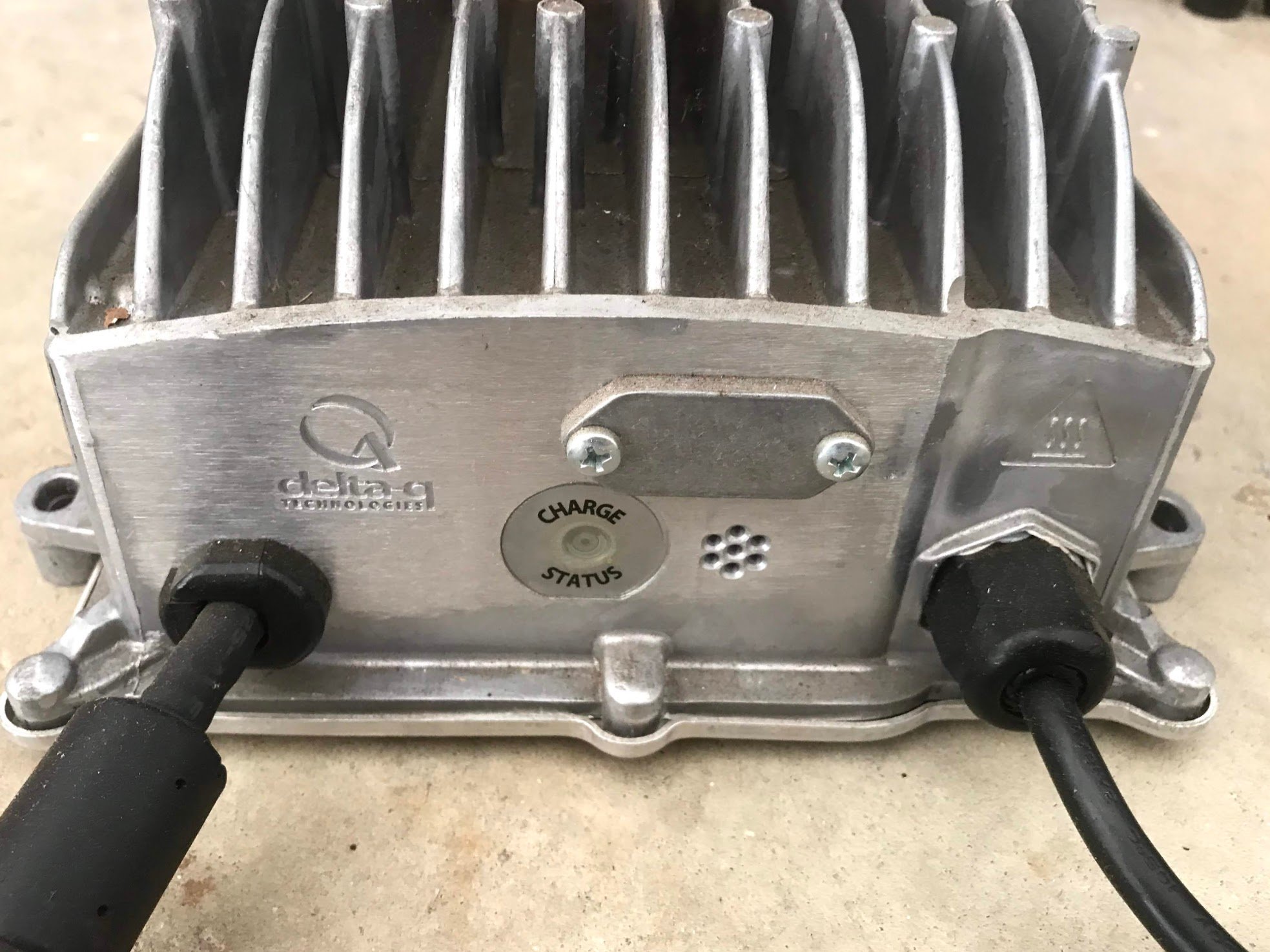 Older chargers usually have an ON/OFF/Timer knob.  The knob allows you to manually turn the charger ON or OFF and to set the number of hours for the charger to stay on.
Batteries Won't Take A Charge
Is it the Batteries or the Charger?

Our reliable Club Car battery charger is 20 years old and still going strong. Maintaining an electric golf cart can be quite economical - such is the case with battery chargers. There is not much that goes wrong with them.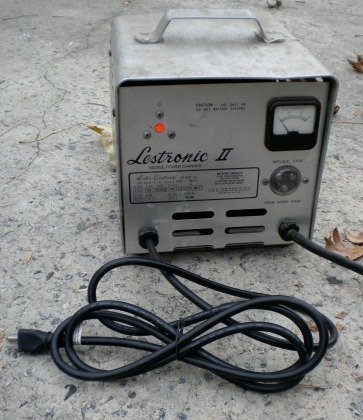 Most older golf cart battery chargers are 36 volt systems and will turn on and try to charge any 36 volt battery pack - no matter how low the battery voltage.  The newer chargers use a different system - a solid state circuit board - which means it has to detect a certain amount of voltage from the battery pack to start charging.
If your batteries have completely discharged the battery charger will not turn on. Often new golf cart owners believe the problem to be the golf cart charger - when in fact it's the depleted batteries.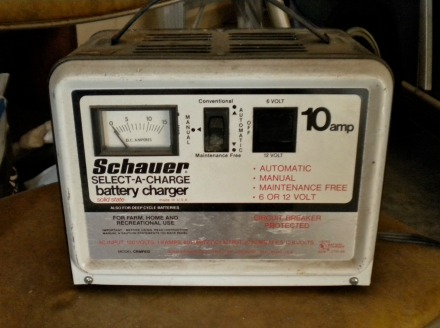 The ammeter gauge on the front dash shows the number of amperes being provided to the battery pack.
According to Jack Triolo from Golf Cart Catalog, "Any 36 volt battery charger should initially start by providing at least 15+ amps to the batteries. The amps may drop down very quickly if the batteries are fully charged but the ammeter should show at least 15 amps to start off. If you know that the batteries need charging and the ammeter will not go above 15 amps, then you probably have a faulty charger and it must be repaired." 

Most often when batteries won't charge the problem is the batteries or it can be your outlet or circuit breaker.  So move your charger to a different outlet and try charging. However, there are a few things that can cause charger failure.  Here are the main components:
1.  ON/OFF/TIMER Switch
2.  Two diodes mounted onto a flat aluminum plate

3.  A Capacitor
4.  A transformer
5.  Fuses
6.  An ammeter
7. A DC plug
The three most common causes of problems with a golf cart battery charger have to do with the timer units, diodes and bad DC plugs.

---
Some links in the following sections are eBay or Amazon affiliate links, which means that if you purchase a product through them I receive a small commission. There is no extra cost to you. Find more details on this page.
---
If you think you may be having trouble with your deep cycle battery charger, you can bring it in to your local golf cart shop and have it tested. Usually the charger can be repaired rather than replaced. That's what we did with our 30 year old Club Car that wasn't charging.  The DC cord and plug needed to be replaced.  Cost us about $100 and the charger was back to working again.  If you want to replace it yourself you can find one at Amazon for about half that here:

Golf Cart Charger Cords with Plugs
Club Car Battery Chargers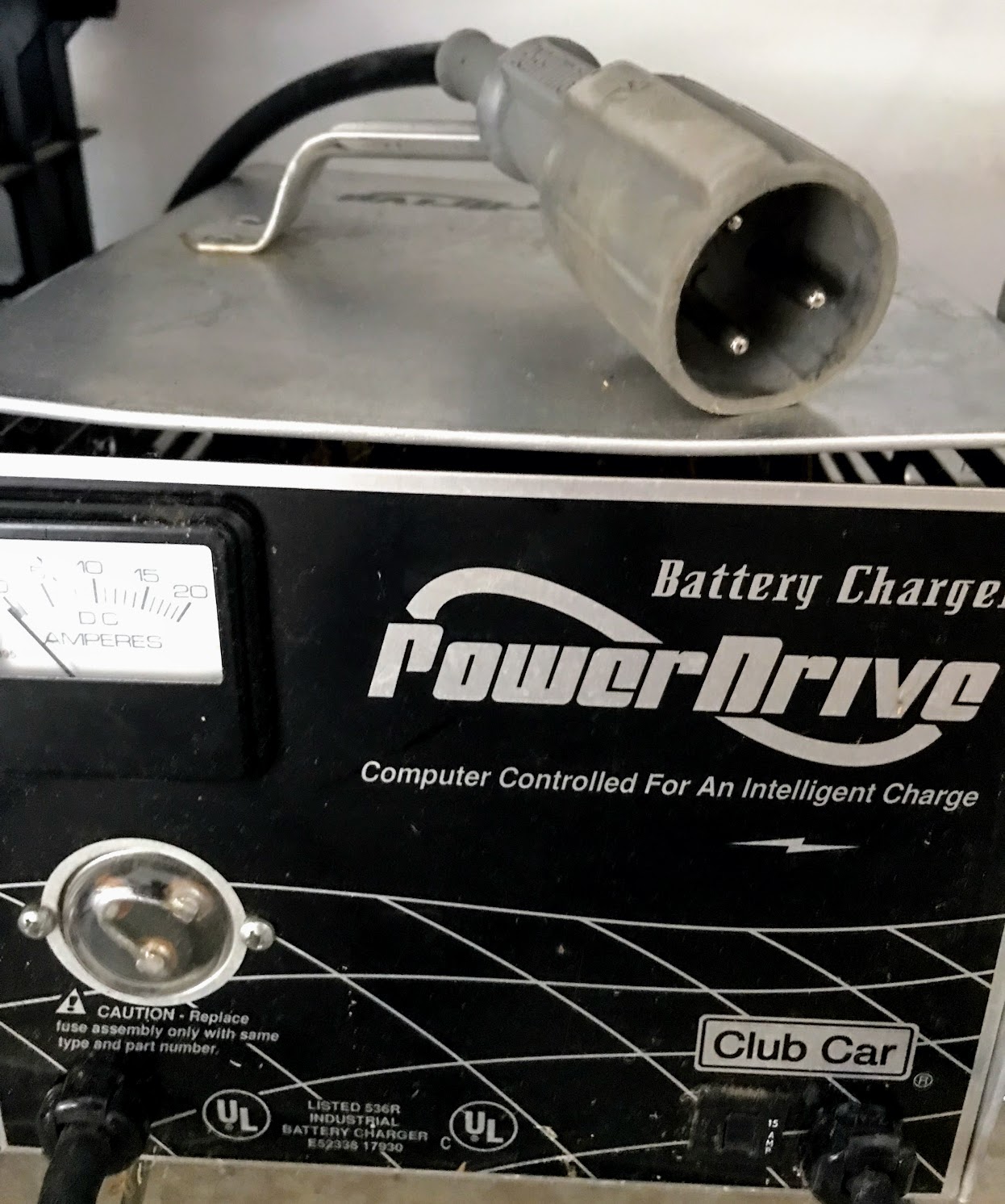 Club Car Golf Cart Chargers
EZGO Golf Cart Chargers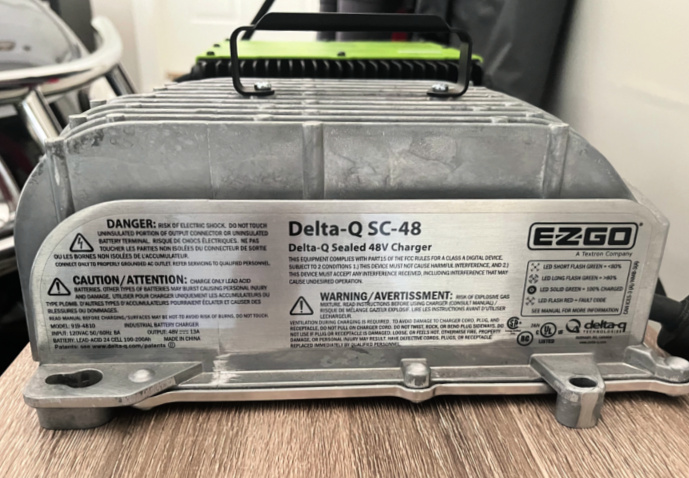 EZ Go Golf Cart Chargers
Yamaha Golf Cart Battery Chargers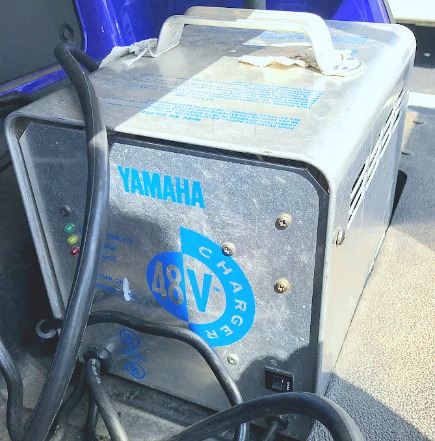 Yamaha Golf Cart Battery Chargers
On Board Golf Cart Battery Charger
An on-board battery golf cart battery charger is wired to your golf cart batteries and is built-in to your golf cart.

Whenever your batteries are low or depleted you can plug them in anywhere since the charger is on the golf cart. By keeping your electric golf cart batteries charged to maximum capacity you are extending the life of the batteries.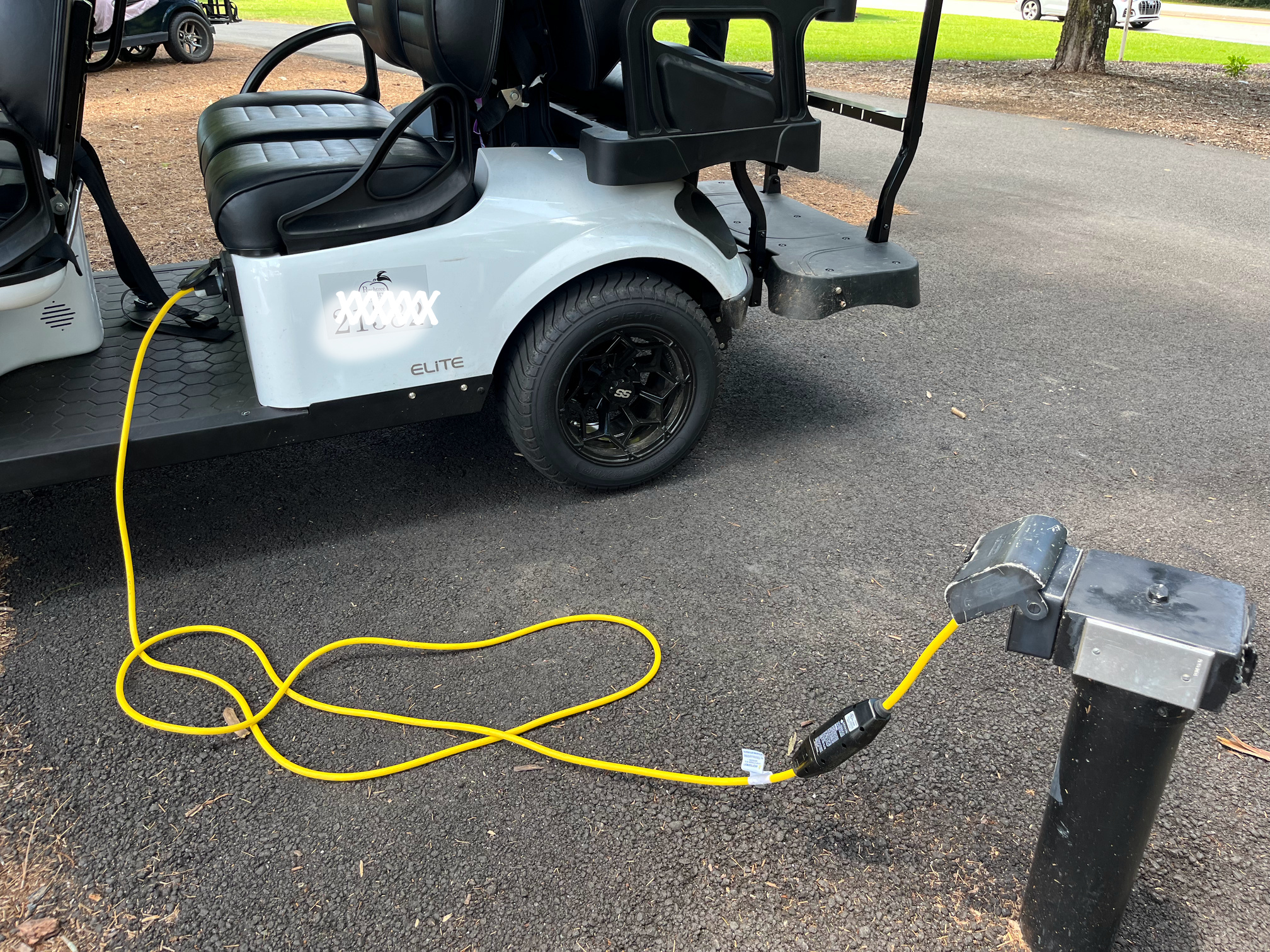 Enjoy the convenience of anywhere charging with an on board golf cart battery charger.
Correct Golf Cart Battery Charging
You might think that all you have to do is plug in your cart when the battery indicator light is low and that's all you need to know.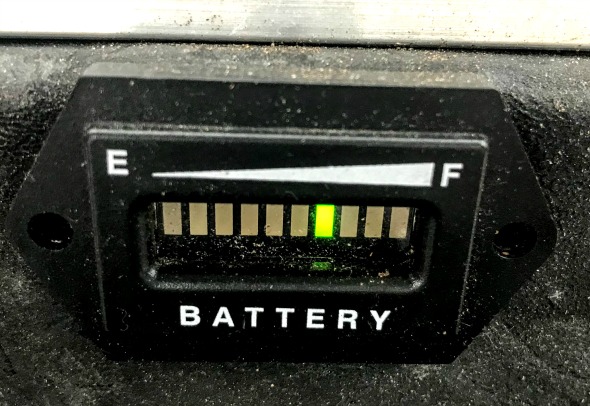 If you want to extend the life of your golf cart batteries there are some tips and practices that can help you do just that.
Click here to learn more about Charging Deep Cycle Batteries correctly. 
Go from Golf Cart Battery Charger to Golf Cart Batteries

Return to Golf-Carts-Etc.com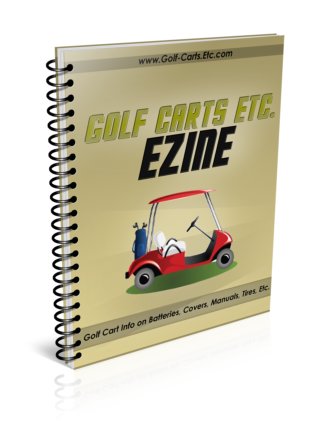 If you are interested in the free Golf Carts Etc. Newsletter you will find information and updates on:
√ Golf Cart Accessories and Products
√ Golf Cart Repair FAQ
√ Golf Cart and Battery Maintenance
√ Electric Golf Cart Reviews
√ Golf Cart Parts
√ Golf Cart Tires
.... and more. Your e-mail information will never be shared with anyone else. Simply sign up here: