Trojan Golf Cart Batteries
Trojan golf cart batteries are considered by many golf cart dealers as the best deep cycle battery.
Trojan Deep Cycle Battery
A deep cycle battery can be deeply discharged and charged many times during its service life. They also provide a steady current over a long period of time, instead of brief bursts of high current over a short time period like a car battery.
They have much thicker plates than automotive batteries.
Unlike a car that only needs one battery, an electric golf cart requires battery packs. They come in 6 volt or 8 volt batteries.
Combine the total voltage from each battery to make up the total golf cart voltage. As an example, a 36-volt golf cart would have six 6-volt batteries.
A 48-volt golf cart would have eight 6-volt batteries. The higher the voltage the greater the power and the longer the service time.
Trojan Batteries for Your Golf Cart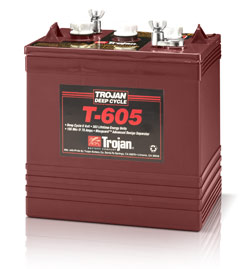 Many golf courses use Trojan golf cart batteries in their fleet. They have been around since 1952.
These deep cycle batteries offer a durable and reliable golf cart battery.
This battery company offers technical support provided by full-time applications engineers.
Trojan offers golf car batteries as sealed absorbent glass mat (AGM) and GEL batteries along with the deep cycle wet batteries. The AGM and GEL batteries are maintenance free.


Best Deep Cycle Battery
Anyone who owns and uses an electric golf cart regularly like we do, wants to know "What is the best deep cycle battery?"
Now, I'm not saying that I can answer that question, but we've been shopping around for a used electric golf cart from our local golf cart dealers.
Golf cart dealers always make sure we notice if a cart has Trojan golf cart batteries installed, stating that they are the best because of their longevity and reliability.
Yamaha now installs Trojan batteries in all of their new golf carts.
Deep Cycle Battery Maintenance
For wet golf cart battery maintenance Trojan recommends:
1. Batteries should be fully charged after each use
2. Do not discharge your battery more than 80%
3. For optimum life and performance, Trojan recommends a discharge of 20 to 50% of the battery's rated capacity even though the battery is capable of being cycled to 80%.
4. Clean the top of the battery, terminals and connections with a cloth or brush and a solution of baking soda and water.
Do not allow the cleaning solution to get inside the battery. Rinse with water and dry with a clean cloth.
5. Corrosion can build up on terminals if they are not kept clean and dry. To prevent corrosion apply a thin of petroleum jelly or terminal protector that you can buy from your local dealer.
6. Wet batteries need to be watered periodically. Golf carts that are used more frequently or are used in hotter climates need more watering. As the batteries age they will need watering more frequently.
For more specifics you can get an Electric Golf Cart Battery Guide that includes information on battery maintenance and storage here:
Trojan HydroLink System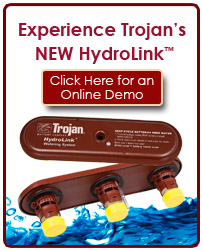 Trojan has developed a very innovative and safe technology for accurate battery watering called the HydroLink System.
It is a snake tubing that is now pre-installed in new, wet Trojan golf cart batteries. If you own Trojan batteries you can buy the snake tubing and easily install it yourself.
Accurate watering improves the life of your battery and reduces battery damage from corrosion.
The system includes a water level indicator that does not give false readings. Black indicates the water level is sufficient and white means that your batteries are in need of water.
No more guessing when or how much water to add to your golf cart batteries.
Golf Cart Battery Technical Support
If you have questions about your Trojan golf cart battery performance, maintenance or storage Trojan offers free technical support. You can e-mail them from their website or you may call and talk to a technician at 1-800-423-6569.
Trojan Golf Cart Battery Videos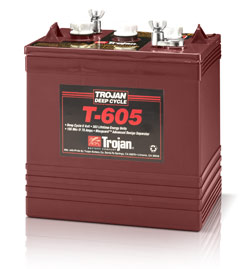 Want to learn more about golf cart battery charging and maintenance? Trojan Battery Company now offers free videos and tutorials on their website called "Trojan Tips."
According to Vicki Hall, Trojan's director of quality and technical services, "One of the most important features of electrically powered equipment and probably one of the most ignored is the battery."
Anyone can take advantage of this free learning opportunity by going to the Trojan website. Click on the link below and then on the left of the page you will see "View Our Latest Videos, Including Our New Trojan Tips."
My favorite video is
Trojan Tips - Deep-Cycle Flooded Battery Maintenance to Ensure Optimum Performance and Maximum Life
Learn proper safety techniques, cleaning methods, watering, equalization, how to avoid stratification and calculating specific gravity to maintain the health your deep-cycle batteries.


Go from Trojan Golf Cart Batteries to Golf Cart Batteries

Go from Trojan Golf Cart Batteries to Golf Carts Etc. Home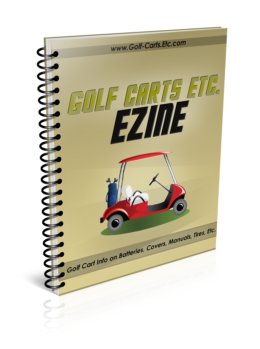 Golf Carts Etc. Ezine offers Free information and updates on:
√ Golf Cart Accessories, Parts and Tires
√ Golf Cart Repair FAQ
√ Golf Cart and Battery Maintenance
√ Electric Golf Cart Reviews
√ Golf GPS Reviews
.... and more.
Just sign up here with your first name and e-mail address and our FREE Golf Cart News will come directly to your in-box.