Golf Cart Batteries Winter Storage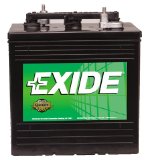 Here are some tips for golf cart batteries winter storage.
1. Batteries can be left in the cart for winter storage. If they are not, they need to be wired in series so that they can be connected to the charger.
2. Batteries need to be dry and free of any corrosion and debris.
Batteries need to be kept clean and dry to prevent self discharge. Dirty batteries can cause a trickle of small current that can slowly discharge your batteries.
3. If your batteries for the golf cart are not staying in the car, place them on a wood pallet rather than on the ground.
This helps prevent them from self discharging.
4. Before storing your batteries, have them fully charged.
5. Store them in a cool area.
Batteries will discharge at a slower rate in cooler temperatures.
According to the Club Car manual, "batteries stored at 0 degrees F will discharge very little over a 4-month period. Batteries at 80 degrees F. will have to recharged every few weeks."
6. Periodically check the charge status.
Batteries left in really cold garages or storage can freeze and crack.
7. How frequently do stored batteries need to be charged? It depends on the temperature. As a general rule, check the charge every month. Plug it into the charger until the charger turns off if you have an automatic charger - which most of them are.
If your batteries need to be recharged, the Club Car manual recommends that the area be heated to at least 60 7/8 F prior to charging. Just as batteries do not discharge quickly in cold temps, they don't charge very well either when it's really cold.
Understanding Golf Cart Batteries
After batteries have sat for a long period of time they will lose their charge. How long it will take for them to "die" depends on the age of the battery and the temperature.
The worst thing you can do to your golf cart batteries is to allow them to sit in a less then fully charged state for a few months.
If a deep cycle battery is allowed to completely lose it's charge, it may not recharge.
Go from Golf Cart Batteries Winter Storage to Golf Cart Battery Maintenance

Go from Golf Cart Batteries Winter Storage to Golf Carts Etc. Home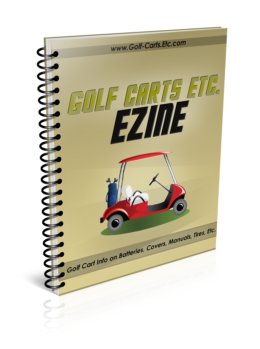 If you are interested in the free Golf Carts Etc. Newsletter you will find information and updates on:
√ Golf Cart Accessories, Parts and Tires
√ Golf Cart Repair FAQ
√ Golf Cart and Battery Maintenance
√ Electric Golf Cart Reviews
√ Golf GPS Reviews
.... and more.
Provide just your first name and e-mail address for the FREE Ezine: