Golf Cart Enclosure
A golf cart enclosure extends the number of days or months that your golf cart can be used. For over 10 years we did not have an enclosure for our cart. Now that we have invested several hundred dollars in a Sunbrella cover, we enjoy using the cart all year round.
Driveable Golf Cart Covers
It keeps the rain out on rainy days and keeps it warmer during the cold winter months. On warmer days, the sides easily roll up and are out of the way so we can enjoy a nice summer breeze. When summer comes around, we normally keep our our enclosure on with the sides rolled up.
You can buy enclosures specific to your golf cart make and model or for a better price, purchase a universal enclosure based on whether it is a 2, 4 or 6 passenger cart.
We use a universal enclosure for our 2 seater golf cart and it fits great and does the job.
Enclosures come in 3 sided for those with a windshield or 4 sided for carts without a windshield.
Attaching Your Golf Cart Enclosure
There are many ways of attaching the enclosure to your cart.
1. Fits over the Roof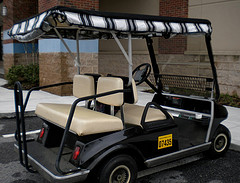 As you can see from this picture, the cover is simply placed over the golf cart roof.
The sides roll up so that the enclosure can be kept on your golf cart year round. Decorative fabric hides the rolled up plastic making it look more attractive.
Find a colored fabric that coordinates with the color of the golf cart body.

2. Attaches to a Track.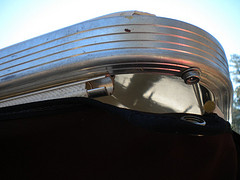 It does not go over the roof but instead a track is attached to the perimeter of the roof like this picture and the enclosure fits into the track.
This type of enclosure costs more than the universal one.
They don't provide better protection or warmth, and in fact, my friend Dean at Affordable Golf Carts says that the tracks can bend causing so many problems with the enclosure and the tracking system, that he won't install them any more. He'd advise you to get a cover that sits over the top or golf cart roof.
Our neighbor Lynn has a track system golf cart enclosure. When I asked him how he liked it, he said it constantly gives him problems. The side pieces keep falling off the track in the front of the golf cart despite repeated attempts to fit it. He wishes he had an over the top enclosure like mine.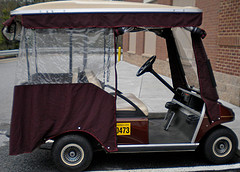 3. Comes in Many Colors
There are a lot more color choices for golf cart covers than white or off-white. Many golf cart owners in Peachtree City color coordinate their cover with the color of the golf cart body.
My wife says when we get our new golf cart - we are getting a new colored cover to go with it.
4. A universal enclosure

Universal golf cart covers are based on the size of the roof top and whether the cart is for 2, 4 or 6 passengers. Be sure to get the right cover based on the length of your golf cart top.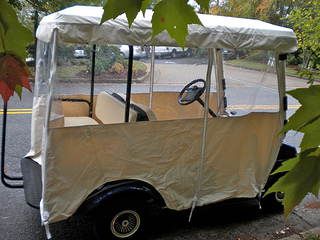 It does not matter whether it is a Club Car, an EZ Go or a Yamaha golf cart. These enclosures are less expensive than the ones that are specific to your make and model cart.
If you have a windshield, be sure to get a 3 sided enclosure. Four sided ones have plastic that covers the windshield making it difficult to see. Even if it has a zippered front - it doesn't look good and serves no purpose. Amazon sells a really universal enclosure that's made out of heavy duty canvas with strong zippers for a 2 passenger golf cart for under $60 here:
3 Sided Drivable Golf Cart Enclosure with Zippered door, fits E Z GO, Club Car and Yamaha G model
5. Sunbrella Golf Cart Enclosure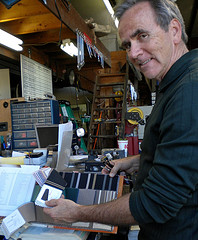 A Sunbrella golf cart enclosure indeed provides a more custom look to your golf cart along with a custom price. While these golf cart covers are more expensive they are made of a durable fabric that is fade and mildew resistant.
If you pick a dark color - like black, navy blue or forest green - the color will stay vibrant and not fade even if it sits out in the sun. Sunbrella fabric offers lots of choices for not only the main part of the enclosure but for the valance as well. There are literally hundreds of combinations to choose from.
6. Easy access to golf clubs.
While color is important to my wife, easy access to my golf clubs is important to me.
7. How the cover attaches to the bottom of the golf cart.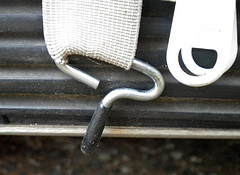 There are two ways that the golf cart enclosure keeps attached at the bottom - so it doesn't start flapping in the wind. One is with snaps and the other is with a small hook that fits under the body of the cart. My friends that have the snap system are not happy - the cover can shrink and then it is so taught that it's hard to get the cover to snap in.
The hook provides more ease and flexibility. The strap on my Sunbrella cover is elastic and stretches making it really easy to fit the hook under the frame.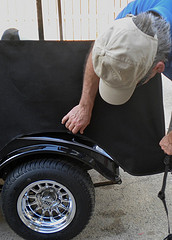 Keep the sides of your golf cart enclosure rolled up when they are not needed to keep you warm or dry. Why is that? Well the constant flapping of the enclosure fabric on the golf cart body, dulls the finish.
While it may not be noticeable to anyone else, I can see where the finish has dulled on my newly refurbished Black Pearl paint job.

Buggies Unlimited carries a nice selection of enclosures that are universal or specific to your Club, EZ Go or Yamaha golf cart:
Enclosures for All Golf Cart Makes
Go from Golf Cart Enclosure to Golf Cart Accessories

Return to Golf Carts Etc. Home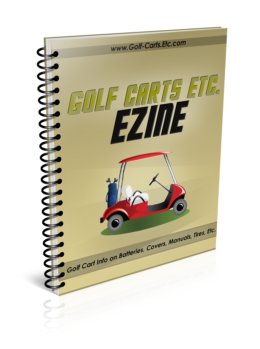 Sign up for our free Golf Carts Etc. Newsletter you will find information and updates on:
√ Golf Cart Accessories, Parts and Tires
√ Golf Cart Repair FAQ
√ Golf Cart and Battery Maintenance
√ Electric Golf Cart Reviews
√ Golf GPS Reviews
.... and more.
Provide just your first name and e-mail address for the FREE Ezine: