Golf Cart Fan
With a golf cart fan you don't need to let the heat get you down or keep you off the golf course.  It's amazing how a nice breeze can cool you down and keep you comfortable. 

Cup Holder Golf Cart Fan

We first saw this golf cart fan at the PGA Expo in Orlando. In fact it won the Inventors Spotlight Pinnacle Award at the PGA Show in 2013. What's great about this fan is that there is no installation required, it simply sits in the cup holder of your cart. It also can be used in any golf cart make or model so you can take it with you when using a golf course golf cart or just going to the beach or pool.
It has a rechargeable lithium-ion battery pack housed in the bottom unit which will provide up to 6.5 hours of moving air and will last for 2,000 charges.  Although it doesn't oscillate, the head can be raised or lowered and the base can be rotated to any direction as it sits in the cup holder of your cart.   It is designed to fit into 5 different golf carts - so whether you own your own golf cart or use the one at the club, just take this light weight fan with you to keep you cool for 18 holes of golf.

There are two speeds.  Most people are happy with the lower speed as it moves plenty of air and it's quieter.  On the higher speed it will run for 3 3/4 hours if it is fully charged.  You will be surprised by the power from this small fan.

Here's a review from Amazon:
"When the temperatures skyrocket, the PGF is the only product I've found that really, truly keeps me cool on the golf course. It's the perfect product for anyone who loathes playing golf in the heat -- it blows 20 mph air for 6 hours on a single charge! Anyone who has anything negative to say about the PGF just hasn't experienced it yet. Once you try it, you'll never play golf in the heat without it"
If you are looking for a good way to stay cool in your cart this is a great way to go: 
PGF-V Personal Go Fan for Golf Carts, Pool, or Beach
Clip On Golf Cart Fan

Not as much power as the cup holder fan, but definitely less expensive.
This is an oscillating fan with 12 volts that can be used on electric and gasoline golf carts.   It's small - 6" - so some people install two fans onto their golf carts. 
Install by hooking on the two clips on to the battery under the seat of your cart. 
The 12' cord makes it easy to clip the fan wherever you want - the dashboard, top of the windshield or on the back of your cart.

Its A Breeze Fairway Cart Fan
Overhead Golf Cart Fan

An overhead fan provides a constant breeze for those who don't mind installing the accessory into the golf cart top.  This fan moves lots of air with three speed options. 
BREEZ-GO Golf Cart Fan
Personal Mist Sprayer
Add a little mist on a hot day for extra comfort and coolness.
Simply fill the bottle with cold water to the fill line, then pump a few times, adjust the spray with the brass nozzle and get a nice blast of "instant coolness." 
The neoprene case keeps the water cold longer.  This lightweight and portable personal mister comes with me on just about every hot day of golf. 
CoreGear USA Misters 1.5 Liter Mister - Personal Water Pump With Neoprene Jacket and Strap
Stay cool and comfortable while golfing or cruising in your golf cart with this simple golf cart accessory. 
Go Back to Golf Cart Accessories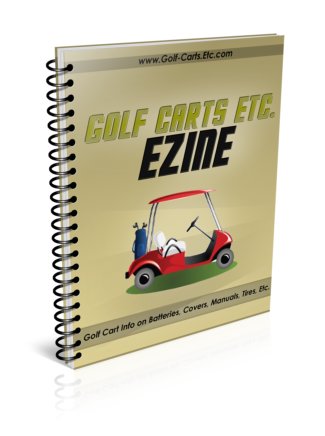 If you are interested in the free Golf Carts Etc. Newsletter you will find information and updates on:
√ Golf Cart Accessories and Products
√ Golf Cart Repair FAQ
√ Golf Cart and Battery Maintenance
√ Electric Golf Cart Reviews
√ Golf Cart Parts
√ Golf Cart Tires
√ Golf GPS Reviews
.... and more. Your e-mail information will never be shared with anyone else. Simply sign up here: