Yamaha Golf Cart Accessories

Yamaha golf cart accessories customize and personalize your golf cart or they just make your cart more usable and functional.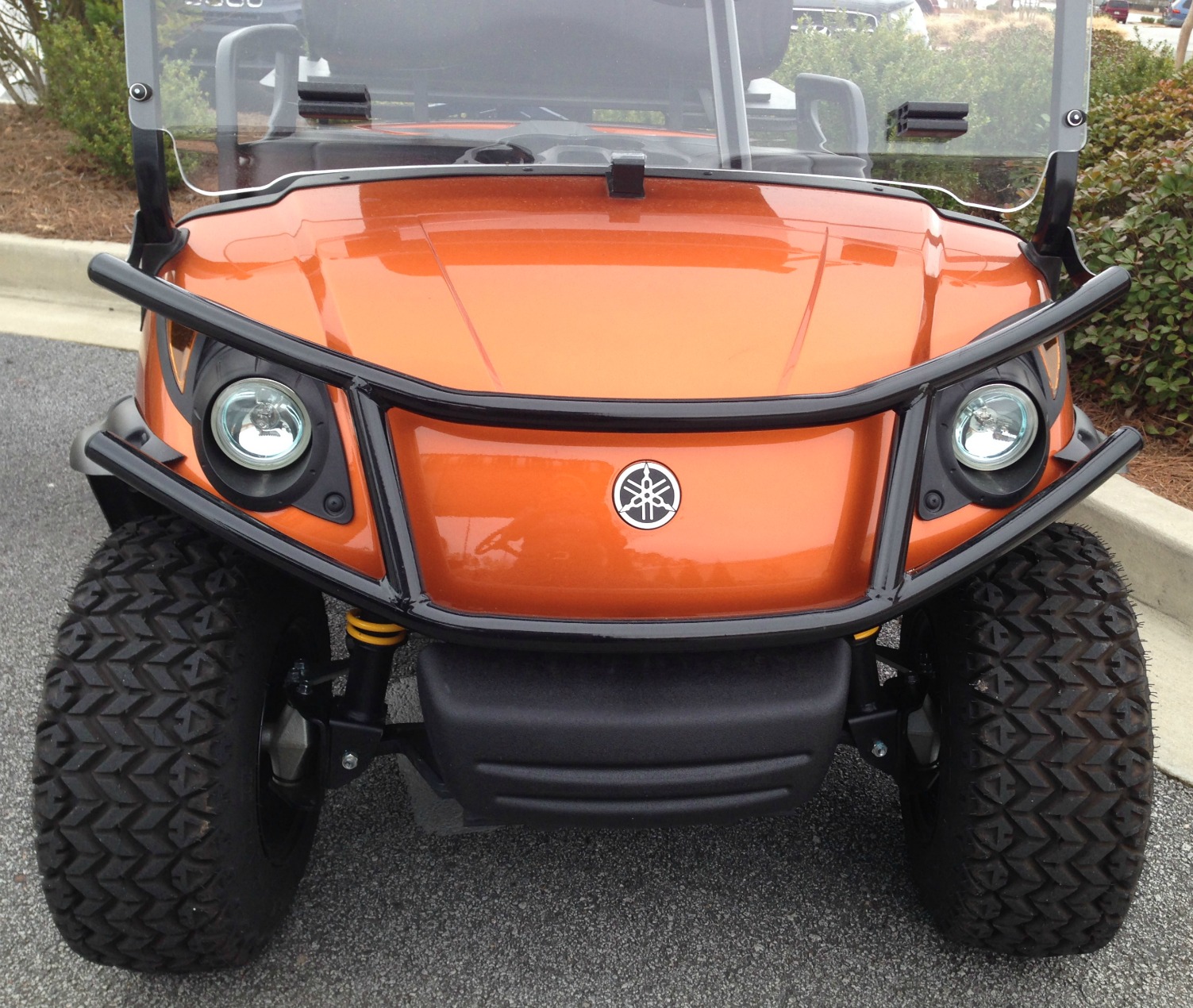 A rounded design made of high gloss black powder coated finish protect your front cowel as well as the headlights.  Brush guards offer a rugged custom look to any golf cart.  This accessory comes in black, gun metal and a shiny stainless. 
You will need to know the make, model and year of your cart to purchase the one that fits your cart.
JAKES BARS BRUSH GUARD, Yamaha Golf Cart DRIVE BLACK
Under the Seat Storage

This storage compartment fits under the seat and above the batteries.
 Use it to store golf balls, tees, or personal items you want to keep out of view. It will fit Yamaha golf carts that have four 12 volt batteries.
It's easy to lift out when the batteries need servicing.
Yamaha Golf Cart Underseat Storage Tray
Golf Cart Cooler
Golf cart coolers are great to have especially when you play 36 holes of golf on a 95 degree day in the middle of June in Georgia. I am not sure, but maybe if I had had one then, I wouldn't have experienced heat exhaustion.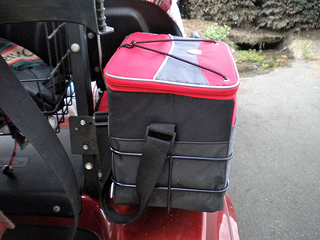 Of course the key to keeping hydrated is to keep water and not Coke or beer in the cooler.
There are several sizes and styles available. Decide if you want a cooler that holds a 6 pack or a 12 pack. Some coolers have brackets that are permanently mounted on the golf cart fender, while other coolers are made of an insulated vinyl and fit nicely in the rear sweater basket.
Golf Cart Coolers
Yamaha Golf Cart Dash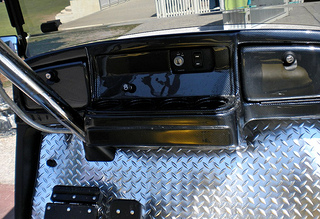 A lockable glove box is a great Yamaha golf cart accessory to lock up your wallet, cell phone, i-Pod or anything else of value that you don't want sitting in the cart.  Another option is to chose a golf cart dash with speaker cutouts. 
Available in woodgrain, titanium or black carbon fiber, this Yamaha golf cart accessory is specific to certain golf cart models.
Yamaha Golf Cart Dash
Yamaha Radio and Speakers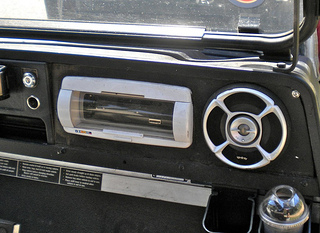 What's better than cruising in your golf cart down a nice shaded path listening to your favorite music? Well, you can with this Yamaha golf cart accessory.
The two styles that are available are an over head radio or a console golf cart radio.
However, before one can add any accessory that uses battery power a voltage reducer is needed.
Yamaha accessories can be purchased from your nearest authorized Yamaha Golf Car Distributor or Dealer or you can go on-line to Everything Carts.
Yamaha Golf Cart Radio Sets
Storage Bag

I don't know how many times I've lost items that I've put in the bagwell of my golf cart only to have them roll out onto the street. 

Oranges, cantalopes, and 2 liter bottles of pop have found their way out of grocery bags and out of the golf cart - but not any more.
This handy storage bag attaches to the golf bag straps in the back of your golf cart.
Use it to carry groceries, sports equipment or more.
Golf Cart Grocery/Utility Bag
Side Mirrors

While some Yamaha golf cart accessories are for fun or for show, other accessories are necessary for safety.
Just like a golf cart enclosure, a golf cart mirror is an accessory that serves a purpose and a function.
For those of us who live in a golf cart community and drive our carts on all purpose paths, a mirror is just as important as the one in your car. Awareness of what's around you, whether it's another golf cart, a biker or a runner, provides safety to you and to everyone else who is using the path.
Get yours at Amazon here:
Golf Cart Side Mirrors for Yamaha Golf Carts
Yamaha Golf Cart Seat Cover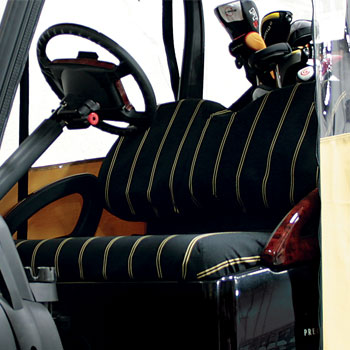 A Yamaha golf cart seat cover can be made of fleece, Sunbrella fabric, or vinyl. A ready made seat cover with elastic like this one fits over the existing seats. It doesn't fit as snug as replacement vinyl covers - which by the way are placed right over the old vinyl seat covers.
Some seat covers are universal, while others are specific to the make, model and year of the golf cart.
Decide what type of fabric you want and what look and feel you are after. Many golf cart owners around Peachtree City customize their vinyl seat covers to reflect the colors of their favorite football team.
Golf Cart Seat covers
Yamaha Golf Cart Enclosure

This Yamaha golf cart accessory makes it possible to use your golf cart for more months out of the year

t keeps you dry on rainy days and warm on cold, windy days. The golf cart enclosure in the picture also includes a front windshield. As you can see it is rolled down and not being used.
If you golf cart has a windshield, buy an enclosure that doesn't include this front piece as it isn't necessary - get a 3 sided - not 4 sided cover.  Simply roll up the sides when not in use. You don't need to take it off and store it in the summer unless you want to.
Sunbrella fabric is the best fabric for a golf cart enclosure if you plan to keep it on year round like we do. The colors don't fade and it is stain and mildew resistant.
Yamaha Golf Cart Enclosure
Yamaha Windshield

Need to replace your Yamaha golf cart windshield? Yamaha offers a one piece windshield or a folding windshield.

We like a folding windshield, so that on warm days, the breeze provides a comfortable ride and on colder days you can put it up.  Made of a high-impact acrylic, this Yamaha golf cart accessory can be purchased either as a clear or tinted windshield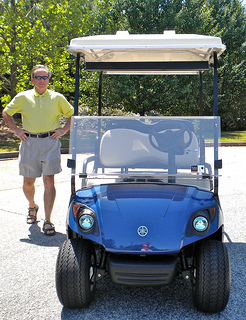 Golf cart windshields easily attach to your existing golf cart frame. The options that are available are:
1. Fold-down or a solid windshield
2. Clear or tinted finish
I've had both and prefer the tinted finish to reduce glare

3. Winged or not
Street legal golf carts require a windshield with a windshield wiper.

You will need to know the model and the year of your golf cart in order to purchase the correct windshield.
For Yamaha G14/G16/G19 models without tops, you can still get a short windshield that includes the frame. Look for acrylic material that is crack and shatter resistant and find out if installation hardware is included in the price.You can choose between:
1. Acrylic
Less likely to scratch but more likely to break or crack
2. Polycarbonate
More prone to scratching, but less likely to break or crack. If you use your golf cart for golfing, the polycarbonate is recommended.
This golf cart accessory can be purchased on-line at Amazon:
TINTED Windshield for YAMAHA Golf Cart 1995 thru 2002 (G14 to G19)
Yamaha Golf Cart Rear Seat

Turn your 2 seat golf cart into a 4 seat golf cart by addind a Yamaha golf cart rear seat kit.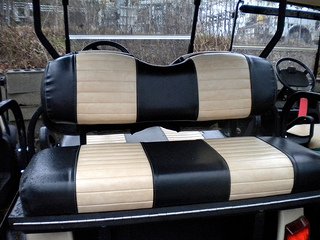 There are two different styles - one is a fixed rear seat and the other is a flip seat. The flip seat costs about $50 more but is a nice feature to have to carry large loads, move stuff or to do yard work.
The golf cart rear seat kit is specific to certain Yamaha makes or models. Match the back seat color with the color of your front seats - the seat colors include white, ivory, black and sandstone.
Also pay attention to the color of the struts so that they match the rest of your golf cart - the most common color is black.
Yamaha Rear Seat
Another accessory to add is a safety grab bar - it gives something to grab onto for the rear seating passengers when going over bumpy terrain or paths. Some kits include heavy-duty rear shocks, but if not be sure to get some.

Golf Cart Flags

Golf cart flags are a great way to accessorize your golf cart. It let's people know if you are a Georgia Bull Dog, an Ole Miss or a Clemson fan. Lots of golf cart owners will change out their flags and wave a US flag during the Fourth of July or Memorial Day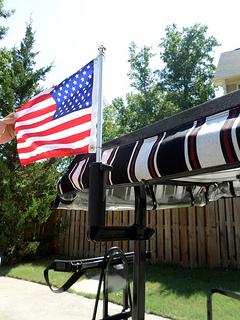 This flag pole can be removed or moved by simply loosening some bolts. It is totally adjustable so that it can be straight up or at an angle.
This one is flexible enough so that it can be positioned on the golf cart struts or on the golf bag holder. It's easy to move it or to take it off. We purchased our set from Amazon. Get yours by clicking on the link:
USA Golf Cart Flag with SSP Flags EZ On & Off Bracket
There is no end to the types of flags that are available - Marine Corps, Coast Guard, Chicago Cubs, Ohio Buckeyes to Pittsburgh Steelers.
Accessorize your golf cart with either one flag or two of the same flags attached to the front struts. 
Flags can be purchased separately or as a kit with the flagpole. Amazon has a great selection of teams and flags here:
Customize and personalize your cart with Yamaha golf cart accessories to add style or comfort. 
Go from Yamaha Golf Cart Accessories to Yamaha Golf Cart

Go from Yamaha Golf Cart Accessories to Golf Carts Etc. Home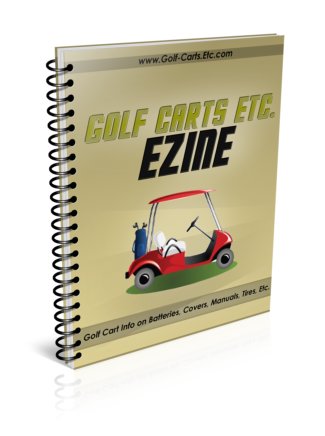 If you are interested in the free Golf Carts Etc. Newsletter you will find information and updates on:
√ Golf Cart Accessories and Products
√ Golf Cart Repair FAQ
√ Golf Cart and Battery Maintenance
√ Electric Golf Cart Reviews
√ Golf Cart Parts
√ Golf Cart Tires
√ Golf GPS Reviews
.... and more. Your e-mail information will never be shared with anyone else. Simply sign up here: