8 Volt Golf Cart Batteries
Golf carts have either 8 volt golf cart batteries, 12 volt or 6 volt.
The 8 volt golf cart battery is the most common. Of course no golf cart runs on one battery like a car. They come in packs. Most battery packs are made up of 6 batteries. The total golf cart battery voltage for six 8 volt batteries is 48.
If you are thinking of getting a new Club car golfcart, they all use 8 volt batteries - 6 of them for 48 volts.
A new EZ Go electric golf cart will use either six 6V golf cart batteries for a total of 36 volts or four 12 volt batteries for a total of 48 volts.
Yamaha also only offers four 12 volt batteries in all of their new models.
Club Car Battery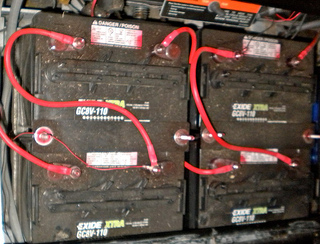 New Club cars only use the 8 volt deep cycle batteries. The new electric Club Car golfcart - called the Signature Edition 4-Passenger offers what is called The Leisure Package. This package includes some nice features like:
√ a battery condition indicator
√ a single-point watering for easy battery maintenance
My newly refurbished 2006 Club Car has brand new Exide 8 volt golf cart batteries installed. Dean at Affordable Golf Carts only uses Exide.
Trojan Golf Cart Batteries
All new Club Car golf carts use six 8 volt Trojan golf cart batteries.
Five out of the 6 golf cart dealers in our golfing community use the Trojan batteries. They all stated that they performed better and lasted longer than the Exide golf cart batteries.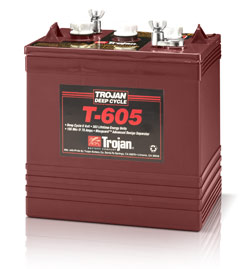 I was told by one dealer that if the Trojan batteries are well maintained using only distilled water, you may see them last 6-8 years. But another dealer said you can expect a 4-5 year battery life with Trojan.
Trojan makes three types of 8 volt golf cart batteries. They are:
1. T-860 8V Deep Cycle Battery
2. T-875 8V Deep Cycle Battery
3. T-890 8V Deep Cycle Battery When you make your purchase:
1. Check the date code on the battery to make sure it hasn't' been sitting on the shelf for a long time. This can seriously affect performance.
2. Ask about the warranty. How long is the warranty and does it replace the battery or just pro-rate the replacement cost of the battery.
48 Volt or 36 Volt Golf Cart Battery
According to my golf cart experts at Affordable Golf Carts, 48 volt batteries use 1/3 the amperage than a 36 volt. Golf carts with 48 volt batteries are more efficient.
They tell me that a golf cart using the 48 volts has a longer life than 36 volt batteries.
This is good news for me, because I just upgraded my 1987 Club Car with six 6 volt batteries for a 2006 Club Car that has six 8 volt batteries.
Electric Golf Cart Battery Guide
I purchased this electric golf cart battery guide and have referred to it many times.
If you need help understanding deep cycle batteries, how they work and how to maintain them so that they last a long time get yours here:
Go from 8 Volt Golf Cart Batteries to Golf Cart Batteries

Go from 8 Volt Golf Cart Batteries to Golf Carts Etc. Home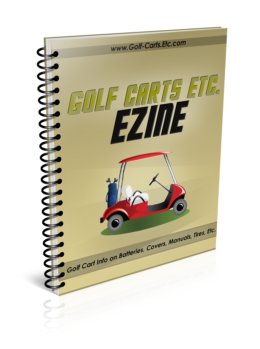 Golf Carts Etc. Ezine offers Free information and updates on:
√ Golf Cart Accessories, Parts and Tires
√ Golf Cart Repair FAQ
√ Golf Cart and Battery Maintenance
√ Electric Golf Cart Reviews
√ Golf GPS Reviews
.... and more.
Sign up here with your first name and e-mail address and the free ezines will come directly to your in-box.