Affiliate Disclosure
We at Golf-Carts-Etc. want you to know that we might make a commission if you click on a link, that takes you to an online store, and you make a purchase.  We do not recommend or endorse products simply because we are paid to, most of the time we are not.  We are only paid if you make a purchase from one of our affiliate partners.
If we recommend a golf cart part or accessory, it is because we believe in the product.  It is not because we are getting paid to give rave reviews about it.  Nobody pays us to write about their products, or to recommend them.  We only do so when we see value in the product, and we only get paid if you purchase the product through an  affiliate partner.  You are always free to purchase the product any place you like.
Copyright Protected

All materials on Golf Carts Etc. retain their full copyright. Use of material, either in full, part, or derivative form, without express permission is prohibited. All material, whether found directly on the sites or taken from an RSS feed is licensed for personal use only.
We protect our copyrights and take violations seriously. Republication without express permission may result in billing for use of the material, formal notification of the violation to hosts and advertisers under the Digital Millennium Copyright Act, and other legal action as deemed necessary.
Advertising
Golf Carts Etc. accepts advertising and other forms of compensation. Such compensation does not influence the information in this site. We always give our honest opinions, findings, beliefs, or experiences.
This site runs third party advertisements from Google which are clearly identified as such. These ads are not chosen by me, they are selected and served by the advertiser. Currently no other forms of advertising are accepted.
Go back to
Golf-Carts-Etc Home
to get your cart on the road and looking great.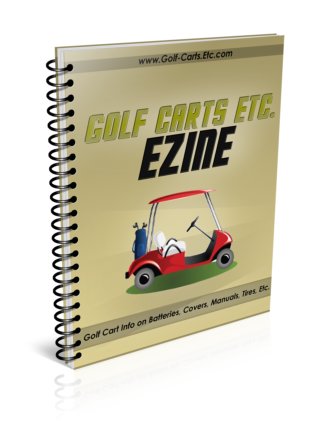 If you are interested in the free Golf Carts Etc. Newsletter you will find information and updates on:
√ Golf Cart Accessories and Products
√ Golf Cart Repair FAQ
√ Golf Cart and Battery Maintenance
√ Electric Golf Cart Reviews
√ Golf Cart Parts
√ Golf Cart Tires
.... and more. Your e-mail information will never be shared with anyone else. Simply sign up here: